Iron Bowl Preview: No. 1 Alabama vs. No. 13 Auburn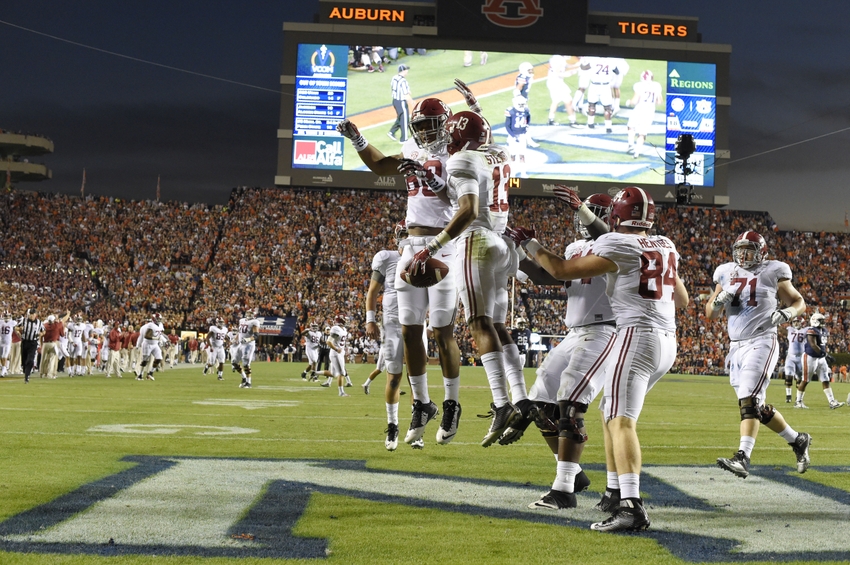 The Iron Bowl, the most heated rivalry in college football, friends turn against friends and houses become divided for one day.
Alabama leads the all-time series 44-35-1, and has now won two straight games after the fabled Kick Six game which sent Auburn to the SEC title game.
Alabama enters this game 11-0 for the first time since that game back in 2013. Their rival Auburn Tigers enters 8-3 following a disappointing loss at Georgia two weeks ago. The Tigers were on the brink of chaos after LSU nearly won on a last second play that got waved off, and cost Les Miles his job.
The last time these two met at Bryant Denny, they set all sorts of rivalry records scoring 99 points, and gaining over 1,000 yards combined. This year is a different story; it's all about the defenses.
This rivalry game will boast two of the best defenses in America led by two new coordinators, Kevin Steele and Jeremy Pruitt.
The stage is set for an epic Iron Bowl showdown, two great defenses and two high-octane offenses will duel it out at 3:30 P.M. ET/2:30 CST on CBS. Expect Verne Lundquist's last Iron Bowl to be a great one.
Reuben Foster, ILB: Foster is a Butkus finalist, and the heart in the middle of Alabama's top ranked defense. They'll need him to continue flying all over the field in the ferrari  to help stop Auburn's zone read offense. Foster's the Tide's leading tackler, and a force to be dealt with. Expect to see him flying all over the place and making tackles.
Calvin Ridley/ArDarius Stewart, WR: Auburn's defense hasn't seen a duo of receivers, besides Mike Williams and Artavis Scott, that are as explosive as Alabama's wide out duo. Alabama's offense is starting to throw more deep balls, and it will undoubtedly test Auburn's secondary deep on Saturday. Ridley and Stewart are both capable of taking over games, if they can keep getting separation and catching passes it could be a long day for Auburn.
Jonathan Allen, DL: Jonathan Allen is one of, if not the best, prospects heading into the 2017 NFL Draft, and he is a disruptive force on their defensive line. Allen's lived in opposing backfields all year-long, and will be a major key in getting to Sean White, and creating some tackles for loss on Saturday. Allen's ability to force runners to bounce outside will allow them to be picked off by Foster, Tim Williams, Ryan Anderson, and company.
Kamryn Pettway, RB: Pettway's absence with a hamstring injury he sustained against Vanderbilt has been crippling Auburn's offense. Pettway is a monster running the ball when healthy, and with two weeks off, he should be ready to roll. Pettway's a big back who faces a tall task going against a defense that yields the fewest rushing yards per game, in order for Auburn's offense to get going, he'll have to as well.
Sean White, QB: White struggled heavily against Georgia completing 6/20 passes for 30 yards and an interception, but he had a shoulder injury. White will face a significantly better secondary this weekend, and will need to be healthy and on his A-game in order to beat Alabama. White's health, and ability to efficiently throw are huge keys for Auburn to pull off the upset.
Carl Lawson, EDGE: Auburn's defense is led by star edge rusher Carl Lawson, and he'll play a huge role in containing Jalen Hurts, and Alabama's outside run game. Lawson's a talented player who will more than likely be matched up with freshman Jonah Williams, expect Lawson to be in a key battle on the right side to get after Hurts and company. If Lawson can win his battles he can force Alabama into some difficult situations.
Get After Sean White: Alabama's second in the nation with 40 sacks, and they're pass rush is capable of generating significant pressure when they only send four guys. Getting in Sean White's face and hitting him often will be key for the Tide to slow down Auburn's offense. White's a catalyst for Auburn's offense, if they can cut down his time to throw, and fluster him Auburn could be in for a long game.
Stay Disciplined Against The Read: The spread offenses that run the read-option used to be Alabama's kryptonite, until Saban figured it out. Alabama's defense is the fastest they've ever had, and possess insane lateral quickness. They will need to stay disciplined against the read, and not bite on the fakes that Auburn runs. Don't count out Gus Malzahn when it comes to running trick plays in games like these.
Take Shots Downfield: Auburn's secondary looked susceptible to the deep ball against Georgia, and with the talented receivers and tight ends Alabama has they can take shots downfield any time they want to. Auburn has the 52nd ranked passing defense, Alabama needs to take advantage of a favorable secondary matchup.
Stop the Run Game: No matter what era of offense it is, Alabama will always be a run dominant team. Their offense needs the running game to be established for the rest of it to work. LSU showed how close you can make a game when you limit their ability to run. Auburn needs to slow down Alabama's four-headed rushing attack to come close in this game.
Have Good Sean White Show Up: Granted, White wasn't fully healthy against Georgia, but his performance was horrible. White can't have a day like that against the top overall defense in college football and expect to keep this game in striking distance. White needs to have a career day in order for the Tigers to win, no turnovers, a couple touchdowns, and efficient passing are a must.
Fluster Jalen Hurts: Even when defenses force turnovers on Alabama's true freshman quarterback, he just shakes it off and gets even better. The kid seems unshakeable, but Auburn needs to find a way to do it. Auburn needs to pressure Hurts early and often to force him into some quick throws, as well as a limiting his ability to run off the edge.
Alabama and Auburn always put on a show for the ages when they get together. This rivalry is the most heated college football rivalry, period. Good old-fashioned hatered takes over the week in which you're supposed to give thanks for your friends and neighbors in the state of Alabama this time every year.
Alabama is still the unanimous number one team, and is more than a step ahead of the competition in every way, but all of that goes out the window for the Iron Bowl. These games are always close, and they're always leaving you at the edge of your seat, no matter how big of a lead your team has.
Auburn lives and dies by the run, and unfortunately for them Alabama's the best in the business at stopping the run. It's the most anticipated Iron Bowl since 2013's instant classic, and could be a defensive battle for the ages if both teams get rolling early.
Alabama's offense isn't just running the ball 50 times a game anymore. This is a new Alabama with more five-star playmakers than you can count on two hands that can throw so many different wrinkles at you it's hard to predict, and stop. Expect to see Lane Kiffin unleash the playmakers, and if we're lucky, O.J. Howard up the seam.
Alabama's run defense will prevail on Saturday and hold Kam Pettway and company to below 200 rushing yards. Jalen Hurts will go for his fifth 100+ passing and rushing yard performance and be responsible for at least three touchdowns. Lastly, Alabama's defense will record more than five sacks on Sean White and provide constant pressure throughout the game en route to victory.
Final: Alabama 38 Auburn 17
This article originally appeared on