Iowa Hawkeyes lose senior WR Matt Vandeberg to broken foot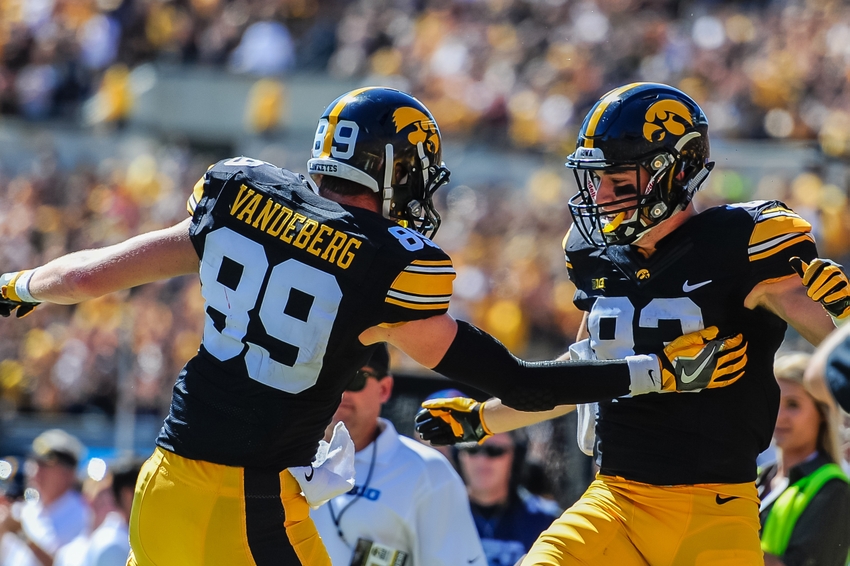 The Iowa Hawkeyes lost senior wide receiver Matt Vandeberg — quarterback C.J. Beathard's favorite target — to a broken foot…
The Iowa Hawkeyes haven't shown the type of offensive explosiveness in their last two games as they did to open the season, and they got some bad news this week that senior receiver Matt Vandeberg will likely miss the season with a broken foot.
Head coach Kirk Ferentz did express optimism that Vandeberg could be back for the team's bowl season, but added that if Vandeberg would like to apply for a fifth year of eligibility from the NCAA, the Hawkeyes would certainly welcome him back for another year. Here is his quote via Hawk Central:
"That would be something that we would most definitely appeal if Matt's interested in that," Ferentz said. "We haven't gotten that far. This has all happened so quickly. As you might imagine, we'll do everything we can to try to have Matt stay here.
"My guess is without asking him is that he would want that. After that, it's up to the appeal process. Based on past experience and observation, I sure wouldn't want to try to predict that whole thing. Hopefully it would work out for him."
This is a big blow to the Hawkeyes' offense as Vandeberg had become C.J. Beathard's favorite target in the passing game. He's a fantastic outlet on third downs but also in the red zone. His absence will be felt, as the other Hawkeye wide receivers have struggled a bit with drops at times this season.
The sure-handed Vandeberg hasn't been blowing anyone away with his numbers, but he's been a major factor in the Iowa passing attack and is a tough player on the perimeter when the Hawkeyes need a big block in the running game as well.
The loss of Vandeberg paves the way for Jerminic Smith to be the team's new number one receiver, and gives former big time recruit Jay Scheel a better chance at more playing time.
This article originally appeared on