Injury Watch: Cowboys win over Browns comes at a price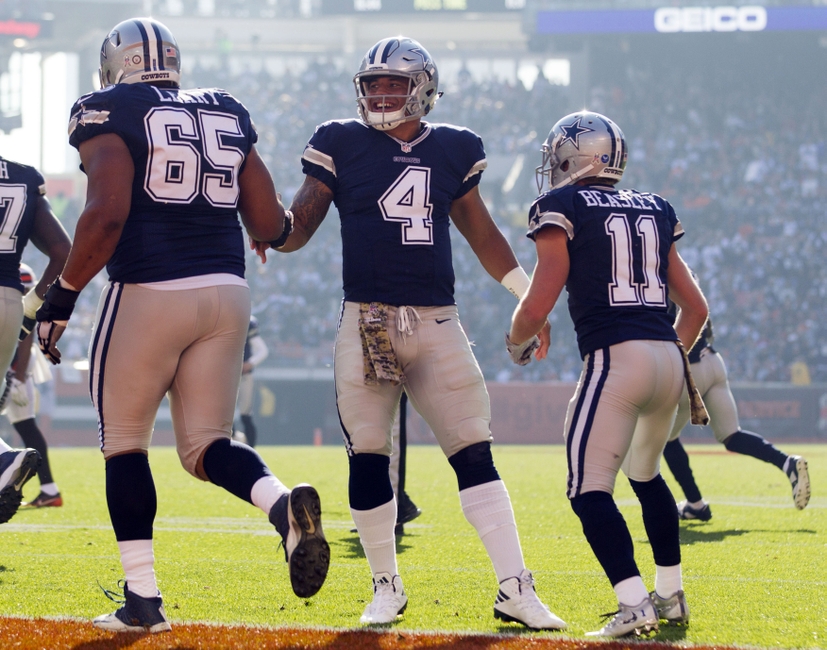 Although the Dallas Cowboys were able to easily defeat the winless Cleveland Browns on Sunday, the victory came at a price via a key injury.
The Dallas Cowboys extended their winning streak to seven games on Sunday as they dominated the winless Cleveland Browns 35-10. The Cowboys now sit alone atop not only the NFC East division, but the entire conference. At 7-1 they are tied with the New England Patriots for the best record in the NFL. (The Oakland Raiders are 7-2)
But Sunday's victory over the Browns came at a potentially high price. As many see the Cowboys offensive line as the foundation that their current winning streak has been built on, a key injury among their O-line could have disastrous results moving forward. Therefore, fans should be very watchful when it comes to the health status of starting left guard Ronald Leary this week.
Leary suffered a head injury that forced him out of Sunday's contest against the Browns in the second half. He was replaced along the offensive line by Joe Looney. Although head coach Jason Garrett claimed Leary looked fine following the game, it is unknown if the fifth-year guard is currently in concussion protocol due to a possible concussion.
"This week's injury from the game to keep an eye on – Ronald Leary," wrote football analyst Bryan Broaddus on the team's official website. "He left the contest in the fourth quarter to undergo the concussion protocol. Leary has been a key player in the way that this Cowboys offense has moved the ball. They can ill-afford to lose him for any time, especially with the Steelers, Ravens and Redskins ahead on the schedule."
If Leary is forced to miss any time due to his head injury, it could have serious repercussions along the Cowboys offensive line. Especially considering the fact starting left tackle Tyron Smith has been struggling through his own back issues.
But according to Leary himself, he's fine.
The 27-year old veteran took the place of starter La'el Collins in late September after he suffered a season-ending toe injury. Ironically, Leary was replaced by Collins in the starting lineup just last season and wanted to be traded out of Dallas earlier this year. But Dallas decided to keep the veteran for depth as he had already signed a one-year, $2.55 million deal to remain with the Cowboys earlier this offseason.
If Leary is unable to play to due this latest injury, expect Looney to take his place as the Cowboys starter at left guard. The 26-year old played for the Tennessee Titans last season. Before that, Looney played his first three seasons in the league with the San Francisco 49ers.
This article originally appeared on