Injury Update: Giants Get Good News From Doctor's Office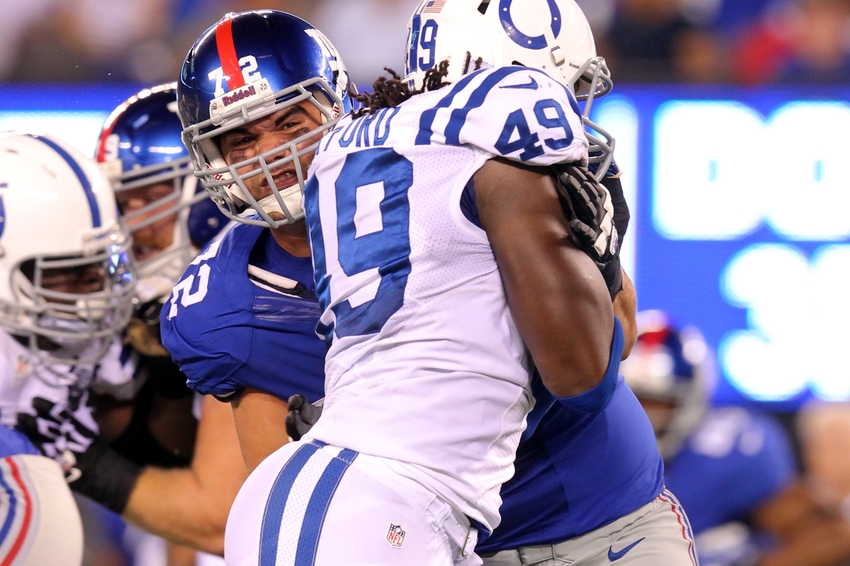 The injury update for the New York Giants (5-3) actually provided some good news. Offensive lineman Justin Pugh was not hurt as severely as first thought. Meanwhile, veteran receiver Victor Cruz may not miss any time with his injury. Big Blue needs both players down the stretch, as they seek an NFL playoff berth.
Injury Update: Justin Pugh
When a player gets rolled up on, it's usually not good news. But offensive lineman Justin Pugh did not suffer a season-ending injury against the Philadelphia Eagles. "Justin Pugh, who has started every game this season, sprained his knee in the second quarter of the Giants' 28-23 victory yesterday against the Philadelphia Eagles," according to Giants.com on Nov. 7, 2016.
Canadian-import Brett Jones came in to spell Pugh and was praised by head coach Ben McAdoo afterwards, according to the New York Post on Nov. 7, 2016. "I thought Jonesie did a nice job when he went in there,'' McAdoo said.
Additionally the New York Post reported that Pugh has a sprained MCL in his knee. Standard recovery time for such an injury is 4-6 weeks, so Dec. 4 at Pittsburgh is a possibility. If not, it will be critical to get Pugh back for the Dec. 11 rematch against the Dallas Cowboys at the Meadowlands.
There was concern, rightfully so, about the performance and depth of the offensive line heading into the season.  The performance has certainly been serviceable, even if Bobby Hart receives a 42.8 grade from Pro Football Focus. But the depth is still razor thin, and another injury will certainly test the limits.
Injury Update: Victor Cruz
One area that has depth on the team is the wide receiver position. In year's past, losing Victor Cruz would be a fatal blow. But on Sunday before his injury, Cruz lost snaps to Roger Lewis. Lewis took 37 snaps against the Eagles, according to N.J. Advance Media on Nov. 7, 2016.
Cruz took 15 snaps before calling it a day, and Dwayne Harris saw the field for 16 plays. It is likely that Harris saw a bump in playing time due to the Cruz injury. Will Cruz miss significant time with the injury?
"Victor is going to get an MRI. He has one scheduled [for Monday]," McAdoo said as reported by N.J. Advance Media on Nov. 7, 2016. "We'll know more after the MRI."
In a worst case scenario, the Giants would likely insert Lewis as a starter. Having two rookie receiver starters would not be an optimal situation though. Would the coaching staff feel comfortable with two rookie receivers and rookie Jerrell Adams at tight end?
Taverres King was inactive on Sunday and takes Cruz's Monday roster spot. King is not a rookie, but he is young. It seems any injury update with Cruz means the Giants better brace for growing pains on Monday.
This article originally appeared on