Indianapolis Colts: Andrew Luck Ruled Out for Thanksgiving Game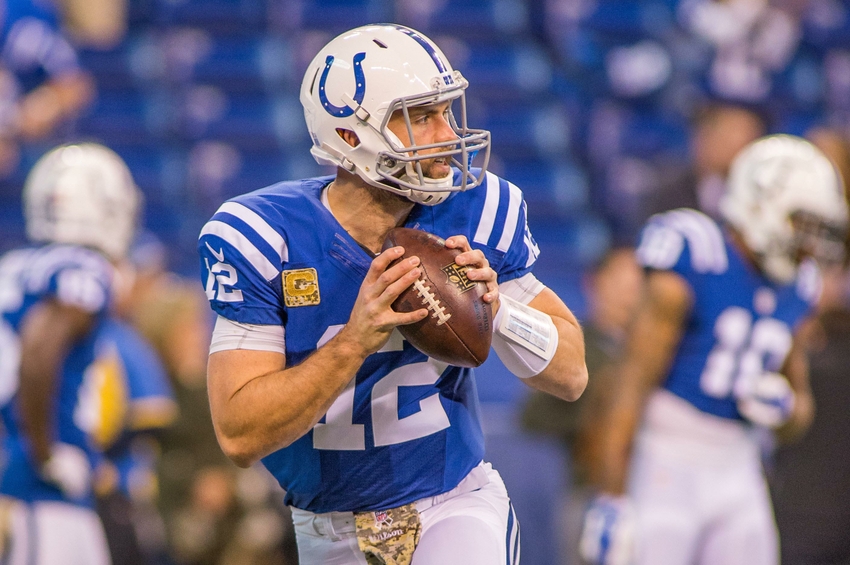 Andrew Luck won't be available on Thanksgiving to bail out the Indianapolis Colts defense against the vaunted Pittsburgh Steelers attack.
Although he didn't show any symptoms during the game and finished the contest out, Indianapolis Colts franchise signal-caller Andrew Luck suffered a concussion in the team's 24-17 win over the Tennessee Titans. Luck tossed touchdowns to TY Hilton and Donte Moncrief, who is listed questionable this week, in the victory.
Luck entered the concussion protocol earlier this week and, because the Colts game against the Pittsburgh Steelers is on Thursday, he was always seen as a longshot to play.
Now the Colts have officially ruled out Luck (per NFL.com) for their Thanksgiving Day tilt with Ben Roethlisberger and the Steelers, leaving them in a bind. Scott Tolzien, who famously started some games with Aaron Rodgers out in 2013, will start at quarterback.
Tolzien's backup will be former Miami Hurricanes passer Stephen Morris, who began his college career as a promising prospect before falling off the map. The Colts promoted him from the practice squad on Wednesday and demoted former Dallas Cowboys wide receiver project Devin Street in a corresponding move.
Neither Tolzien nor Morris can effectively move the ball for an offense, and Tolzien's lone positive moment was a ridiculous spin move touchdown run.
The Colts are in a for a long day, and it will take a miracle for Frank Gore and Hilton to carry this team to victory against an offense that boasts Le'Veon Bell, Antonio Brown, and Roethlisberger. Thursday's game will start at 8:30 p.m. ET. Luck's injury is a bummer to fantasy owners, as the former Stanford standout threw for 400 yards in his only career appearance against the Steelers.
This article originally appeared on