Hue Jackson believes Browns will win championships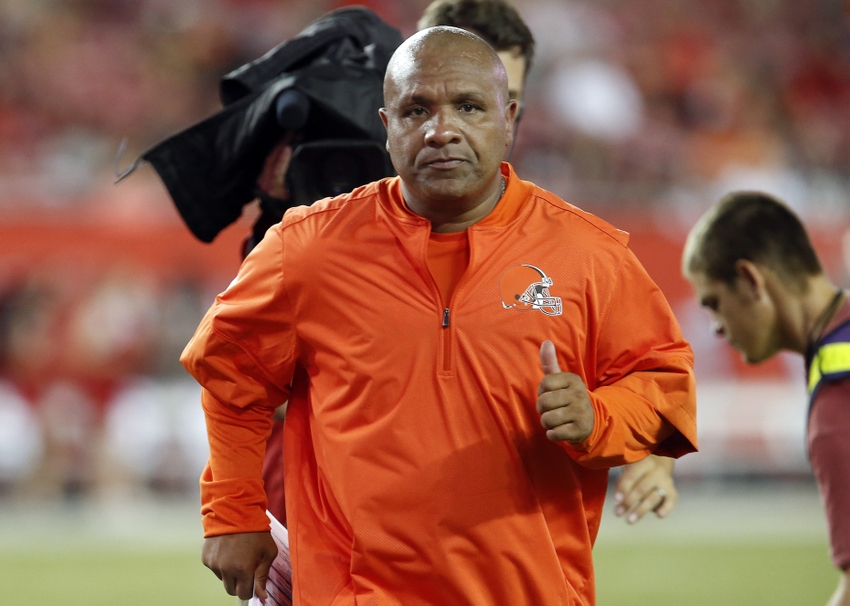 Speaking after practice today, head coach Hue Jackson did his best to reassure Browns fans in their ability to win.
Ask any successful person, "how did you get to where you are today?" They'll tell you it took a lot of hard work and probably one other thing, you've got to fake it till you make it. It's now evident that Hue Jackson, the head coach of the Cleveland Browns, is following that proverb to a T.
Speaking to reporters after Wednesday's practice, Jackson said, We're going to win and we're going to win championships for the Cleveland Browns.
The knee-jerk reaction is to immediately laugh off this quote and move on. Let's focus on the Browns turning in their first winning season since 2007, right? However, the truth is, as a coach in the NFL, this is the kind of mindset you must have to win championships.
#Browns Hue Jackson: "We're going to win and we're going to win championships for the Cleveland Browns''

— Mary Kay Cabot (@MaryKayCabot) September 14, 2016
If there's anybody that knows the confidence needed to turn around a losing franchise, it's Jackson. He has coached in the NFL since 2001 with stints in Washington, Atlanta, Baltimore, Oakland, Cincinnati and Cleveland. Between those six franchises, there have been only two Super Bowl victories since 1993, both by the Ravens (2001 & 2013).
That's not a lot of winning. In his first game as head coach of the Browns last week, his team lost to a rookie quarterback making his first career start. That has Browns fans unhappy with Jackson, and he knows it.
Hue Jackson: The fans might not like me right now, but they're going to love me eventually. I'm a fighter. #DawgPound

— Cleveland Browns (@Browns) September 14, 2016
If were being honest, the Browns are a long way from winning a Super Bowl, let alone winning the AFC North. It's no secret that the franchise has had a tough time finding a quality quarterback, and they haven't exactly nailed it with their draft picks (not a single first round pick from 2011-14 is on the current roster.)
The bottom line is that given the current state of the Browns, Jackson deserves some props for saying that the team will  win championships (notice that word is plural). What I hope he notices is that there is a colossal amount of work to be done before he can come through on his promise…or whatever you want to call it.
This article originally appeared on