How the Minnesota Vikings Can Survive Loss of Teddy Bridgewater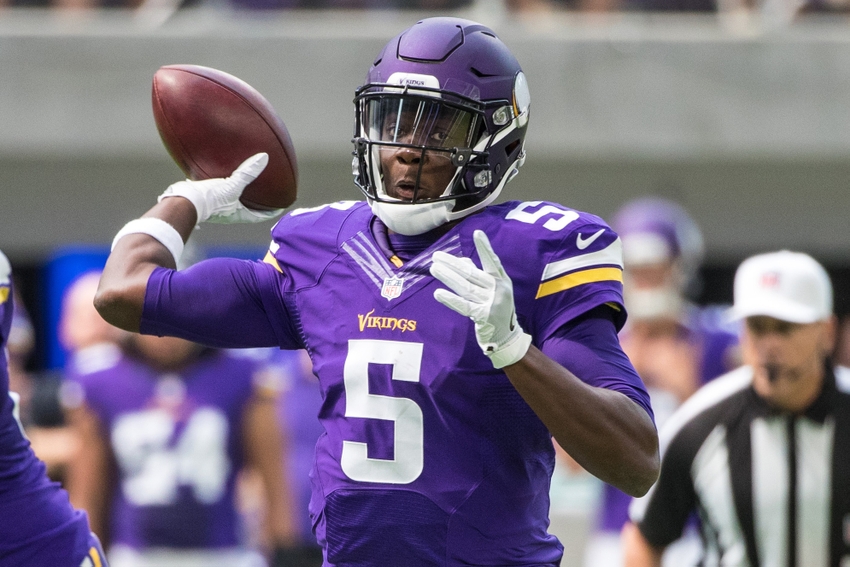 The Minnesota Vikings have lost emerging quarterback Teddy Bridgewater for an extended period to a serious knee injury, but this doesn't mean the team is dead in the water or out of the postseason race.
Minnesota Vikings quarterback Teddy Bridgewater doesn't often get the credit he rightfully deserves. The 32nd overall pick back in 2014, the former Louisville standout has solidified the quarterback position for the Vikings during his two pro seasons.
Yes, Bridgewater isn't gunslinger or a big-play machine, and those judging strictly on box scores might be quick to label him a "game manager." Yet, Bridgewater has been able to make plays when he needs to. He can recognize the mismatch pre-snap, deliver an accurate ball and can put the offense in position to succeed.
His career passer rating of 87.0 might seem a bit underwhelming, but his career completion percentage of 64.9 and regular-season record of 17-12 are much more impressive.
Bridgewater helped lead the Vikings to an NFC North title in 2015, and he was widely expected to potentially lead the team on a deeper postseason run in 2016. Unfortunately, that probably  isn't going to happen.
"Everybody can count us out if they want, but I think that would be the wrong thing to do." – Vikings HC Mike Zimmer
Bridgewater suffered a non-contact knee injury during practice on Tuesday. The early reports are not comforting, and Vikings head coach Mike Zimmer has admitted that the injury could be season-ending, per NFL media's Ian Rapoport:
#Vikings coach Mike Zimmer says there is no timetable yet for Teddy Bridgewater. He admits it's "possible" it's a season-ending injury.

— Ian Rapoport (@RapSheet) August 30, 2016
Ben Goessling of ESPN.com reports that players immediately scattered and that some "dropped to one knee in prayer" when Bridgewater went down.
According to Goessling, Bridgewater was sedated prior to an MRI and Zimmer stated that a return this season "doesn't look good right now."
According to ESPN's Adam Schefter, Bridgewater has suffered a torn ACL.
Vikings announced Teddy Bridgewater tore his ACL and suffered other structural damage.

— Adam Schefter (@AdamSchefter) August 31, 2016
Though the team hasn't announced it, it seems the Vikings will be without Bridgewater for the entire 2016 season. However, this doesn't completely extinguish the team's playoff hopes, and Zimmer has made it clear that Minnesota will fight on.
"We're gonna figure out a way.," Zimmer said, per Mark Maske of the Washington Post. "Everybody can count us out if they want, but I think that would be the wrong thing to do."
The reality is that the Vikings can still contend for a playoff berth, though they'll have to change up their season-long strategy just a bit.
How Must the Offense Change?
With Bridgewater out, the Vikings will obviously have to change up their offensive strategy a bit. Though the team has traditionally leaned on Adrian Peterson and the running game, it will have to do so to an even greater extent now.
For Peterson, this should be business as usually. The nine-year veteran is used to being the centerpiece of the Vikings offense, and he has carried the load many times before. Peterson pushed Minnesota into the postseason in 2012, rushing for 2,097 yards while supporting Christian Ponder at quarterback.
Peterson also ran the Vikings to the postseason in 2008, a year in which the quarterback position was manned by Gus Frerotte and Tavaris Jackson. Peterson ran for 1,760 yards that season.
Peterson is older now and it missing more tread from the proverbial tires now, though, and the Vikings cannot simply plan to run him into the ground. This means the offense will have to get more out of fellow running backs like Jerick McKinnon and Matt Asiata. Those two helped carry the load during Peterson's 2014 suspension, so they should be used to some heavy involvement.
Rookie running back Jhurell Pressley and wide receiver Cordarrelle Patterson may also be called upon to help round out the ground game. Creativity will be key here, as leaning hard on the running game now becomes a significant priority.
If the Vikings can get enough out of their ground attack, they can control the tempo and tone of games while supporting their guy under center. Minnesota may have previously dreamed of launching deep balls to Stefon Diggs and rookie Laquon Treadwell, but those plans must now change.
The Vikings relied on a run-oriented, ball-control offense with Bridgewater. The offense must become even more of one without him.
What Do the Vikings Do at Quarterback?
Believe it or not, the Vikings can survive with backup Shaun Hill at the helm of the offense. There is a reason why Hill has stuck around the NFL for 14 seasons and it's because the guy can play football. He isn't necessarily a guy you want to build your team around, but he is a savvy veteran with enough talent to manage the  game.
Hill should be able to execute coordinator Norv Turner's offense at a respectable level. Though he no longer possesses a rocket arm and certainly lacks Bridgewater's mobility, he has shown command of the system this preseason.
Hill has completed 68.0 percent of his passes this preseason, has not committed a turnover and holds a respectable quarterback rating of 90.8. Pro Football Focus rates him 28th overall among all quarterbacks for the preseason thus far.
Hill brings years of knowledge and starting experience to the table. He has gone 16-18 as a starter, which isn't stellar but seems much better than the 14-21-1 record that Ponder holds.
If the Vikings can get to the postseason with Ponder under center, they can do it with Hill.
Of course, the Minnesota brass might want to bring in another veteran signal-caller to add to the mix, even if it's too late in the preseason to host a legitimate quarterback competition.
Trading for a guy like Josh McCown might make sense because McCown is more of a natural athlete than Hill and still possesses a cannon of a throwing arm. McCown is 37 years old, though, and has had trouble staying healthy.
Journeyman Mark Sanchez is another option, especially if the Denver Broncos release him. However, he is in the same game-manager mold as Hill and would likely be a backup at best, at least early in the season.
If Minnesota is comfortable with running a conservative offense, Hill is probably the team's best bet. The offense won't be as explosive as the team might have hope for, but it can still be efficient with Hill running the show.
The Defense Must be Even More Important
The Broncos proved last season that defense still wins championships and that elite quarterback play isn't a requirement for an NFL championship. This fact should keep hope alive for the Vikings and their fans.
While the Minnesota defense might not be on par with the one we saw in Denver last season, it is still a very, very good unit. The Vikings ranked fifth in the NFL in scoring defense, allowing a mere 18.9 points per game. Pro Football Focus rated the team eighth overall in defense for the season.
Zimmer is a defensive-minded head coach and he knows the importance of a suffocating, turnover-producing unit. He and defensive coordinator George Edwards have crafted one of the better defenses in the NFL, and now is the time for the team to depend on it.
That conservative ball-control offense only really works if the Vikings can dominate in the defensive department. Limiting scoring opportunities for the opposition and forcing turnovers will be critical to the Vikings' success this season. The Vikings defense has the talent to be an elite unit, and if it can, the team can be a playoff contender.
The Vikings scored an average of 22.8 points per game in 2015, which was 16th-most in the NFL. This means Minnesota was able to ride it's defense to the postseason despite fielding a middle-of-the-pack offense. If the Vikings can find a way to get similar offensive production, this defense can compensate.
The thing here is that the Vikings will have to rely on their defense even more than they might have needed to with Bridgewater under center. Outscoring the opponent is obviously the trick to winning football games, and if the offense is less effective, the defense must be more so.
The Bottom Line
A strong running game and a top-tier defense can be enough for the Vikings to get into the postseason, even without Bridgewater. Minnesota probably won't be a legitimate Super Bowl contender without their young signal-caller, but this can still be a playoff team.
The X-factor here is what Minnesota decides to do at quarterback and how the team can support Bridgewater's replacement. If the team can get even average play at the position, there is still hope.
Hope, is perhaps what the Vikings need most right now. Getting discouraged about Bridgewater's injury and looking at 2016 as a lost season could be enough to destroy any playoff hopes before the season even begins.
This article originally appeared on