How the Kansas City Chiefs can become a "real" Super Bowl contender
Stacy D. Smith/FanSided via Arrowhead Addict

Fansided A familiar darkness has fallen over the kingdom.
As the final seconds of regulation ticked off the clock, the prospect of a Super Bowl berth in 2017 wafted away into the fog hovering over Arrowhead Stadium. The Kansas City Chiefs were again victimized by the Pittsburgh Steelers. It was quite a different game than the 43-14 drubbing handed to them by the AFC North winner in Week 4. Though, somehow, this loss stung just as much — arguably more. The Chiefs' aspirations of an early-February trip to Houston were snuffed out in a contest where they didn't allow an offensive touchdown.
Things were supposed to be different. This team, ostensibly the most viable contender since the Dick Vermeil-led Chiefs of the 2003 season was capable of beating anybody. Earlier in the year, this same squad defeated two teams that qualified for the postseason tournament (away from Arrowhead Stadium). Kansas City had seen its share of top tier quarterbacks in 2016. Ben Roethlisberger did get the best of them in October, but that was before the return of Justin Houston and the emergence of Terrance Mitchell and Tyreek Hill. That game also took place in Heinz Field where the Steelers play their best football.
The stage was set for this regime to take another step towards a Lombardi trophy. Unfortunately, this Chiefs team couldn't quell the demons it's been plagued by all season — offensive ineptitude, untimely penalties, drops and turnovers. Kansas City came unglued at the worst possible time. Travis Kelce dropped a would-be touchdown and was penalized two plays later for shoving a Steelers defender to the ground (Unnecessary Roughness). Alex Smith twice missed a streaking receiver wide open down the field. Charcandrick West fumbled the football without being touched as the first half came to a close. The Chiefs imploded and squandered the best chance to advance to the AFC Championship Game this side of a Bush presidency.
We know what went wrong. The question now becomes: How do general manager John Dorsey and head coach Andy Reid fix what ails this football team? I'm glad you asked, and since you're asking, I'll get right to it. Some of the following suggestions will neither be popular nor probable. The stench of another early exit hasn't quite worn off yet; humor me.
Fire Andy Reid
His staunchest critics are salivating over that suggestion. Calm down, cowboy. Reid should only be relieved of his duties as the team's offensive play caller. He's an excellent head coach who'll eventually be enshrined in Canton for his career leadership efforts. That said, he cannot continue to push the offensive buttons in Kansas City.
With two weeks to prepare, he managed just ten offensive points through three quarters of the game. Reid and company lost despite holding the Steelers to just 18 points. It's unlikely Big Red will relinquish play calling responsibility on his own. It's up to Chairman Clark Hunt to intervene and demand change. He established the unique reporting structure currently in place. Reid only answers to him, and in this case, he should have to hand over the keys to continue to have access to the family car.
Look, Matt Nagy's a nice enough guy, but the responsibility can't fall to him either. Pickings are currently slim around the NFL, but that could change over the next month. One candidate who'd provide the Chiefs with some continuity schematically is Bills offensive line coach Aaron Kromer. He helped the Chicago Bears post the league's 2nd-ranked offense in 2013. He's also partly responsible for two of the three highest-rated seasons of Jay Cutler's career. He has West Coast system familiarity and a long coaching history. It wouldn't require a total overhaul of the offense and would allow Reid to stay involved offensively without managing the in-game responsibilities of play calling.
Humble Travis Kelce
At press time, Travis Kelce was the talk of the league after publicly deriding Carl Cheffers' officiating crew following Sunday night's loss. Tackle Eric Fisher was flagged for offensive holding in a play that eventually wiped the Chiefs successful two-point conversion off the scoreboard. Back in the locker room, the fourth-year man out of Cincinnati didn't mince words about the call.
"For it to end like that, with the referee literally taking it out of our hands, that hurts," Kelce said. "You try to play this game with integrity, to the end of the whistle, and when the refs want to take over the game and make it their own platform, there's nothing you can do about it. That wasn't a hold on my guy Eric Fisher. I hope [Fisher] doesn't go the entire offseason thinking it was his fault. That was horses—, flat out."
You'd expect such an impassioned plea from a player who left everything on the field. The irony here is that Kelce was as much a contributor to Kansas City dropping the game as any officiating gaffe. For the record, it was a legitimate call. There's some thought that perhaps you don't allow a call like that to decide a postseason game that late in regulation, but the call itself is tough to argue with. The problem here is the fact that Kelce himself dropped a pass deep in Steelers territory and then promptly cost his team 15 yards with an ill-advised decision to retaliate against a defender.
Next season, the Kansas City Chiefs need to draw the curtain on Kelce's pursuit of Hollywood lights. The front office has given him a contract extension that pays him like an elite tight end. It's time to give him the space to become one. Kelce went to great lengths to build his brand in 2016. The Chiefs must demand he place his pursuit of greater visibility and marketability secondary to maturing into a more reliable football player.
Create an Alex Smith contingency plan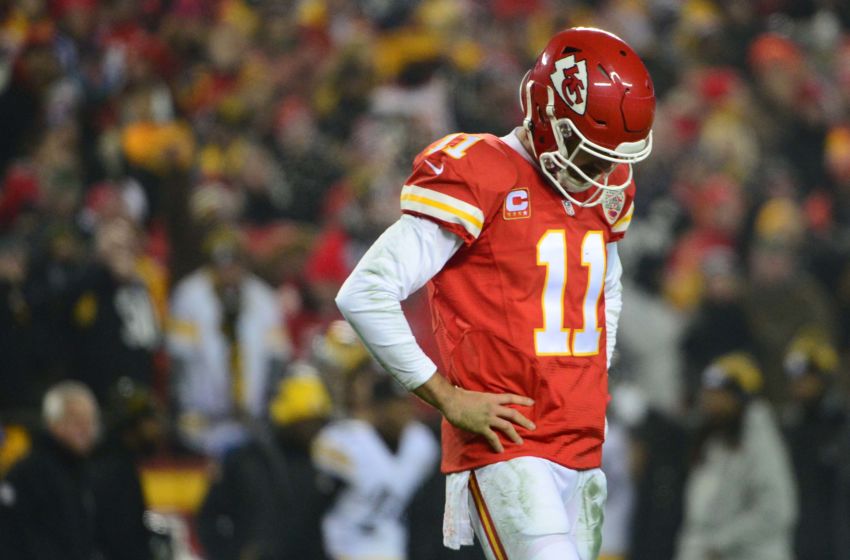 As intriguing as it might sound, DeShaun Watson isn't coming to Kansas City. There aren't many viable options for replacing Smith in the offseason either. In all likelihood, the Chiefs are stuck with him for at least one more season. That said, it's time to develop a succession plan for Smith. His glass ceiling was made apparent again in Sunday's loss to the Steelers. Being efficient is a respectable quality for an NFL quarterback to have. It pairs well with an opportunistic defense. Unfortunately, the reliance upon errors can and will fail at the most inopportune times. Some teams just aren't prone to turning the ball over and when they can't be counted upon, you need a quarterback who can play well consistently enough to close the gap. Alex Smith just isn't that guy.
That said, I do think he can win on the NFL's biggest stages given the right set of circumstances. For now, the Chiefs need to capitalize on the productive years he has left, but also identify the player who'll eventually steal away his job. Ideally, one without the limitations hampering the offense led by Smith. Given the relative youth of the franchise, the best option would be a drafted player. The 2017 Draft isn't quarterback rich, but there are a few intriguing options for Kansas City (DeShone Kizer, Mitch Trubisky and Brad Kaaya). If nothing else, an early investment in this year's draft puts Smith on notice that his game management in Kansas City is on borrowed time.
Acquire a dependable offensive skill player
Let's face facts here. The Kansas City Chiefs don't have a single offensive player who can be relied upon to make a play in a key offensive situation. Jeremy Maclin's 2016 was marred by inconsistency. Travis Kelce in key situations is either clutch or catastrophic. Spencer Ware never seemed the same following a mid-season concussion. Jamaal Charles may never play another NFL down. Tyreek Hill was likely the closest thing to dependable Kansas City had, but it's tough putting that kind of pressure on a first-year player. He may become that player as he evolves, but the Chiefs desperately need someone else to occupy that space until he does.
With looming contract situations for both Eric Berry and Dontari Poe, it's unlikely that the Chiefs will be big players in free agency. The every-down dependability they need is likely going to have to come from a player currently on the roster. Given another year to mature, that could very well happen with Ware, Hill or Kelce in 2017. It's also possible that Dorsey acquire another hidden, waiver-wire gem who can be an additional weapon in Reid's arsenal.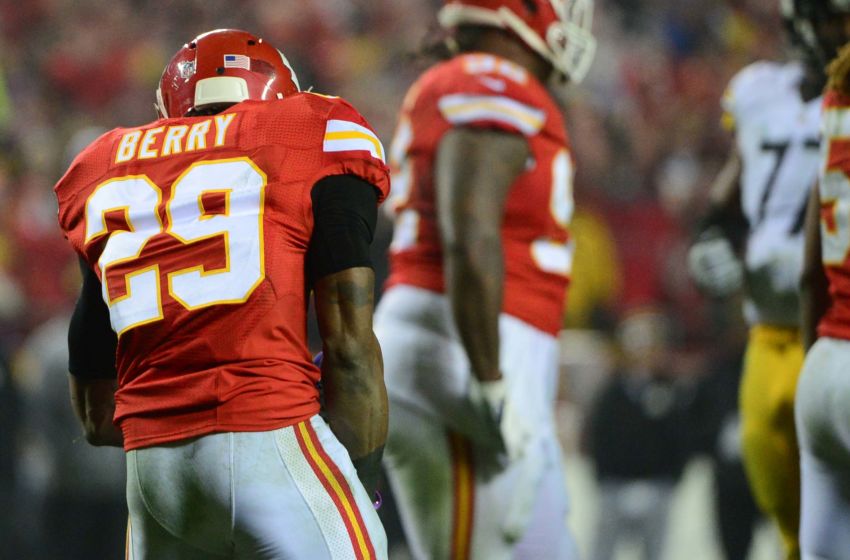 If the Chiefs can merely do two of the things on this list, they'll have a shot at advancing beyond the divisional round next season. Ben Roethlisberger and Tom Brady aren't going anywhere and eventually you're going to have to beat one (or both) of them to earn the right to play in the Super Bowl. They key for Kansas City is to maintain the core of this football team and to get even stronger in the seasons to come.
Does the 2016 season give you hope for a bright future in Kansas City or was it just another reminder that the current direction of the team makes them an outlier for Super Bowl possibilities? Are there other tenable options to help get the Chiefs over the hump this offseason? Should the Chiefs consider moving on from Alex Smith? Use the comment section below to begin the debate. As always, we appreciate your readership and support.
Until next time, Addicts!
More from Arrowhead Addict
This article originally appeared on