How the NFL's four conference championship game teams were built
This all makes so much sense, now that we're at the end of it.
In March, the Eagles gave injury-prone quarterback Sam Bradford a deal worth $36 million over two years. It was less than a week before the Texans handed Brock Osweiler—who started nine games before being benched in Denver—a four-year, $72 million contract. A month later, the Rams gave up two first-round picks, two second-rounders and a third to get Jared Goff, and the Eagles dealt two 1s, a 2, a 3 and a starting corner to acquire Carson Wentz.
And that was all four months before the Vikings flipped a 1 and a 4 to Philly to get Bradford, because their former first-round pick, Teddy Bridgewater, got hurt.
The lesson? There's no price too high for a franchise quarterback. Just look at this weekend. Three of the four quarterbacks still alive to see this weekend's conference title games are making in excess of $20 million per year, and the fourth isn't by choice—and he may be the great football player of all-time.
This isn't just us on the outside thinking it, either. The coaches and GMs for the other 28 teams felt it, too, when they looked at that bracket after last weekend and saw the final four we're all looking at: Aaron Rodgers at Matt Ryan at 3 p.m. ET on Sunday, then Ben Roethlisberger at Tom Brady after that.
"They're so hard to find," one AFC head coach told me Tuesday. "If you go all in and make a decision that this is the guy, then you have to go get him. And then you have to support him, so he can be the guy you envision him being. If you go get a guy and you don't support him—you don't put what he needs around him, i.e. the right receivers, the right protection—then it doesn't matter. It's all gonna look bad.
"So it's gotta be the right fit, the right coach, the right environment, it has to be the right everything. But you've gotta have a quarterback to win."
In this week's Game Plan, we'll look deeper at the Pittsburgh offense, the idea of drafting a running back high, the Packers' connection, why Dan Quinn is different, and a quarterback who thinks Kyle Shanahan is like Bill Belichick.
We'll start with the four teams still alive, their rosters, and what lessons other teams are taking from watching. Again, the most obvious: Find a franchise quarterback. As our coach above said, though, there's more to it than that. And so to dive in a little deeper, I repeated an exercise I did in my column at this time last year, and looked closely at the makeup of each team's 53-man roster. Here they are:
* * *
ATLANTA FALCONS
Homegrown Players: 27 (20 draftees, 7 college free agents)
Outside Free Agents: 24
Trades/Waivers: 2
Quarterback Acquired: Drafted Matt Ryan with the 3rd overall pick in 2008.
Last Five First-Round Picks: S Keanu Neal (2016, 22); OLB Vic Beasley (2015, 8); OT Jake Matthews (2014, 6); CB Desmond Trufant (2013, 22); WR Julio Jones (2012, 6).
Top 5 Cap Figures: Ryan $23.75M; Jones $15.9M; DE Tyson Jackson $6.35M; G Andy Levitre $5.375M; Matthews $4.48M.
GREEN BAY PACKERS
Homegrown Players: 44 (34 draftees, 10 college free agents)
Outside Free Agents: 7
Trades/Waivers: 2
Quarterback Acquired: Drafted Aaron Rodgers with the 24th pick in 2005.
Last Five First-Round Picks: CB Artie Burns (2016, 25); OLB Bud Dupree (2015, 22); ILB Ryan Shazier (2014, 15); OLB Jarvis Jones (2013, 17); OG David DeCastro (2012, 24).
Top 5 Cap Figures: Rodgers $19.25M; OLB Clay Matthews $13.75M; CB Sam Shields $12.00M; OLB Julius Peppers $10.5M; WR Randall Cobb $9.15M.
NEW ENGLAND PATRIOTS
Homegrown Players: 37 (27 draftees, 10 college free agents)
Outside Free Agents: 10
Trades/Waivers: 6
Quarterback Acquired: Drafted Tom Brady with the 199th overall pick in 2000.
Last Five First-Round Picks: DT Malcom Brown (2015, 32); Dominique Easley (2014, 29); DE Chandler Jones (2012, 21); LB Dont'a Hightower (2012, 25); OT Nate Solder (2011, 17).
Top 5 Cap Figures: Brady $13.76M; Solder $10.32M; Hightower $7.75M; DE Jabaal Sheard $6.81M; TE Rob Gronkowski $6.62M
PITTSBURGH STEELERS
Homegrown Players: 30 (23 draftees, 7 college free agents)
Outside Free Agents: 21
Trades/Waivers: 2
Quarterback Acquired: Drafted Ben Roethlisberger with the 11th overall pick in 2004.
Last Five First-Round Picks: CB Artie Burns (2016, 25); OLB Bud Dupree (2015, 22); ILB Ryan Shazier (2014, 15); OLB Jarvis Jones (2013, 17); OG David DeCastro (2012, 24)
Top 5 Cap Figures: Roethlisberger $23.95M; ILB Lawrence Timmons $15.13M; WR Antonio Brown $11.88M; C Maurkice Pouncey $10.55M; DL Cam Heyward $10.4M.
* * *
Clearly, the Falcons aren't built like the Packers, the Steelers' construction is different than it was with their most recent (drafted-player heavy) title teams, and the Patriots' high percentage of homegrown talent belies the fact that half of their first-round picks since 2012 are on other rosters. But when other teams look, they do see a few commonalities.
First, the teams have strong leadership, and that's beyond just the quarterbacks—there are characters here (i.e. Martellus Bennett, Antonio Brown), but there's character too. None of the four is overrun with knuckleheads.
"I do think the scouting departments now, the GMs are listening to coaches on what they need," said an NFC head coach. "We're the ones with these players all the time. And you don't have to get the most talented player. If you're always holding your breath, and he's a ticking timebomb, that's a problem. You have to be careful. You want quality people, guys you can rely on."
Beyond that, the teams are built with purpose. The Patriots found Chris Hogan, the right kind of outside receiver for their offense, at a cheap rate. The Falcons plucked Keanu Neal to be Dan Quinn's next Kam Chancellor. The Steelers brought James Harrison back to play a very specific role. The Packers have gotten way more out of the previously frustratingly talented Jared Cook than other clubs.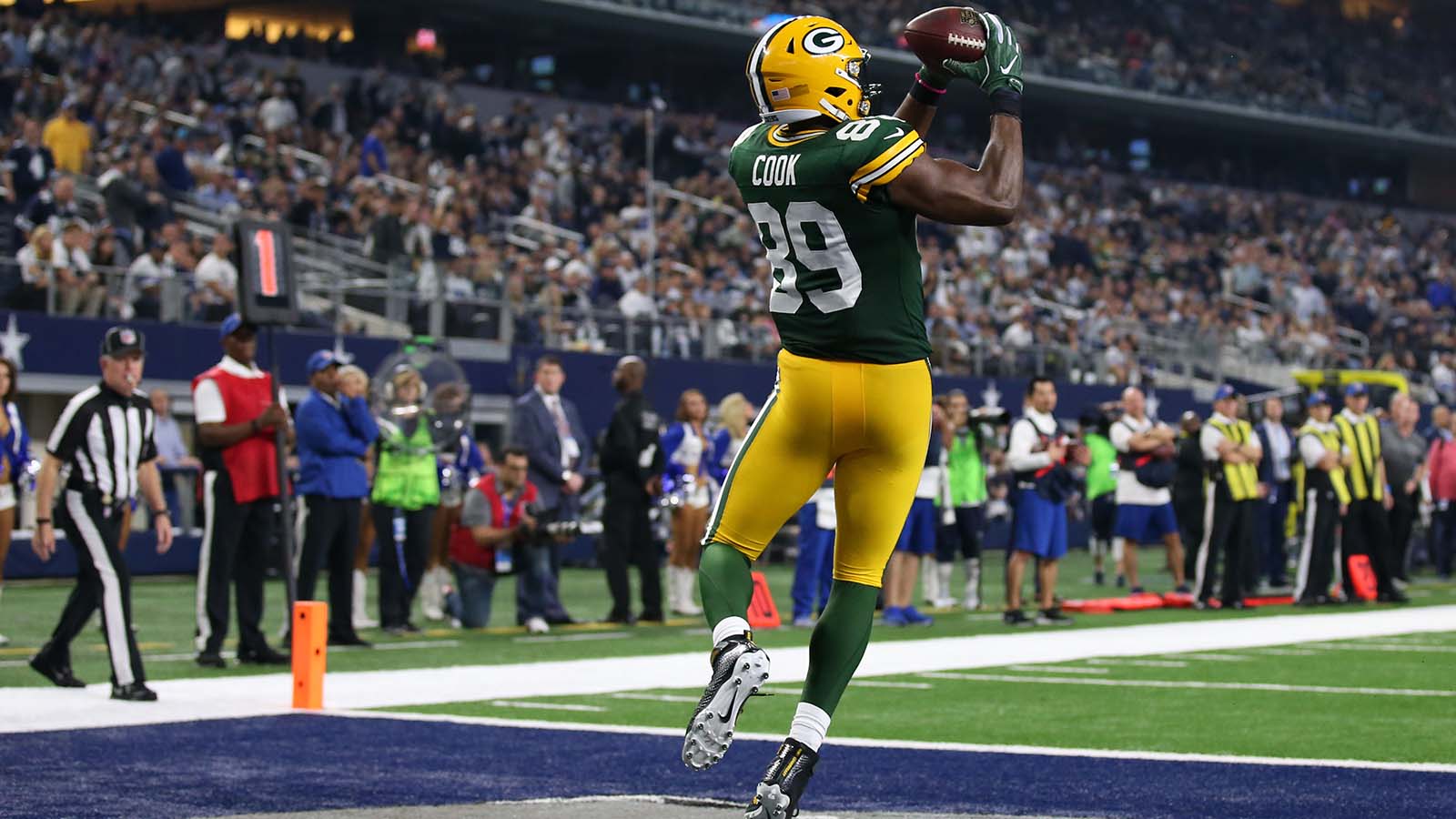 Those acquisitions worked because there was vision for what players would do. These aren't collections of talent. They're mosaics with each brushstroke tying into the next.
"Talent doesn't win; talent in right places, coached right, motivated right gives you the best opportunity," said the AFC head coach. "The most talented player might not be the best guy for your football team. The right fit is the right guy for your team. Nobody does that better than Belichick.
"It's not about talent with him, it's about fit. You can be the most talented guy, you might not fit what he wants to do, and he's gonna pass you by. The teams (alive), I don't think they really care about what other teams think."
An NFC GM reinforced the point, saying, "It's pretty clear with those four teams, if you have philosophical alignment, you can win."
And the third one that was pointed out repeatedly to me—the teams can run the ball, and have defensive identity. The Packers, because of their injury issues, are the exception on both counts, which speaks to what Rodgers has done the past two months.
The Patriots and Falcons were both in the top quarter of the league running the ball. The Steelers weren't, ranking 14th, but no one's been better carrying the mail since Veteran's Day than Le'Veon Bell. And that, as their rivals see it, is no mistake.
"Outside of Green Bay, they all have the ability to run the ball," said an AFC GM. "And if you're able to run it, it makes the quarterback that much better. If Matt Ryan has a run game like that one, he's a top five quarterback every year. If he has to throw it 50 times every week? Any quarterback's gonna have a hard time if that's the way it is."
So having a good locker room mix, a roster built with a purpose, and a run game to take the heat off the quarterback matters. But it's hard to get away from the central theme—getting it right at the most important position is the starting point, and generating the right environment for that guy is next.
The flip side is there, too, with how disastrous it can be to force it with the wrong guy. (Surprise! Brock Osweiler's name came up repeatedly).
"There probably isn't a price too high, but you have to be careful selling the farm to get one piece," said the NFC coach. "You have to be careful. You don't want to just go get the best available. Look at Houston."
Of the Texans, the AFC coach says, "The coach saw, 'This guy isn't gonna get us there.' And then, eventually, the coach was right. He was right. So now they have a huge investment that's killing them. And they have a decision to make."
Something for everyone to remember in a few months when we're all sorting through names like Jimmy Garoppolo, Kirk Cousins, Tony Romo, Mitch Trubisky, DeShone Kizer and DeShaun Watson—with the temptation being the payoff that the four franchises left standing are reaping now.
This article originally appeared on