How much is enough? Barber, McAdoo weigh in on Beckham outbursts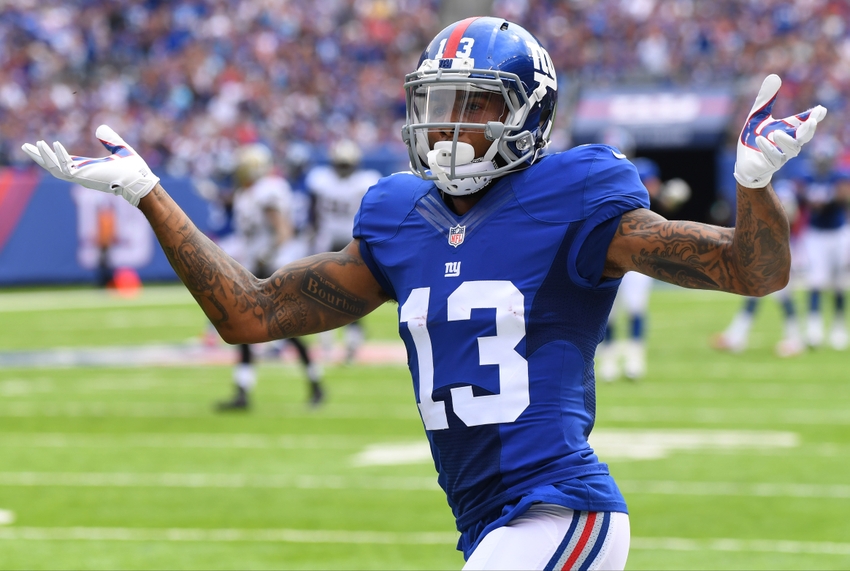 Seemingly the New York Giants have become "all Odell Beckham –  all the time". But how much attention is enough for OBJ? Football, at its core, remains the consummate team sport, so constant media attention revolving around one player can negatively impact the entire unit. 
This week, head coach Ben McAdoo had to clarify remarks he made earlier about Beckham controlling his emotions, after the team's 29-27 loss to the Washington Redskins on Sunday. Then later in the week, former Big Blue running back Tiki Barber intimated that Beckham is hurting the team.
McAdoo Has Had Enough Beckham Talk
McAdoo was pressed several times this week, after he called out Beckham originally for not controlling his emotions. When pressed further on Thursday, the head coach clearly deflects the question. "Listen, Odell works hard. He works his tail-off, he worked his tail-off again today. Winning is important to him, his teammates are important to him, the Giants are important to him. Just like everybody else in the locker room, we want to be our best when our best is needed and he's been that for us. It was no factor in the outcome of the game in any way shape or form. We're moving on," McAdoo said in comments posted on the team's website on Sep. 29, 2106.
Unfortunately, the head coach cannot control what the media writes, and his initial comments gave legs to this particular story. McAdoo's predecessor, Tom Coughlin, was old school, and he would have never aired the team's dirty laundry in public like McAdoo did.
Currently, the foundation of McAdoo's legacy is being poured right now, and the young head coach is being tested by his mercurial receiver. How this relationship ultimately plays out is anyone's guess. Reading between the lines seems to indicate that the relationship has become fragile to an extent.
The lesson McAdoo has to learn is that the coach cannot control the stories that the media covers, so trying to manage your star receiver through the press is not a good idea. This latest episode should be enough for McAdoo to understand this.
Beckham's Dismissive Response To McAdoo's Concerns
Beckham could not have been more dismissive and condescending in his response to McAdoo's concerns. When asked by the press if he was concerned about his coach's comments that he was a distraction on Sunday, Beckham said, "He said, she said. I'm not really concerned about anything except the Minnesota Vikings."
And despite the protestations by his teammates to the contrary, Beckham absolutely was a distraction on Sunday.
Former Giants' running back Tiki Barber, a player who has previously entered into controversial areas with his old team, had a problem with Beckham's response.
In comments posted by NJ.com on Sep. 30, 2016, Barber said, "[The Giants] can't allow him to just get up and say, 'I'm going to be who I am. I'm going to do what I want to do.' No, you're part of a team, buddy."
Right now, it's hard to imagine Beckham backing down at all. But if Beckham is really focused on championships; he needs an attitude adjustment. If championships are not enough to drive him, then this could become a larger headache for the Giants. Strictly based on talent, Beckham remains the Giants' best player, by far.
But being the best player does not always equate to being a championship player.
"Don't go changing to try and please me." Billy Joel
"He's a look-at-me player. If he's balling, nobody cares. But as soon as you start losing, as soon as you start drifting a little bit – and it feels like the Giants are vulnerable to a little bit of drift right now – they have to lock it in. [Head coach] Ben McAdoo and Mike Sullivan, the offensive coordinator, they got to lock him in."
For once, Barber got it right.
This article originally appeared on