How is the Buffalo Bills Backup QB Battle Shaping Up?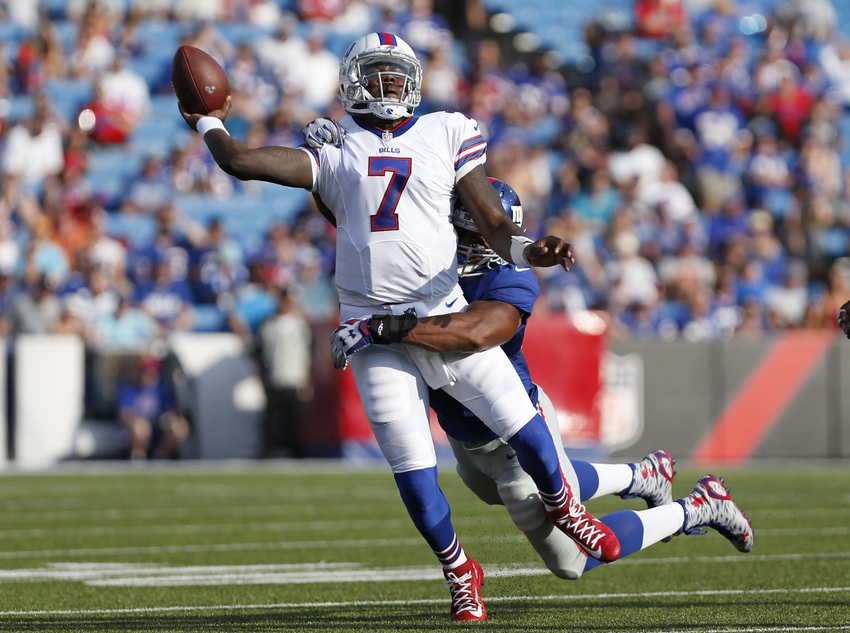 With preseason football now finished, we should have a clear look at how the Buffalo Bills backup QB battle is looking. However, it could still be out in the open.
As of right now, it looks like the Buffalo Bills could potentially have their franchise quarterback in Tyrod Taylor. After a very solid first year with the team — and first year as a starter — he signed a six-year, $92 million contract extension.
PFF Adds Bills DB Coach Ed Reed to All-Decade Team
With an increased (fully-guaranteed) contract this season, the motivation to succeed is all but absent.
The catch to the contract is that if the Bills aren't happy with him after this season, they do have an option on the quarterback. That adds a bit of pressure on Taylor, but if they decide to keep him then he will be a very wealthy quarterback with the potential to make a total of $112 million over the next six years — including a total of $27.5 million next year.
If he can perform well and stay healthy, this will prove to be a very smart move by the Bills. Either way, they're protected, though.
That was the first bit of business for the Bills' quarterbacks during training camp. With that out of the way, the Bills were forced to figure out who their backup quarterback would be. The team has two options and so far, they both have shown flashes of excellence throughout training camp and the preseason.
Let's take a look at both E.J. Manuel and Cardale Jones and what case they've made to replace Tyrod Taylor in the event of an injury — or worse, just straight up terrible production.
Out of the two backup quarterbacks on the Bills' roster, E.J. Manuel has the experience both as a starter and with the Bills' offense. Is it good experience, though?
When the Buffalo Bills drafted E.J. Manuel with the 16th overall pick in the 2013 NFL Draft, they were hoping he could develop into a top-notch quarterback in this league. That never happened.
PFF Adds Bills DB Coach Ed Reed to All-Decade Team
During that 2013 season, he shared the starting role with Thaddeus Lewis due to injuries Manuel sustained throughout the season. All in all, he finished the season with 1,972 yards, 11 touchdowns, 9 interceptions, 3 fumbles and a 42.6 quarterback rating in 10 games played. He added just under 200 rushing yards and 2 rushing touchdowns.
He continued to start for the Bills the following season, but only made it through the first four weeks before being benched due to lack of performance. That's when Kyle Orton came in and reminded the Bills just how bad their quarterback position was getting.
There's no doubt E.J. Manuel has had his time to prove his worth in this league, but it has just never come to fruition. Since his stint as a starter, he has been the team's backup — and a lousy one at that.
Last season, we saw him start two games when Tyrod Taylor was injured. In both of those games, he combined for 562 yards, 3 touchdowns, 3 interceptions and 1 rushing touchdown. However, those games ended in a loss to the Jacksonville Jaguars and Cincinnati Bengals.
Manuel has the experience with this offense and team to be a very valuable backup behind Tyrod Taylor. The only problem is history hasn't been kind to him. The thing that separates good backup quarterbacks from bad ones is their ability to turn into a starting quarterback whenever called upon. Perhaps that is why Bills' fans label him a bad backup quarterback — or bad quarterback in general.
Fast forward to this season.
Could we possibly finally be seeing Manuel develop into a worthy option? According to Rex Ryan, he could just be a late boomer in this league. Here's what Buffalo's head coach had to say about his progress this season:
"But I really liked the way he played. I love the way he competes. He's got a great look in his face. He loves competing. You know what? Sometimes quarterbacks take a little longer to develop. I think this is the best EJ Manuel I've seen."
So far this preseason, we've seen a good amount of Manuel and what we've seen has been a much more comfortable quarterback. Keep in mind, he didn't really have a very strong offensive line when he played, which means we haven't really even seen the best of him this year.
Throughout the four games this preseason, Manuel finished 40/75 with 391 yards, 2 touchdowns, one interception and 7 sacks. He also had 8 carries for 52 yards. His size can be very valuable, he just needs to work on reading the defense better and staying consistent.
E.J. Manuel has been listed as the backup ever since Cardale Jones joined the team. Will it stay that way?
Next, let's hear Cardale Jones' case for the backup job.
When the Bills drafted Cardale Jones this year, they knew he would have to develop before being NFL-ready? How's that development going so far?
He was Buffalo's 41st overall pick in the fourth round of this year's draft and could easily prove to be a steal in a few years. With Tyrod Taylor penciled in as the clear starter and Manuel proving to be a decent backup, he will most definitely have time to make the transition to the big leagues.
When we saw our first glimpse of Cardale Jones this offseason, it was evident that he was far behind Manuel for the backup spot. During training camp, he was highly inconsistent with his throws and was having trouble making the right decisions. Noting that he's a rookie, it was expected to see him stumble out of the gate as he saw his first reps with an NFL team.
However, once preseason started, he began to show that he can be a pretty dominant quarterback at times and especially seemed to thrive when under pressure — whether that pressure come from an attacking defense or from being down late in the game.
Jones made his NFL debut in the Bills' preseason opener vs. the Indianapolis Colts. He finished the game 11/21 with 162 yards, one touchdown, one sack and 4 carries for 34 yards. More notably, he almost led the Bills to a victory in the final drive of the game. After throwing a touchdown to Jarrett Boykin, they failed the two-point conversion with no time remaining as the game ended 19-18 in the Colts' favor.
Overall, he finished the preseason with 29 completions in 29 attempts, 362 yards, one touchdown, two interceptions, 3 sacks and 9 carries for 45 yards. He looked a lot better when put in a game scenario compared to his practices, which shows that his ceiling could be higher than originally expected.
Jones has also proven to be a lot more comfortable during the game than most rookies are right out of the gate. He never seemed to be bothered by the extensive pass rushes that were thrown at him and instead, used his poise and excellent footwork to make big plays when they mattered most. Again, he was never given quality pass blocking, so it would be interesting to see what he could do with more time in the pocket.
Jones' maturity has also stood out to me as he continues to keep his humbled attitude and willingness to learn and become a dominant force in this league. After their final preseason game, Jones stated:
"I'm definitely excited about it just to go through the experience of an NFL season. Seeing different defenses and different structures from the great defensive coordinators around the league and see how we do against more teams."
With the way teams build their roster and draft these days, it's rare that we get to witness a player like Jones get the chance to sit back, learn and develop early in his career. Most of the time, rookie quarterbacks are either drafted to be the starting quarterback or just simply never given a chance to shine. Jones certainly has the chance to learn from a couple of quality quarterbacks and get comfortable in this league before being thrown out with the wolves.
He has definitely come a long way, but could it still be too early to name him a backup?
To finish it off, let's get to what I think of the Bills' quarterback situation and how they could go about making the most of what they have.
Alright, so we've heard both sides of the story. Who should the Bills rely on in the event that Tyrod Taylor can't play at some point this season?
Before I begin, I want to note a few things here. First off, it's important we remember that both of these quarterbacks were forced to play this preseason with "iffy" pass protection that often saw their opponents blast right through the offensive line. Also, it's necessary to note that Cardale Jones hasn't really seen action with our top two receivers this preseason.
PFF Adds Bills DB Coach Ed Reed to All-Decade Team
With that being said, I would give the role to E.J. Manuel strictly due to his experience with this offense and his experience as a starter. Yes, I know, he hasn't really done much when put into the game as a starter. However, like Rex noted, this is a different quarterback we are seeing this year and now that their is competition for him, he has a lot more to play for.
There is a catch to this, though. Obviously, we ALL hope that the Bills don't have to dig into their depth chart for a quarterback this season. Best case scenario, Tyrod plays 16 games of fine football. If that happens, it will be very important to monitor the development of Cardale Jones. If he can show good progress as the season plays through, then could we possibility do without Manuel?
It's interesting to look at and if Manuel can continue to make strides himself, then he can be worth a good penny to a team looking for a replacement quarterback — wink, wink, the Minnesota Vikings just lost Teddy Bridgewater for the season.
Steve Tasker, a broadcaster for the Bills, has already hinted at this possibility and like myself, loves the idea. Here's what he had to say about the situation:
"I've never been a general manager, but for the sake of this I will play one on TV. Everybody is for sale for a price. That's the business you're in. If someone's going to stand there and give you two No. 1s for a guy like EJ Manuel, or a one and a two for an EJ Manuel, you're going to seriously think about it. If there is a deal to be made, I think you're crazy for not making your team better by (trading) a guy who, best-case scenario, EJ Manuel never sees the field for the Buffalo Bills."
For the Bills, I would reach out to teams who could use another quarterback and see what they can get for him. If they can make a deal happen that is favorable to the Bills, then why not? Especially if it gives Manuel a chance to further progress in the NFL, since there's no real chance of him becoming a franchise guy for the Bills.
As it stands right now, I would put Manuel as the backup and continue to work on Jones. Most importantly, keep the backup role in jeopardy for both parties because there's no better motivation than knowing you can lose your job at any point.
What are your thoughts on the Buffalo Bills backup QB battle? Are you Team Jones or Team Manuel? Leave your comments below!
Buffalo Bills Backup QB Battle Buffalo Bills Backup QB Battle Buffalo Bills Backup QB Battle Buffalo Bills Backup QB Battle Buffalo Bills Backup QB Battle Buffalo Bills Backup QB Battle
More from BuffaLowDown
This article originally appeared on