How Aldon Smith Makes Oakland Raiders D Better
Carl Cockerham/FanSided via With the First Pick

Fansided
It appears that Aldon Smith is soon to be reinstated into the NFL. That's just the shot in the arm the Oakland Raiders defense needs in 2017.
Oakland Raiders OLB Aldon said on Instagram, "I'm back and there's nobody that can stop me!" Well, he's done of good job of stopping himself the last few years. But he's set to resume a once-brilliant football career as long as he doesn't stop himself again.
NFL Network reported that if Smith stays clean, he would be reinstated in March. Of course, GM Reggie McKenzie, HC Jack Del Rio and new DC John Pagano are excited. Sorry, Ken Norton Jr. is the DC in title only, pagano will be running the defense from now on.
Khalil Mack and Bruce Irvin have expressed excitement and you know Raider Nation is excited. The Raiders defense took a step back in 2016 because of the absence of Smith and Mario Edwards Jr. Having them both back will be huge for the Raiders in 2017.
But this is about Smith so turn the page to see how he'll make the defense better.
What Smith Brings Himself
Many of you may have been watching Smith for the first time when he went to the Raiders in 2015. But he had no training camp that year and it took time for him to get in football shape. He was just starting to hit his stride with sacks in each of his last two games.
Then of course, he had to serve that suspension but he still made the defense better. In 2016, the Raiders were last in the NFL with a paltry 25 sacks on the year. In 2015 with Smith, the Raiders were in in the top half of the league with 38 sacks.
Smith is also great in the running game, setting a hard edge, funneling everything back inside. In 2015 with Smith, they were No. 13 against the run vs. No. 23 without him. That's the difference Smith made at much less than 100 percent of himself.
At 100 percent, Smith is special, getting to 30 sacks faster than anyone in NFL history before he went left. With a full offseason and training camp, that's the player the Raiders are getting. It's also his last chance and people usually make the most of their last chance.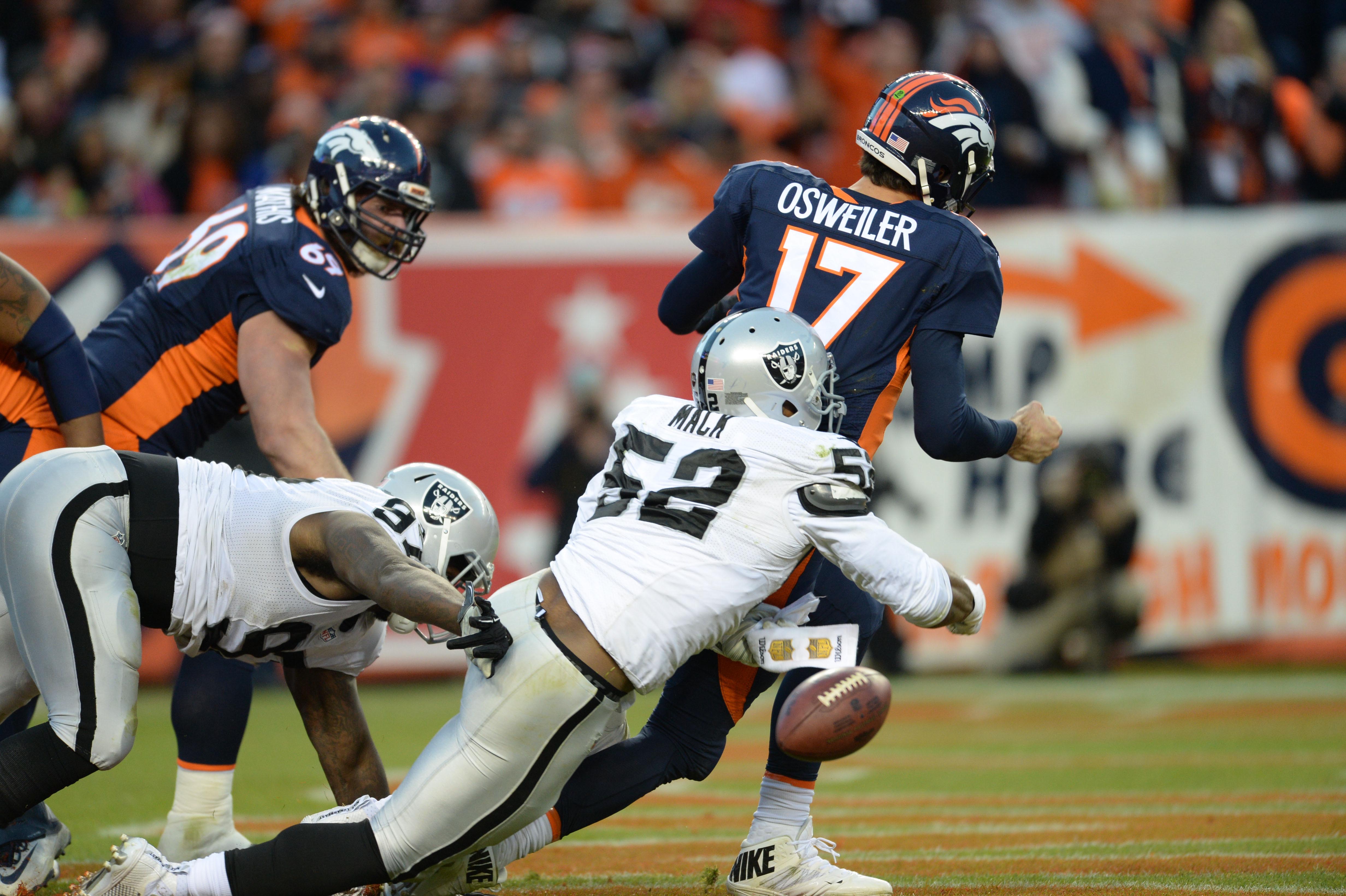 Makes Mack Better
Smith's ability to set the edge and rush the passer on a left tackle allows Mack to move back to SAM. The Defensive Player of the Year is a much better player at SAM than he is at LEO. That in itself made the Raiders run defense better because Mack destroys TEs.
He destroys them so quickly, he gets to inside runs and outside runs on his side. This is important because an overwhelmingly disproportionate percentage of run plays in the NFL are to the strong side. That puts Mack in play more in the running game.
In the passing game, opposing teams won't be able to double and triple-team him as much. In his five-sack game against the Denver Broncos, he saw one-on-one blocking and took advantage. The Broncos didn't do that to disrespect Mack, they felt they had no choice.
Edwards, who commands double-teams, was lined up inside of him and Smith was on the other side. You can't send all your blockers to one edge rusher with the other one just as much of a threat. So Smith will send Mack to his best position and take attention away.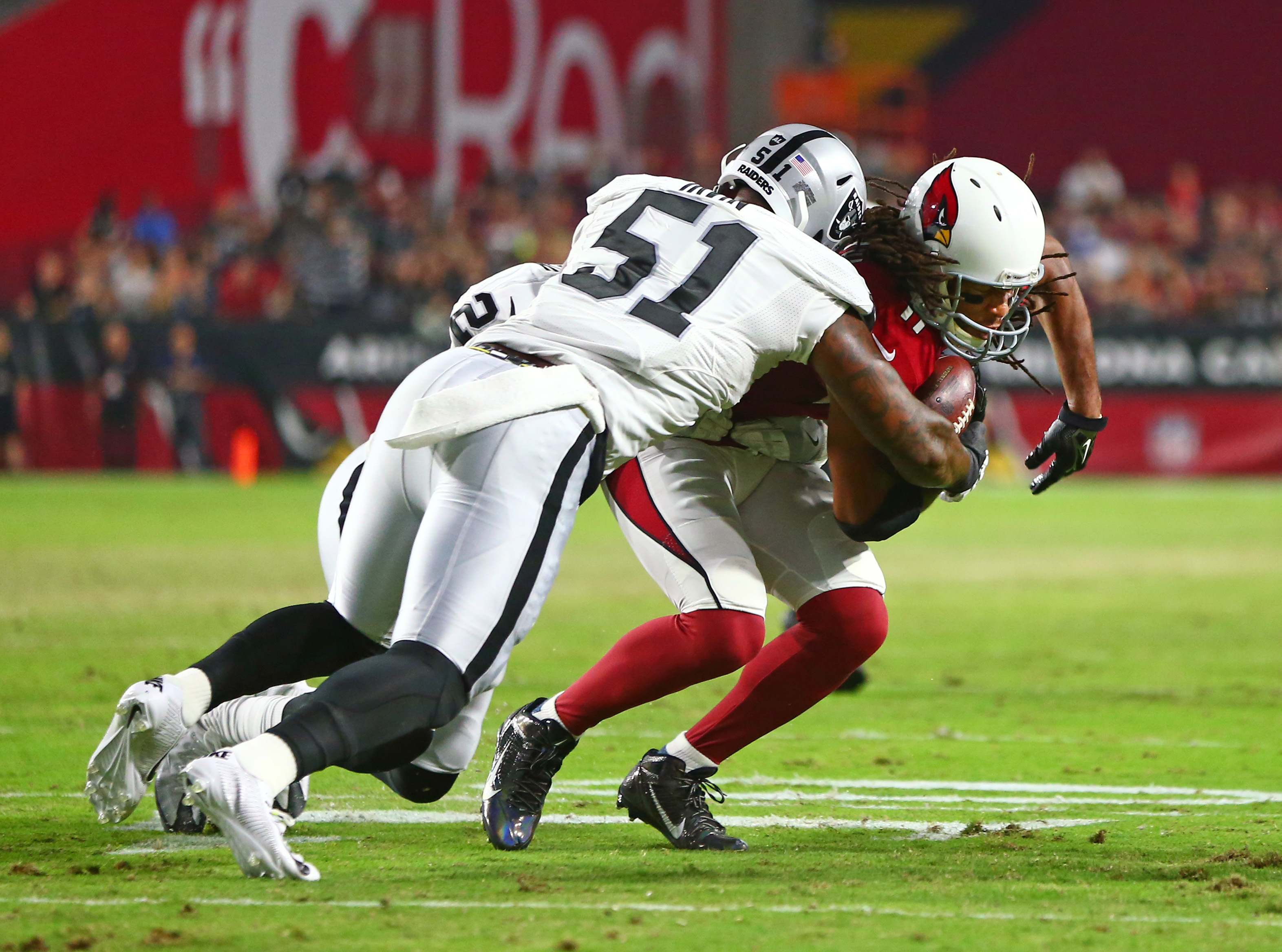 Bruce Irvin Still a Factor
With Mack and Smith on the Edges, that moves the versatile Bruce Irvin off the ball. Irvin wasn't the greatest edge rusher with his seven sacks last year but he's a great player. He was second best coverage linebacker for the Raiders in 2016 behind Perry Riley.
Irvin is very fluid, smooth and has great speed to cover RBs and TEs out in space. He could take the place of Malcolm Smith, who was once a solid linebacker in coverage, at WILL. But in 2016, the only thing Smith did worse than play the run was cover.
Both Irvin and fellow ILB Perry Riley Jr. will be free agents in a few weeks. The Raiders should let Smith walk and make sure they sign they re-sign Riley, who played well in 2016. Irvin and Riley would play all three downs and cover well while Mack and Aldon Smith rush.
And with the speed they both have, they could bring pressure with the cross-dog blitz inside. You could even run a 46 with Riley in the middle, Mack and Irvin on one edge with Smith on the other. You could play all kinds of games with all four of those guys.
Cornerbacks
Sean Smith started out scarily bad to start his first season with the Raiders last year. But the 2016 free agent acquisition picked his play up to salvage a good coverage grade by Pro Football Focus. David Amerson wasn't quite as good in 2016 as he was in 2015.
Slot CB D.J. Hayden had his moments but nothing to make you really want to keep the 2017 free agent. T.J. Carry actually looked good in the slot but can't handle it when he's on a fast guy. However, one thing that didn't help is that they didn't have a good pass rush.
With only 25 sacks on the year, you could say they didn't even have a decent pass rush in 2016. The cornerbacks mentioned if Hayden is back and whoever is added would be better with a rush. And we've already been over how much better the rush is with Smith.
In 2016, Mack was the only player that consistently got to the QB and he fought through triple-teams. Smith will make opposing offenses pay for blocking him one on one. So there will be much less time to throw in 2015, making life much easier on the CBs.
Bottom Line
The Raiders were much better against the run and the pass with Smith in 2015 than without him in 2016. They gave up a lot of bombs, particularly earlier in 2016, due to a lack of a pass rush. That is something that will not happen when Smith is back in 2017.
Mack can take that bulk off and regain his athleticism because he's not lined up on tackles every play. He won NFL Defensive Player of the Year but he's even better that what he showed this year. When he's lined on tight ends, he'll be fresh to rush on passing downs.
And along with making Mack better, Smith is going to tear it up himself with the one-on-one blocking. When he starts getting his sacks, opposing teams won't know who to double. With Mario Edwards Jr. bringing it from the inside, that have to play it straight up.
The Raiders need to re-sign Stacy McGee to make it two interior rushers and two edge rushers. They'll also have good coverage out of their linebackers and the secondary. John Pagano is in Raider Nation now so Ken Norton Jr. cannot screw it up this year.
Look for Smith and the Raiders D, to make it happen this coming year.
Just win, baby!
More from With the First Pick
This article originally appeared on