Houston Texans lucky to leave Jacksonville with a 24-21 win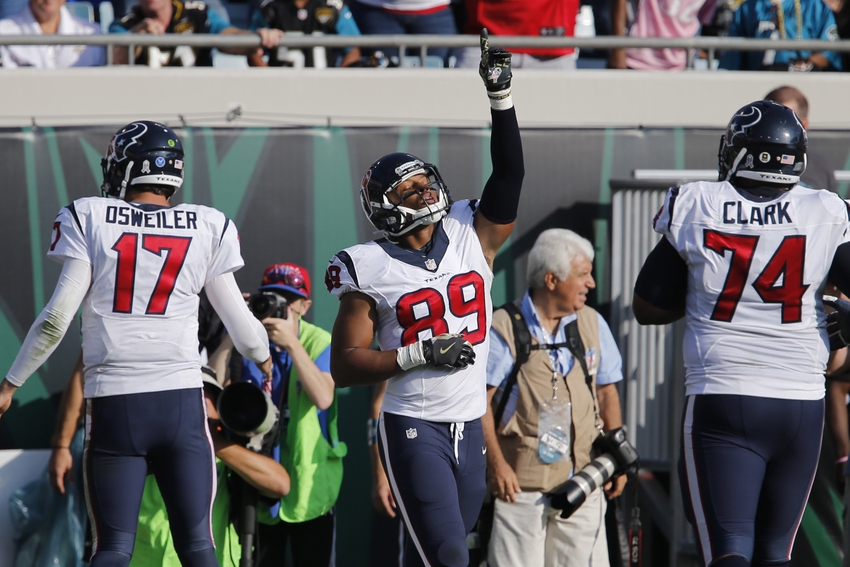 The Houston Texans were lucky to survive a late Jacksonville Jaguars' rally for their first road win of the season.
Kareem Jackson's interception return for a touchdown on the sixth play of the game appeared to be just the spark the Houston Texans (6-3) needed coming out of the bye week. But they back-slid from there, just not quite enough to give the game back to the equally mediocre Jacksonville Jaguars (2-7). They withstood a late rally, edging a 24-21 win.
Sunday's performance has been described as 'gutty' by some, but it was anything but that. The Houston Texans were lucky to leave Jacksonville with a win.
First and foremost, Brock Osweiler once again epitomized why Denver Broncos president John Elway was all too happy to let him come go last offseason. How bad was the Houston signal caller? Cody Kessler of the Cleveland Browns was the only quarterback to play worse in Week10, and he was yanked before the game was over.
It's safe to say the Texans' quarterback play was pretty bad. At one point, Osweiler missed on nine passing attempts before completing one. That includes an incomplete pass on seven consecutive plays. His only saving grace, if there is one, is he didn't throw an interception during Sunday's game.
Second, Nick Novak did his best imitation of of former Texans' kicker Randy Bullock, missing on two of three field goals. The kicking was so bad that following successive misses, O'Brien chose to go for it on fourth-and-10 at the Jacksonville 37 yard line. If that wasn't a no confidence vote, I don't know what is.
Novak did redeem himself some in the end, nailing a 51-yard field goal with 8:32 to play which turned out to be the difference maker.
More from House of Houston
Finally, the Texans' defense, which started strong, could not contain Jaguars' quarterback Blake Bortles, who nearly engineered a comeback. Just when you think the Texans defense is in line for a big game, they play down to the opposition. The 28th ranked rush defense held T.J. Yeldon and Chris Ivory to less than 70 yards combined, but the pass defense was suspect at best.
Bortles' throws went to nearly anyone and everyone- he had seven different receivers with double digit receiving yards.
The defensive front mustered just enough pressure to record two sacks. If it wasn't for an inadvertent bounce off the ankle of Yeldon, Jackson's interception as would've been their only turnover. They allowed Bortles and company to drive 92 yards in eight plays on the Jaguars' final possession.
This should be one of those games where head coach Bill O'Brien is telling us how his team was outplayed and his coaching staff was outcoached. Instead, the Texans are 6-3 as they head to Mexico City to face the Oakland Raiders on Monday Night Football next week.
This article originally appeared on