Houston Texans: J.J. Watt may miss remainder of season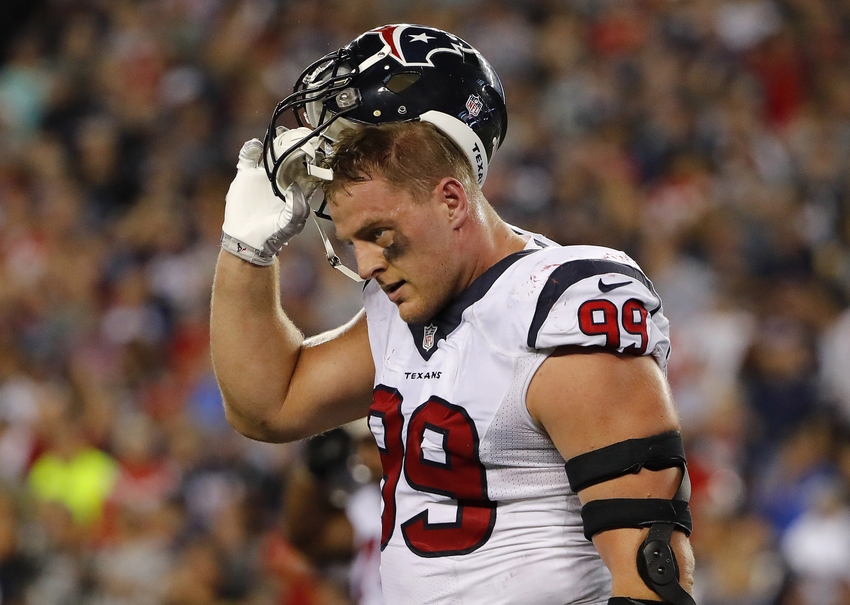 Houston Texans defensive end J.J. Watt reportedly has re-injured his back and could miss extended time, perhaps even the remainder of the season
The Houston Texans had a rough week and on Tuesday, it didn't get any better. They suffered their first loss on the field this season on Thursday and now have suffered an even bigger loss.
According to NFL Insider Ian Rapoport three-time NFL Defensive Player of the Year, J.J. Watt re-injured his recently repaired back and could miss a lot of time. Rapoport hints that it could even be for the remainder of the year.
Sources: #Texans star DL JJ Watt has re-injured his back and is expected to be out for an extended period of time. Could be the season.

— Ian Rapoport (@RapSheet) September 28, 2016
Chris Wesseling of the NFL Network also reported on the injury. He however brought up the question about whether or not this injury will have a lasting effect on perhaps the best defensive player in the game today.
The greater concern, however, is for the long-term outlook of a once-in-a-generation talent.

Back injuries have been known to waylay the careers of superstars in every major sport. After just five NFL seasons, Watt was already slated to join Hall of Famers Lawrence Taylor and Reggie White in the pantheon of defensive legends. He has recorded more sacks per game (0.92) than any player since the statistic was first instituted in 1982.
Unfortunately for Watt, he plays a position that causes him to battle several offensive linemen at once. Thanks to his immense talent, he is constantly double and even triple teamed as teams try and take his playmaking abilities away.
Last season was extremely tough for Watt who had five different core muscle tears. He suited up for every game, but after an injury limited him in their lone playoff game the word was he would not have played had the team advanced.
Throughout the offseason he appeared to be healthy. An unexpected back surgery popped up late in the offseason and Watt missed all of training camp and the preseason while recovering.
More from Toro Times
This article originally appeared on