Houston Texans at Jacksonville Jaguars: Staff Predictions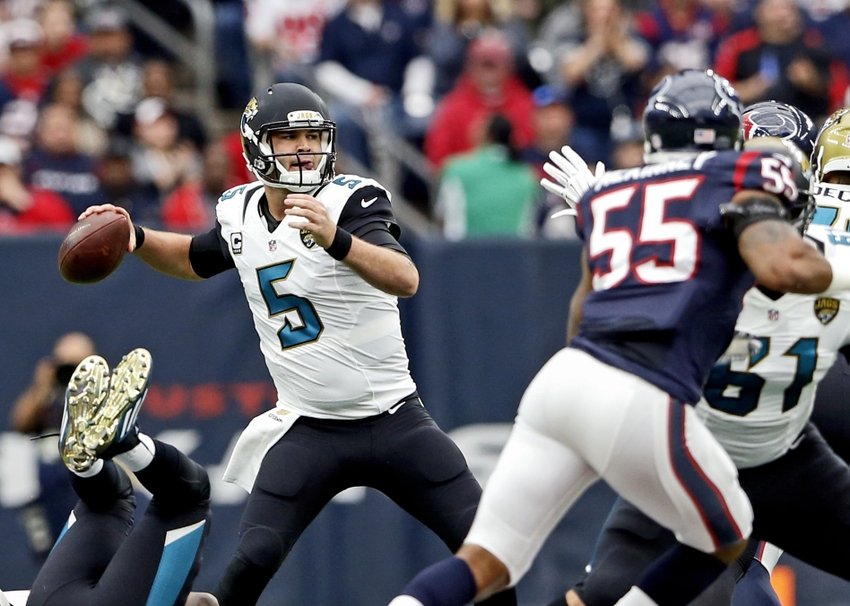 The Toro Times staff writers share their gut feelings about the Houston Texans upcoming road game against an AFC South rival, the Jacksonville Jaguars
The Houston Texans are fresh off their Week 9 bye week. They entered their week of rest with a record of 5-3, which has been good enough for them to be standing all alone in first place.
Of course, that 5-3 record hasn't come without some issues. Houston has been solid at home with five wins, but on the road they have been atrocious, losing all three. Those three losses have been incredibly ugly, especially for their prized free agent quarterback Brock Osweiler.
The former Denver Bronco has had a rough time transitioning to his new team. He and receiver DeAndre Hopkins have struggled to get on the same page and he has also thrown at least one interception in all but one game this season.
Defense has also been an issue for the Texans. With star defensive end J.J. Watt sidelined after back surgery the pressure on opposing quarterbacks has been minimal.
Houston hopes that head coach Bill O'Brien was able to work his magic on Osweiler during the bye week and that a refreshed defense comes to play.
Will that happen? And will it be enough to get the first road win of the season? The Toro Times writers will do their best to answer those very questions.
Game: Houston Texans (5-3) at Jacksonville Jaguars (2-6)
Outlook: Before the season, this looked like it could be a very important game in the AFC South. It might be a contest that determined who was the front runner for the division. This game does take on a certain amount of importance, but for different reasons.
This game is essentially the Jaguars season. If they win, they still have at least a chance, however slim. If they lose, they can kiss their playoff hopes goodbye.
The Jags were looked at as a breakout candidate this season with what looked like an improving young team led by a fearless quarterback. Instead, this is just the latest edition of a terribly run franchise with a bloated payroll and a team so bad they have to turn their stadium into a social club to get people to show up (yes, they had to put a pool in). The clock is ticking on Gus Bradley, who should be gone after the season if not sooner, but I wouldn't be surprised if he were the coach next year because of how badly the team is run.
Anyways, onto the game. The Texans are 0-3 on the road this season but this is a prime chance for that first road win. The Jaguars had built up a solid run defense last year that has regressed this year (though the pass defense got much better). So I would expect Lamar Miller to have a big day. Unfortunately I do not expect the same for DeAndre Hopkins, who had a huge game in Jacksonville last season.
If the Jaguars are to have a chance in this game, Blake Bortles must exploit the Texans banged up secondary. However I'm sure he is having nightmares about the Texans, who picked him off five times last season and are responsible for the only game since the start of 2015 that he has not thrown a touchdown pass. It's also interesting that Chris Ivory got going last week against Kansas City, it's what they have needed to complement Bortles all year.
I think the Jaguars keep it close, but in a high scoring game the Texans pull it out with a late pick six from breakout corner A.J. Bouye.
Prediction: Houston: 31, Jacksonville: 27
Game: Houston Texans (5-3) at Jacksonville Jaguars (2-6)
Outlook: The Houston Texans just got a week off after a win over the Detroit Lions. They are sitting in first place in the AFC South and can extend their lead. That is of course if they can get their first road win of the season.
This game seems like a good spot for them to do just that. They're taking on the nearly lifeless Jacksonville Jaguars, who have just two wins on the season.
Hopefully the team took the bye week to get quarterback Brock Osweiler on the same page as his receivers, because they simply look off. Should they be able to get things going, that could make this game an easy one for Houston.
If they can't get their passing game going, this could still go down as a win, it just won't be as one sided. Houston has enough with Lamar Miller and their defense can slow down the one-dimensional Jags long enough to get a win.
Prediction: Houston: 23, Jacksonville: 13
Game: Houston Texans (5-3) at Jacksonville Jaguars (2-6)
Outlook: So after a bye week, the Texans head to Jacksonville to try to get that elusive first road win of the season. And after playing New England, Minnesota and Denver on the road, it's way about time they face a bad team.
The Jaguars are a dead team walking if you ask me. The offense has done next to nothing as far as a running game and Blake Bortles is as inconsistent as can be. Stud receiver Allen Robinson is wasting his talents in this offense, as his catches have dropped from his rookie season last year.
This should be a good matchup for a Houston defense that has been owned on the road by opponents. If they can shut down the Jags' run game and get some pressure on Bortles, the Texans' defense should have a pretty easy day.
Offensively, all you can ask is if Lamar Miller can chew up yards and Brock Osweiler can make some accurate passes, Houston can win this game going away. But if the Jags are able to clog up the running lanes and force Osweiler to throw a lot, it could get dicey.
But hey, the AFC South is terrible, Houston is a mediocre team at best, and they should be able to pad its lead on the rest of the division with a win here.
Prediction: Houston 24, Jacksonville 17.
More from Toro Times
This article originally appeared on