Houston Texans: 5 players whose stock is falling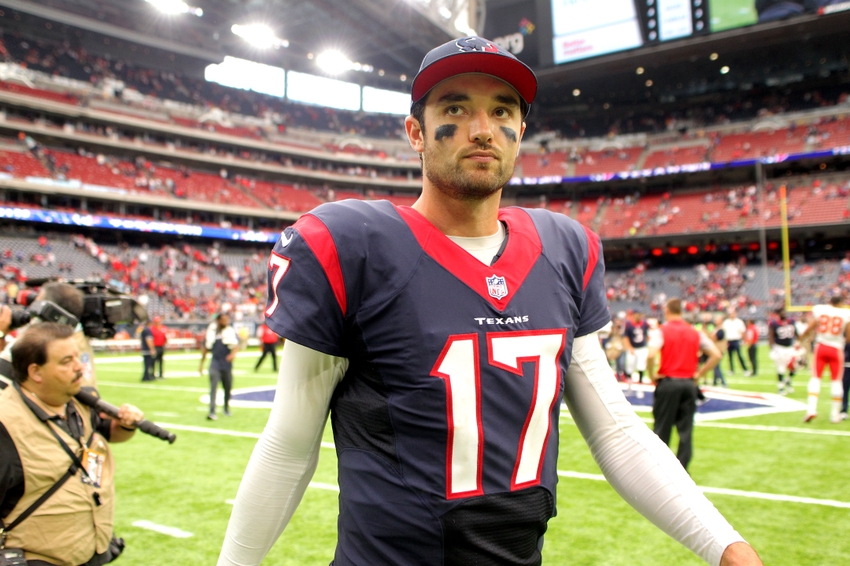 The Houston Texans moved to 2-0 on the season by defeating the Kansas City Chiefs on Sunday, but some players struggled, here are five such players who now are seeing their stock fall
No In-Editor Preview for 120 Sports Videos
Video Details
ID: 202072264
Source: 120 Sports
What a difference a year makes. Last season head coach Bill O'Brien couldn't get anything going against the Kansas City Chiefs. His Houston Texans were embarrassed twice last year by this team, but got some revenge Sunday with a 19-12 victory.
However, not everyone had their star shining brightly on the day. With the way the defense played, Houston should have won this game much more comfortably than they did.
Three turnovers by this defense should easily equate a big win. Instead, the Texans let Kansas City hang around all day long. In the end they still finished with the seven-point victory, but when they watch the tape, some players won't be happy.
Here are five such players who need to make improvements going forward.
5. Lamar Miller, RB
One of two big time offseason acquisitions, running back Lamar has rushed for 189 yards in two games. Sure, the total yards sound great, but it's the per carry average that brings up some concerns.
Miller had 106 yards in his Texans debut, but needed 28 carries to hit that mark. His per carry average was a low 3.8 percent. It was a decent day, but for what he was supposed to be, it was kinda disappointing.
This Sunday was worse for Miller. He rushed 25 times for 83 yards which equaled a low 3.3 yards per carry. For a guy averaging more than four yards per rush coming into the season, this is rather tough to see.
Miller has hauled in six passes for 45 yards which has helped quite a bit. Still, he has no touchdowns and hasn't looked like the game changer fans hoped for.
4. Braxton Miller, WR
This one feels unfair because wide receiver Braxton Miller was injured during the game Sunday. The problem is that the third-round pick was making so much headway during camp that his slow start to the season feels like a let down.
In all honesty, it's probably the norm for a third round pick at wide receiver. Hey, Jaelen Strong couldn't even get on the field until October for Houston last season.
So maybe Miller is a victim of his own success from camp, but one catch for three yards in the first game wasn't what was expected. One catch for six in the second game was also unexpected.
Miller has sure hands and is incredibly athletic so he won't be a long-term concern. It would just be nice to see him use that skill more often.
3. Ryan Griffin, TE
The Texans look like they really like undrafted tight end Stephen Anderson. The rookie has five catches for 40 yards in just two pro games. Not bad at all for the former walk-on at Cal.
What is bad is three catches for 22 yards for Ryan Griffin. At the end of last year, Griffin looked like he was the favorite to start becoming a threat as a pass catching tight end in Houston.
He had 20 receptions in just nine games played, with most of those coming as the season neared the end.
He's started slow this year though and against the Chiefs had just one reception for five yards. It was a slow day for a kid who looked like he was turning a corner last season.
2. Alfred Blue, RB
At this point it might feel like piling on, but Alfred Blue is simply not a very good football player. He has a terrible average per rush for his career of just 3.5 yards.
Yet, the Texans staff and fans seem to love him for some reason. So far in 2016, he has done nothing but prove me right in my dislike. Blue has six carries for a measly 15 yards. On Sunday, he got five carries for 11 yards.
That's an average of 2.2 yards per rush. Sure, the line may not be opening holes, but it wouldn't matter anyway. Blue shows nothing that makes him worthy of a roster spot and things probably won't get any better going forward.
He also won't lose his job though. Despite Jonathan Grimes being far and away superior to Blue, he just keeps getting trotted out there for some reason.
1. Brock Osweiler, QB
Ok, so personally I have never been big on Alfred Blue so his name on this list is unsurprising. I have been a huge supporter of quarterback Brock Osweiler though, but he also winds up on this list.
While the signing of Osweiler still makes sense, he is now 0-2 on opening drives. Against both the Bears and Chiefs, Houston saw their first drive end with an Osweiler interception.
Against the Chiefs he threw a second one as well to the same player as his first, Marcus Peters. In the end Houston got the win, but that doesn't mean Brock has been perfect.
Osweiler has been rather up and down. He has thrown some serious dimes like his 27-yard touchdown to DeAndre Hopkins. He also hit Will Fuller on a beautiful deep ball.
Yet the mistakes keep happening, and now they're happening in the red zone. Houston is an excellent defense and can mask some mistakes. That doesn't mean the Texans can afford to leave points on the board though.
More from Toro Times
This article originally appeared on