History Tells Us Beckham's Antics Threaten Giants Season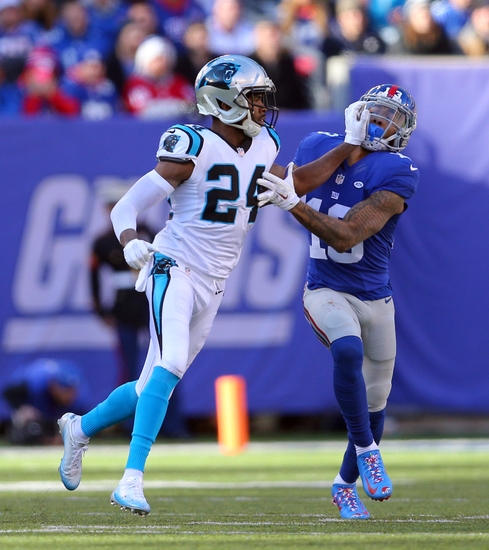 After securing victories over the Cincinnati Bengals and Chicago Bears, the New York Giants are officially on a roll. History tells us that the last time they won five consecutive games was 2010. History may also direct us to see that the continued antics of Odell Beckham, Jr. could derail a season Giants' fans have longed for.
Odell Beckham's History
Show me a team with internal strife, and I will show you a team with a "diva" receiver. Largely the talent of Odell Beckham, Jr.  outweighs his emotional baggage, but has that scale reached equilibrium?
By now, everyone knows of his meltdown against Josh Norman and the Carolina Panthers last season. He followed that ugly episode with tantrums against the Washington Redskins and Minnesota Vikings this year.
In fact, after the Minnesota game, the normally reserved Eli Manning had pointed words for OBJ according to the New York Post on Oct. 4, 2016, "[Odell has] got to be aware. People are looking for him, and he's got to play smart. You can't afford to do anything or it's going to be called. He's kind of brought that himself, so he's got to realize that. We can't afford penalties that hurt the team."
Against the lowly Chicago Bears, OBJ had five catches for a paltry 46 receiving yards. He twice bungled potential first-down opportunities and was generally a non-factor. If he was a decoy (to be kind), it did allow rookie Sterling Shepard (5 catches, 1 touchdown) to filter his way back into the offense.
But instead of celebrating the win, Beckham became Beckham again, except this was the "bad" Beckham on display. According to Ralph Vacchiano of SNY, "The Giants' energetic receiver was oddly short with his answers in the postgame locker room following Sunday's 22-16 win. And that followed a scene in the fourth quarter when he caught a three-yard pass on third-and-4 and flung his helmet on the sidelines, before receivers coach Adam Henry came over to calm him down."
Beckham's behavior is me-first, not team-first, and that mindset will quickly erode his credibility in the locker room.
Plaxico Burress History
Almost eight years to the day, the New York Giants had a night club situation to decipher than this week's Beckham strip club incident. Back in 2008, the G-Men were on a serious roll as defending Super Bowl champions. Thoughts of a repeat went up in smoke as Plaxico Burress and Antonio Pierce selfishly frittered away a dream season.
According to a report in the New York Times on Nov. 29, 2008, "Giants receiver Plaxico Burress accidentally shot himself in the right thigh while at a Manhattan nightclub early Saturday, hours after he was deemed unfit to play in Sunday's game at Washington because of a hamstring strain in the same leg.
At the time of the shooting the Giants were 10-1. As news of the event slowly filtered out, the G-Men ran their record to 11-1 by beating the Washington Redskins on Nov. 30, 2008. The victory against Washington would be the pinnacle of the 2008 New York Giants season.
The G-Men were obviously jolted by the events, as the team lost three of its final four games to end the campaign with a 12-4 record. Another Super Bowl appearance quickly turned into a playoff whimper of a first round loss. Big Blue lost at home to the Philadelphia Eagles 23-11 and their season was over.
What the entire squad had built in four and a half months, was destroyed by one selfish act. The Latin Quarter was the venue, where Plaxico Burress and Antonio Pierce decided their good time was of paramount importance.
Odell Beckham Strip Club Incident
"Those who do not remember the past are condemned to repeat it", according to Spanish philosopher George Santayana. The Giants would be wise to point out to Beckham what happened with Burress back in the day.
This is if OBJ "only" cares about winning.
Last week's escapade at at New York City strip club, as reported by the gossip site TMZ.com, where Beckham reportedly went with the Denver Broncos' Von Miller and lost an expensive diamond pinky ring, defines trouble.  The "anything goes" (except if you're a certain presidential candidate) media opines this is a non-story, except they covered it. No better way to make something a non-story than to ignore it completely, however.
James Kratch of NJ.com said on Nov. 18, 2016, "In the end, there's not much to see here. Beckham and Miller (the Broncos are on a their bye week) are adults. They went out on the town, and someone just decided to take a few pictures and send them to TMZ. That's the way it goes for Beckham, whose popularity transcends football, and has for some time. He was at work Friday."
Kratch is correct about Beckham (and Miller for that matter) being adults. But life is about choices, and this type of story was never in Derek Jeter's media packet. Couple this episode, Beckham's history, and a mundane performance on Sunday, and a correlation will be struck. That's simply reality.
What Will History Say About Beckham?
Add up history and Beckham's mea culpas simply become public relations stunts. Down the road, will OBJ turn into Jerry Rice? Or Terrell Owens?
That is a legitimate question right now. Beckham has the most innate football talent on Big Blue since Lawrence Taylor. Only a special talent gets recognized by initials: see MJ, LT, DJ and OBJ.
But Taylor's legacy is always tinged with regret that he was not a better person off the field. To a certain extent we look upon LT with pity.
After the Josh Norman incident last season, Beckham issues a statement that said in part, "I am blessed and privileged to play the game I love, and I will do all I can to carry myself in a way that honors the game, the NFL, my team, my coaches, all my fans and my family moving forward."
If poor sportsmanship, and poor choices honor the game, then we have two very different definitions. The time for Beckham to change is right here, right now.
More from GMEN HQ
This article originally appeared on