History repeats itself: Chiefs' Ware the new sheriff in town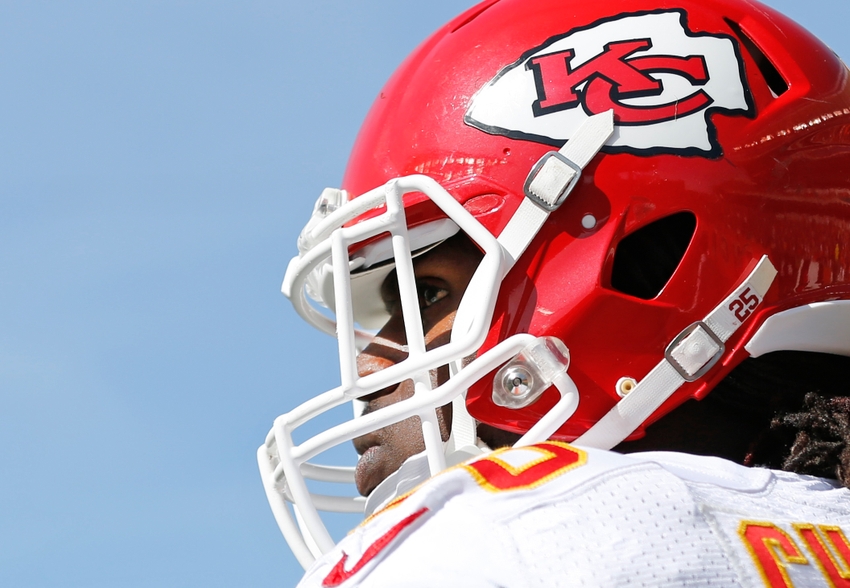 The time has come again for a changing of the guard (or running back, as it were).
Change is inevitable in the National Football League. Eventually, the day comes when a prohibitive starter's succeeded by a younger player. It rarely gives advance notice. You're on top of the world one moment and a role player the next. That time has come for Kansas City Chiefs All-Pro running back Jamaal Charles.
I'm sure that's a jagged pill to swallow, but it always is in the NFL. It's tough to imagine Charles assuming a lesser role on this football team. Seems downright blasphemous to suggest, but here we are.
If I'm being honest, you've been insulated from a tough backfield transition in years past. Jamaal Charles was a welcome change for the oft-maligned Larry Johnson. When 2009 rolled around, Johnson had been arrested thrice for incidences of violence against women. He had a long, painful break up with the Chiefs that spanned two NFL seasons. There were scandals. There were suspensions.
Today, professional athletes commonly get themselves into hot water over social media. Johnson may have been the first to run afoul of his team with comments he made on Twitter. In fact, the team instructed Johnson to refrain from practicing and other team activities behind it. When the torch was passed (summarily snatched away from "LJ") there was nary a soul in Chiefs Kingdom shedding tears for him.
It was more difficult to move on from Priest Holmes – formally inducted into the team's Ring of Honor in 2014. Holmes was a truly elite running back in the NFL and a class act. He may have had the best three-year stretch of any player at any position in league history from 2001-2003. Here's a factoid you may not know:
At the time, Holmes and Emmitt Smith were the only running backs in league history to record back-to-back seasons with 20 or more rushing touchdowns. It would've happened again in 2004 had it not been for an injury (he had 14 went he went down). His best three seasons were recently compared to Adrian Peterson's top trifecta and the numbers were staggeringly in Holmes' favor. Unlike Johnson, Holmes' exit in Kansas City wasn't any fault of his own. He suffered injuries in 2004, 2005 and finally 2007 before announcing his retirement from the league.
We've seen the baton passed before in Kansas City. Friends, I'm here to let you know that time is upon us again. As much as it pains me to say this, it's Spencer Ware's backfield now. Breathe. Step away from the ledge.
I'm not suggesting that Jamaal Charles ride into the sunset here. He can still make a big contribution to this football team, in a secondary role, but make no mistake – Ware should retain the lion's share of the carries going forward. Some will argue that Charles is a much more dynamic player. He is, but I'm not sure it's a big enough gap at this point to justify him returning as the team's starter.
Don't take my word for it though, consider the following:
At press time, only two running backs in the league average more yards from scrimmage per game. One of them (Ezekiel Elliott) has played one more game than Ware. The other, David Johnson, has 27 more touches. No back in the NFL makes more of offensive opportunities than Ware.
Ware is currently the 12th-ranked ranked rusher in the NFL. Of the 11 running backs in front of him, only LeSean McCoy has a higher yards-per-carry average. Ware and Eddie Lacy are the only backs in the league with 360 or more rushing yards and fewer than 80 carries on the season.
Mind you, Ware's been splitting carries – 26 have gone to Charles and Charcandrick West since the start of the season. The Chiefs should and will maintain a running back-by-committee approach with arguably the deepest backfield in the NFL, but Ware should be at the top of the food chain.
Consider Sunday's performance in Oakland. Ware finished with 131 rushing yards on just 24 carries and added another 32 yards as a receiver. You may not realize this, but Ware's actually the team's third-leading receiver in 2016 (231 receiving yards). He's pretty darn dynamic in his own right.
What about Charles' game-breaking speed?
I'm not foolish enough to argue that Ware is in any way comparable where speed is concerned. Charles has world-class speed. He was a four-time All-American in track at the University of Texas. He'd smoke Ware's boots in a foot race, but ask yourself if Ware's ever looked slow with the ball in his hands? He ran a 40-time in the low-4.5 range coming out of college, but he clearly plays faster than he times.
Ware's also an excellent runner in the open field who's more likely to break tackles than Charles. All said, his power running style may make up for what he loses to Charles in pure speed.
There are certainly areas where Charles is still superior. Some of them will show up in a box score (like his knack for finding the end zone). Charles' ability to pick up the blitz isn't as easily quantifiable, but it makes him Kansas City's best option on third down. Andy Reid can also use Charles to spell Ware.
Part of what powered the Chiefs' offense on Sunday was having the ability to wear the Oakland defense down. Between Ware, Charles and West, the Chiefs ran the ball 36 times on Sunday afternoon. Employing all of the team's depth at the position is the best plan for offensive success.
The best part about Ware's ascension is the fact that he's just 24 years old. He's become the best player John Dorsey's acquired in free agency (not named Jeremy Maclin). Ware didn't break out until Week 11 of last season, but since then, he's been one of the team's most productive offensive players. Kansas City appears to have its next great running back. It's scary to think that with time, Ware can become an even better player. Especially, with Charles mentoring him.
Have I gone off the deep end to suggest that Ware has seized control of the starting running back job? Should Charles rightly return to his place as the team's starter once he's healthy enough to shoulder the load? Use the comment section below to chime in. As always, we appreciate your readership and support.
Until next time, Addicts!
More from Arrowhead Addict
This article originally appeared on