Here's why Ezekiel Elliott is unlikely to win MVP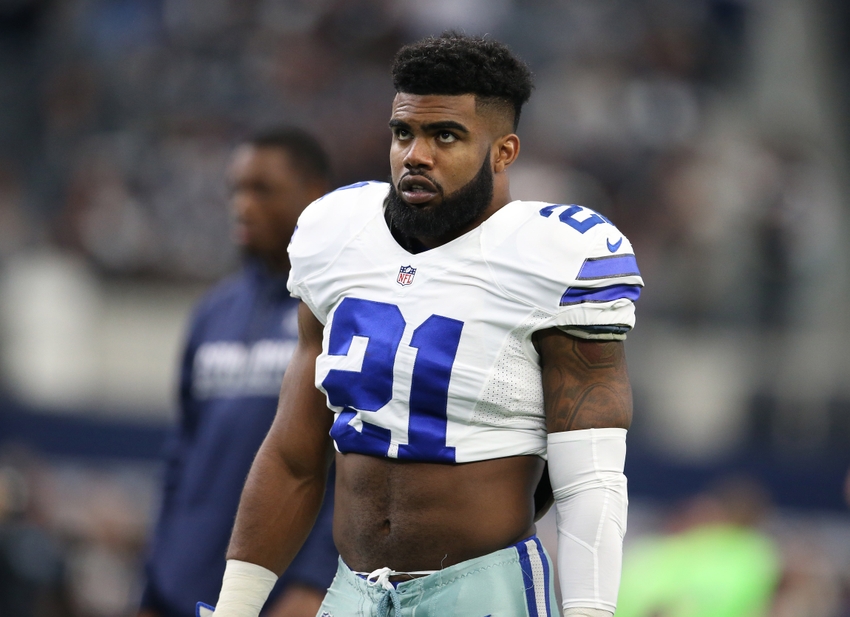 Despite leading the league in rushing as a rookie, here's why Dallas Cowboys running back Ezekiel Elliott will not win the NFL's MVP award.
By all accounts, the Dallas Cowboys have hit on the most immediately impactful rookie draft in recent memory. In fact, you may have to go all the way back to 1965, when the Chicago Bears selected future Hall of Famers Dick Butkus at linebacker and Gale Sayers at running back as back-to-back picks in the first round, to compare.
The Cowboys, along with everyone else, likely had little idea just how important running back Ezekiel Elliott and quarterback Dak Prescott would be to the revitalization of America's Team this season. Especially when it came to Prescott, as he was a fourth round selection. Elliott was the fourth overall pick in April's Draft, and therefore expected to be great. But 9-1 great?
Eleven weeks into the regular season, the Cowboys sit a top the NFL standings. And both first-year players are leading the charge for Dallas.
This dynamic duo is the talk of the league as speculation about another dynasty forming in Dallas tops many of the headlines. And with every victory, so come the accolades. So far, they have been in the form of records being broken. Hopefully, later this season, those accolades will turn into actual hardware.
One rumored piece of hardware predicted as a real possibility for both of these talented rookies is the vaunted NFL Most Valuable Player Award. But here's why Prescott is much more likely to be given that honor over Elliott: History.
In the last twenty years, only six running backs have been selected to receive the prestigious accolade. And one of those backs, Detroit Lions' legend Barry Sanders, actually had to share his first and only MVP Award with Green Bay Packers quarterback Brett Favre. That's despite Favre having won the award twice before, in the previous two seasons.
Although not impossible, Elliott would be the first running back to win the award outside of Minnesota Vikings' Adrian Peterson (2012) in a decade. History is certainly stacked against Zeke for the honor. Throw in the fact he's a rookie, and it seems near impossible.
Despite those odds, USA Today's MVP tracker had Elliott in the lead for the award just last week. With Prescott trailing at a questionable fifth place. The other nominees included Atlanta Falcons' quarterback Matt Ryan, Oakland Raiders' quarterback Derek Carr and New England Patriots' quarterback Tom Brady. See a pattern here?
But one longtime NFL writer still has Elliott as his favorite to win the award. Even though he admits, it's rarefied air. Especially for a first-year player.
"I think it's worth noting that only one rookie running back in history has even won the MVP," wrote Peter King on his site, the MMQB, Monday. "It was called the NFL's most outstanding player award in the '50s. In 1957, Cleveland running back Jim Brown won it. And that year he averaged 83.1 yards from scrimmage per game. Elliott's got him beat—so far—by 53 yards a game."
Finally, we should consider the rookie season of former L.A. Rams running back Eric Dickerson. The number two pick in the 1983 NFL Draft set the current rookie rushing record with 1,808 yards. The very same record many believe Elliott could break this season.
That year, Dickerson also received his first of five Pro Bowl bids, was named to the All-Pro first team and given both the NFL Offensive Player of the Year and Rookie of the Year Awards. But here's the wrinkle…The 1983 MVP Award went to Washington Redskins' quarterback Joe Theismann.
Obviously, the dream scenario for Cowboys fans is for both Prescott and Elliott to share the MVP Award at seasons' end. But that's only happen twice since 1957. (Sanders, Favre in 1997; Steve McNair, Peyton Manning in 2003). Unfortunately history tells us that since Elliott is not a quarterback, he's unlikely to win the MVP Award himself. And that's a shame.
This article originally appeared on