Hard Knocks Rams: Who made the final roster cut?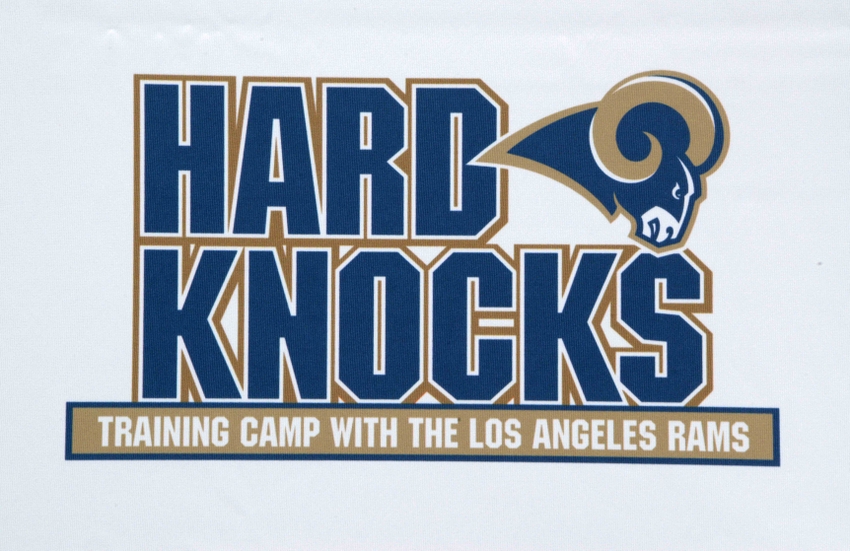 #SpoilerAlert: The following piece reveals which of your favorite bubble guys got the cold, cold axe.
The season finale of Hard Knocks: Training Camp with the Los Angeles Rams airs tonight (Tuesday, Sept. 6) and with it comes the show's most dramatic moments: those gut-wrenching final roster cuts.
Since the Rams (and every other NFL team) whittled down from 75 to 53 over the holiday weekend, here are some #spoileralert cuts to some of the more prominently featured players from the HBO series.
Did you read that thing about spoilers? There are spoilers. (Season highlights included: a player who believes in Mermaids and not dinosaurs; the fact that Todd Gurley cannot be tackled during drills; and Kendrick Lamar showing off some flashy route running skills.)
The cuts
Austin Hill – Sadly, everyone's favorite Hard Knocks daddy was shown the door, failing to crack the team's group of seven receivers (more on that later). Hill will be best remembered for his adorable daughter, Rielyn, and for looking absolutely mortified of strength and conditioning coach (and roster cut Grim Reaper) Rock Gullickson during the first round of cuts.
Eric Kush – Also a candidate in the cute kid department was backup center Kush, who sadly never had much of a chance due to the Rams' solidified offensive line rotation. (Luckily, he has already been claimed off waivers by the Bears.) Kush is, of course, best know for being the king of tank tops, both casual and stringer-style (#FatArmFridays #SunsOutGunsOut).
Paul McRoberts – Another young receiver that failed to crack the roster, McRoberts was often seen batting for practice and preseason reps with fellow training camp castoff Hill. McRoberts was met with tragedy in the beginning of camp, after learning of the death of his stepbrother, but pushed through with support from the team and loved ones. Best of luck to the undrafted rookie, it goes without saying.
Ian Seau –Finally, the undrafted rookie defensive end (and nephew of NFL legend Junior Seau) was another Hard Knocks favorite that failed to make the team. Known for his very boisterous number one fan (his sister), Seau looked good early in camp, but faltered hard when he blew an assignment in the team's third preseason game against Denver.
The (un)cut
Nelson Spruce – Spruuuuce! Despite an injury costing him the final three weeks of the preseason, the undrafted rookie provided enough heroics in propelling a comeback against the Cowboys in Week 1 to lock up a roster spot.
More from FanSided
This article originally appeared on