Happy Thanksgiving: The Biggest Turkeys of the 2016 NFL season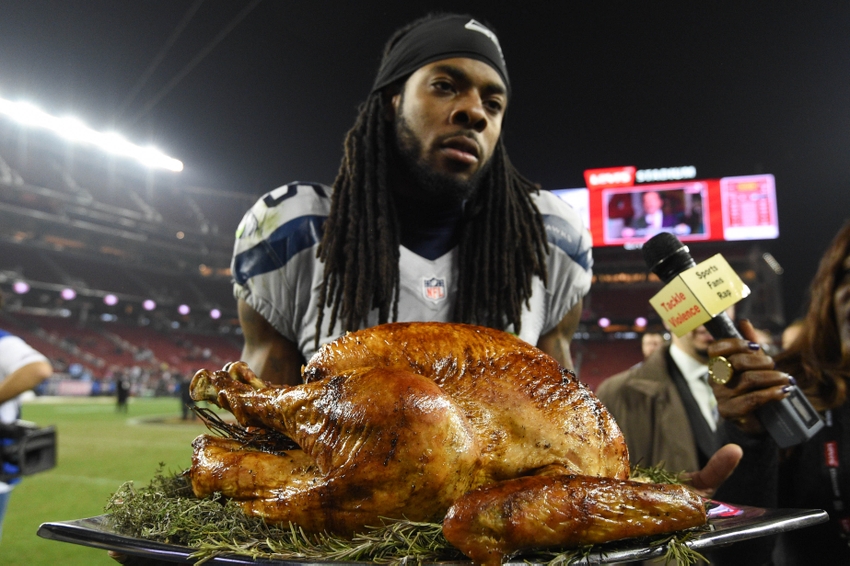 Happy Thanksgiving to all of those ready to feast on turkey and football. Here are a few teams and units whose 2016 has been for the birds.
It's Thanksgiving Day and we want to take some time to wish everyone a wonderful day sharing with the great people in your life. Unfortunately for both the birds and six NFL entities, it's Turkey Day.
In alphabetical order, we present a half-dozen examples of bad cooking. Each of these teams and/or units has been leaving a season-long bad taste NFL fans' mouths.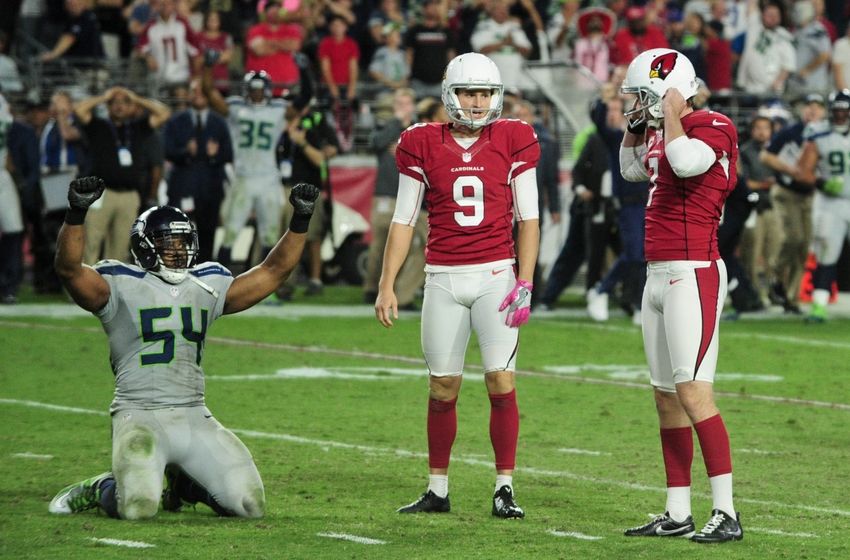 Oct 23, 2016; Glendale, AZ, USA; Arizona Cardinals kicker Chandler Catanzaro (7) reacts after missing a field goal in overtime as punter Ryan Quigley (9) and Seattle Seahawks middle linebacker Bobby Wagner (54) react at University of Phoenix Stadium. Mandatory Credit: Matt Kartozian-USA TODAY Sports
6. Arizona Cardinals special teams
Talk about a messy kitchen? A year ago, the Arizona Cardinals finished with a franchise-record 13 victories. This season, they need to run the table and win out to get to 10 wins.
While there is always a lot of blame to go around for a 4-5-1 start, it is worth noting that the Cardinals' special teams have been anything but.
You go back to Week 1 and kicker Grant Catanzaro pulled a 47-yard field goal in the closing seconds to give the New England Patriots a 23-21 win.
Two Sundays later, a botched field goal attempt resulted in a 53-yard fumble return for a score at Orchard Park as the Bills stunned the defending NFC West champions, 33-18.
Four games later, the Cardinals and Seahawks played to a 6-6 overtime tie on a Sunday evening at Arizona. The clubs played to a 3-3 stalemate in regulation. Catanzaro and Seahawks specialist Rob Hauschka both connected for field goals in OT. But the Arizona kicker hit the left upright from 24 yards out on a field-goal try that would have won the game. By the way, Arians' team owned a 3-0 lead in this contest with less than five minutes to play. Seattle blocked a Ryan Quigley punt to set up the tying score.
And what about this past Sunday? Minnesota Vikings wideout Cordarrelle Patterson returned a kickoff 104 yards for a score in what proved to be a 30-24 loss by the Cardinals.
Ouch.
5. Green Bay Packers defense
A little cheddar may not go well with Thanksgiving turkey. But a little slice on your hot apple pie may do the trick.
Speaking of cheesy, what to make of the play of the Green Bay Packers defense this season?
It takes more than one chef to ruin a big dinner. And these days, there's plenty of blame to go around for the team's 4-6 record. But to pin it all on quarterback Aaron Rodgers is simply foolish.
Now granted the team is undermanned at the cornerback position. And without many healthy running backs, Mike McCarthy's club is having a tough time keeping the opposing offense off the field.
As for Rodgers, he's in a stretch where he's thrown at least two touchdown passes in five straight games. For the season, he's connected for 25 scores and been picked off just seven times. After throwing 10 TD passes and four interceptions in the team's first five outings, Rodgers has struck for 15 touchdowns and only three interceptions in his last five outings.
So what's the issue? Green Bay is giving up 124.7 yards per game on the ground in its last six contests. This is a squad that permitted a total of 171 rushing yards during the team's 3-1 start. The Packers have allowed 193 points in their last six games, this after giving up just 83 points in their first four outings this season.
This is a team that has reached the playoffs seven consecutive seasons dating back to 2009, one of the longer streaks in NFL annals. But the Pack won't be back in the postseason for an eighth straight if they can't fix what ails them on defensive coordinator Dom Capers' side of the ball. Super Bowl talk in "Titletown" has been reduced to a murmur.
4. Jacksonville Jaguars
It was supposed to be a year when the Jacksonville Jaguars took a big step forward. Instead, this cat has stubbed its paws.
Only the 0-11 Cleveland Browns and 1-9 San Francisco 49ers have won fewer games than the 2-8 Jacksonville Jaguars this season. Gus Bradley's club travels north to Orchard Park to face the playoff-contending Buffalo Bills. It doesn't figure to be an easy afternoon for this last-place club.
This offseason, general manager Gene Smith signed the likes of Malik Jackson, Tashaun Gipson and Prince Amukamara to aid the defense. To further the cause, he used his first two draft choices on cornerback Jalen Ramsey and linebacker Myles Jack. With an offense that came of age in 2015, the Jaguars looked like a team that was going places.
The basement was not on the itinerary. While the Jaguars' defense has shown signs of life, it still has its shortcomings against the run. Still, this is a unit that ranks seventh in the league in fewest yards allowed per game. Only four teams are giving up fewer passing yards per contest.
But what on earth happened to Blake Bortles and company? Jacksonville is tied for last in the NFL with a disappointing 22 turnovers, 16 of those by the starting quarterback. The ground attack is 26th in the league, managing a mere 87.6 yards per outing. The Jaguars' offensive unit has managed only 21 touchdowns.
And a team that averaged a respectable 23.5 points per game a year ago is averaging 19.3 points per contest so far this season.
A club that many felt would be in the mix of the AFC South race is the only club in the division more than two games out of first place. And are these Jaguars even capable of playing spoiler? Stay tuned but don't hold your breath.
3. Los Angeles Rams offense
Be it veteran quarterback Case Keenum or rookie signal-caller Jared Goff, the only place the Rams have gone this year is Los Angeles.
A change in venue for a franchise that hasn't had a winning season (2003) nor made a playoff appearance (2004) in more than a decade hasn't amounted to much. Unless you enjoy stodgy offense that's featured poor play from nearly every aspect of the unit.
No team in the NFL manages fewer points per game than Jeff Fisher's squad (14.9). The offensive unit of the 4-6 Rams has produced a mere 14 touchdowns. That's just two more than league leaders LeGarrette Blount of the New England Patriots and David Johnson of the Arizona Cardinals.
The 2015 NFL Offensive Rookie of the Year hasn't looked like himself this season. Running back Todd Gurley has run for only 591 yards and four touchdowns. The Rams passing attack has produced only nine scores, all by Keenum and three each to wide receivers Kenny Britt and Brian Quick. And an offensive front that was partly responsible for allowing a league-low 18 sacks last season has already given up 24 quarterback traps this year. Currently, the Rams have scored 10 points or less in four consecutive games.
What makes this team even more frustrating is the fact that they are more than capable of competing with the clubs in their own division. Two of Los Angeles' four victories have some against the Seahawks and over the Cardinals at Arizona. But that hasn't helped head coach Jeff Fisher in what is now his fifth season as the franchise's sideline leader.
And counting?
2. San Diego Chargers
It is somewhat symbolic that the San Diego Chargers have four wins. That's because the fourth quarter has haunted this team for more than a year and especially in 2016.
The team's issues in the final 15 minutes (and sometimes more) in games have indeed been costly. Granted, the Bolts did rally late in a game to beat the Atlanta Falcons in overtime at the Georgia Dome roughly a month ago. But that 33-30 win can't wipe out too many instances of snatching defeat from the jaws of victory.
Start with Week 1, when Mike McCoy's team owned a 27-10 third-quarter lead at Arrowhead Stadium in what proved to be a 33-27 OT loss to the Kansas City Chiefs. Two weeks later, the Chargers let the Indianapolis Colts get away in the final minutes and fell, 26-22.
Against the New Orleans Saints in Week 4, McCoy's club owned a 34-21 lead with 8:39 on the clock. Two late fumbles by Melvin Gordon and Travis Benjamin set up Drew Brees and company and San Diego lost at home, 35-34. A botched field goal attempt at Oakland a week later prevented the Chargers from sending a game into overtime.
But perhaps the Week 10 home loss to the hot Miami Dolphins took the cake. Philip Rivers' 51-yard touchdown pass to Tyrell Williams with 4:04 to play gave his team a 24-21 lead. But the 'Fins scored the final 10 points in what would prove to be a heartbreaking 31-24 setback for McCoy's squad. The winning points came courtesy of a 60-yard pick-six by Miami linebacker Kiko Alonso with 1:01 to play. It was the third of what would be four interceptions by Rivers in the fourth quarter.
Seems like someone better keep an eye on the Chargers' turkey dinner. You get the feeling that the bird may be a little undercooked. There's a lot to be said about not finishing.
1. San Francisco 49ers
Not intentionally, we somehow saved the worst for last.
Remember when the San Francisco 49ers were busy going to three straight NFC title games, one resulting in an appearance in Super Bowl XLVII?
This season, the franchise will be lucky to win three contests. The Niners are currently in the midst of a 1-9 season thanks in part to a third different head coach in as many years.
Before we list the many issues with Chip Kelly's club, we will point out some positives. A year ago under head coach Jim Tomsula, the Niners finished 5-11 and were dreadful on offense. They totaled an NFL low 238 points and managed only 23 offensive touchdowns. They've equaled that latter total in 10 games this year and have already scored 204 points this year.
Okay. Now that that's out of the way, it's time to get to the bad news. Since a 28-0 Monday night victory over the visiting Los Angeles Rams back in Week 1, the Niners have lost nine consecutive games. Kelly's team has been outscored a combined 313-176 in those contests. A team that is usually pretty careful with the football has coughed up the pigskin 18 times in 10 contests.
On defense, no team in the NFL has allowed more total yards per game. And the NFL's 32nd-ranked run defense is giving up an astounding 179.5 yards per game on the ground.
Simply put, it's hard to watch the 49ers these days. The majority of their losses have been by double-digits and the team has allowed 30 or more points in seven contests. And Kelly and company play four of their final six games on the road. Good luck.
More from FanSided
This article originally appeared on