Green Bay Packers: Why they win, why they lose vs. NY Giants
Ralph Mancini/FanSided via Lombardi Ave

Fansided
Like the weary and weathered warrior that has just finished off dozens of willing but inept henchmen in one of those 1970s and 80s martial-arts flicks, the Green Bay Packers have made it through all the obstacles of the regular season and now must polish off their swords and prepare to lock horns with the true samurai masters in the NFL's dramatic and heart-pounding one-and-done playoff elimination tournament.
Their first challenger is a rather odd 11-5 Giants' squad that never quite had the look of a Super Bowl contender most of the season. Led by a statuesque 36-year-old quarterback in Eli Manning, New York's offense is far from a quick-strike, high-flying attack that can pile up points and put games away within minutes.
Save for the exploits of flashy wideout Odell Beckham Jr., the G-Men aren't equipped with an inordinate amount of game breakers and have yet to produce 30 points or more all season …something the Packers have accomplished in each of their previous four games and six times overall.
The Giants have made it this far on the shoulders of a tenacious defense revitalized through some very astute, if not exorbitant, free-agent additions that have vastly improved this unit at all three levels.
After allowing a season-high 29 points in Week 3, the NFL's No. 2 overall defense hasn't conceded more than three touchdowns in a game since.
But if the Steve Spagnuolo-led defense has become an impenetrable fortress, the ascending Packers are an F-14 Tomcat flown by Goose and Iceman in Top Gun (apologies to members of the under 30 crowd that I lost with that reference) that has torpedoed the competition by a 185-112 margin since Week 12.
In the process of cutting the legs from under each opponent, Green Bay's high-octane attack has tar and feathered some of the league's preeminent defensive units, including the Texans, Seahawks and Vikings, all of whom are statistically ranked within the top 11 overall.
Sunday's Wildcard meeting between the Giants and Packers sets up as a battle of polar opposites with the former currying favor with the "Defense Wins Championships" faction and the latter winning the support of those that subscribe to the theory that a great – not pretty good (sorry, Eli) – quarterback is needed nine times out of 10 in today's NFL to go far in the postseason.
While fans from both sides would love to see their respective teams make a statement by dominating the enemy in no uncertain terms, the reality is that each of these rosters will more than likely bring their "A" games to frigid Lambeau Field in a win-or-grab-the-golf-clubs scenario that will probably be decided in the fourth quarter.
Will Aaron Rodgers continue his late-season magic-carpet ride? Can the Giants muster another rushing performance in an effort to keep Green Bay's MVP hopeful bolted to the bench and sipping chicken soup?
While these and many other questions won't be answered until game time, there's no harm in examining the various ways each participant can win or lose this game in the interest of providing a bit a clarity for the legions of Packer backers and Big Blue loyalists feverishly rubbing their crystal balls.
Why the Packers win – accuracy
Shootout Favors State-Farm Pitchman: So what is the key ingredient that has led Rodgers to take his game to MVP-worthy levels during the latter part of the regular season? In a word, accuracy.
It's not that he was awful in September and October, but he certainly lacked the overall consistency he's showing now, which is reflected in the fact that the Packers' field general's completion percentage went from about 60 percent in the first six weeks of the year to about 71 percent during his second-half winning streak.
Just like an ace pitcher who is hitting his spots, Rodgers is connecting with his deep receivers in stride, as well as jamming balls into tight windows.
Another key component that has led to his flawless play (see zero interceptions in last 241 pass attempts) has been his field vision in terms of throwing to the area vacated by oncoming blitzers.
Eli Manning, conversely, has been in panic mode all year, as evidenced by how he perceives pressure even when there are no defenders in his immediate vicinity.
In addition to rushing a number of throws, the two-time Super-Bowl champion isn't seeing wide-open receivers and just hasn't been very accurate in general.
While Manning doesn't benefit from the same protection afforded to Rodgers, one of the reasons he may be suffering from an itchy trigger finger is because he realizes that he can't run away from opponents and extend plays like his counterpart does on a routine basis.
Could the grizzled veteran be in the midst of a rapid decline at his advanced football age (36)? Possibly, but I doubt that's the case given his incredible ability to avoid injury—or miss a start for that matter—since entering the league in 2004.
The main issue here is that Manning needs better tackle play for him to truly be at ease in the pocket. Neither Ereck Flowers on the blindside nor Bobby Hart on the right offer him that piece of mind that an athletically-limited signal caller so desperately covets.
The Giants' passing game has experienced considerable year-to-year regression by dropping from the seventh-ranked team with 271.4 yards per game in 2015 down to 17th this season with 242.4 yards per game.
Making matters worse is Manning's dip in touchdowns over that same period (35 to 26) and increased interception total (14 to 16).
There's no getting around the fact that the visiting team might as well start packing their tents if their quarterback is forced to throw his team to victory.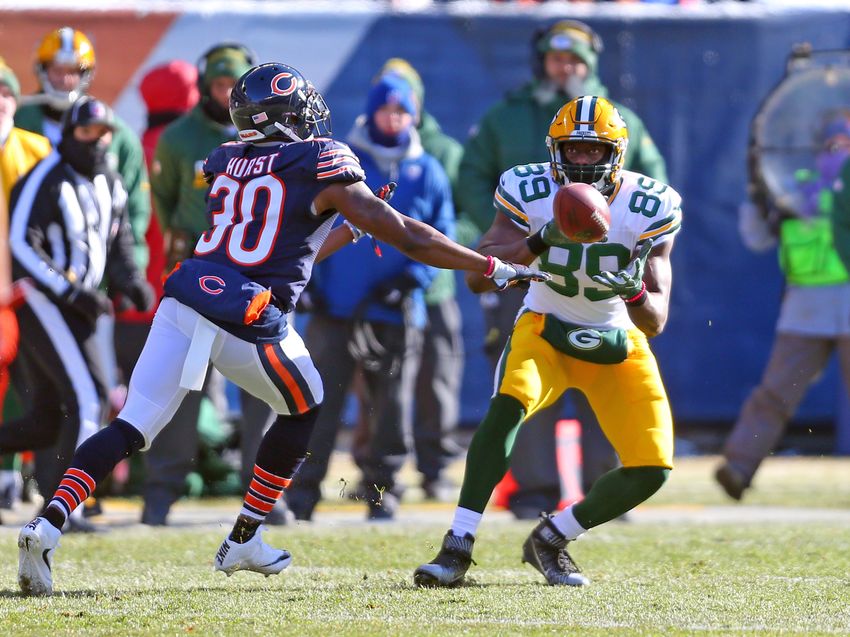 Presence could be the difference
The Book on Montgomery and Cook: The enigma that is Jared Cook often leaves you wanting more. No, consistency isn't his strong suit, but his presence alone makes the Packers more difficult to defend.
The Packers are averaging 28.4 points per game with the 6-foot-5, 254-pound tight end on the field and 24.6 points in the six games he missed from Sept 25 to Nov 20. A difference of about a field goal may hardly seem worthy of mention, but it could be the difference between a win or loss down the road.
What's most relevant in this game is that the Giants rank 26th leaguewide in defending the tight end and are only one of seven NFL teams that have allowed 1,000 yards or more to the position.
Cook's ability to stretch the seams has opened up the underneath passing lanes for his teammates, including fellow tight end Richard Rodgers, who actually made a defender miss after the catch in last week's win over Detroit.
Mike McCarthy has been adamant about his theory that the fastest way to the end zone is achieved by throwing the ball over the middle and Cook is allowing the 11th-year coach to make good on his plan by outrunning safeties down the field—something the Packers couldn't do without him.
The emergence of RB/WR hybrid Ty Montgomery has also thrown defenses a curveball. Prior to Green Bay's Week-15 victory over Chicago, every opponent treated No. 88 like a receiver by opting not to stack the box.
Montgomery has thrived in those types of scenarios since he's proven to be not only quick, fast and agile, but also a physical runner that can use his stiff arm and gain yards after contact.
The Giants are more than welcome to add an eighth defender at the line of scrimmage, but with Green Bay's plethora of weapons to contend with, they will do so at their own risk.
Same Look, Different Play: The Giants promoted Ben McAdoo as their head coach in place of Tom Coughlin with the intention of their offense taking the next step as a well-balanced and prolific unit similar to Packer teams that the 39-year-old had been a part of from 2006 through 2013.
So far, though, the Big Blue offensive attack has been much ado about nothing in that they rank 25th in yards and 26th in scoring.
While the Giants did break the bank by adding big-name free agents on defense, they did little to nothing in attempting to significantly upgrade the other side of the ball.
Still, McAdoo doesn't get a pass for this since his predictable ways as the team's lead strategist and play caller have made Manning and friends an easy group to defend.
Specifically, the first-year head coach has fallen in love with his 11 personnel packages (one running back, one tight end and three receivers) and calls his plays out that formation at about a 90-percent clip. The league average in using that look—in case you were wondering—is 59 percent.
McAdoo, moreover, isn't only a creature of habit when it comes to his personnel usage, there is also a redundancy in the way his plays are executed.
Take, for instance, his decision to call 15 of 16 running plays that went straight up the middle which only provided more fuel for his critics that have been quick to point out how McAdoo's simple offense is an indication that he may have too much on his plate as both head coach and chief play caller.
In an attempt to defend his methods, the Homer City, PA. native publicly stated that he likes going with three receivers due to the fact that he has three "good players" in that particular personnel grouping in reference to his top three wideouts.
The problem with that is that one of those three pass catchers often seems to get cut out of the action, as was seen in a Week-12 win over Cleveland in which Sterling Shephard went the entire game without the ball being thrown his way.
Victor Cruz also knows what it's like to get the cold shoulder, as he's played in four games in which he's received two targets or fewer.
McAdoo's unimaginative game management is tough to comprehend considering that he stands on the sideline with a play sheet that's roughly the size of a Budweiser billboard you might see on your drive home.
Now let's take a look at why the Packers will lose
Why the Packers Will Lose …
NY Defense Applies the Half Nelson: The last time Jordy Nelson tangled with Giants' lockdown corner Janoris Jenkins, the NFL-Comeback-Player-of-the-Year candidate was held to less than half his usual yardage output by posting a meager 34 yards on four grabs.
One can argue that Nelson was still rounding himself into form – and he was – after taking a year off to recover from his knee injury.
Yet, it would also be accurate to point out that Jenkins (ranked eighth overall among cornerbacks by Pro Football Focus) has been masterful in winning several of his one-on-one matchups this season, including ones against Dez Bryant and Stefon Diggs among others.
Not only is the former Ram blessed with natural quickness and superior closing speed, he also has a knack of being able to read plays.
Taking Nelson out of the game will be a tall task given the receiver's uncanny chemistry with Rodgers, but keeping No. 87 under 50 yards could go a long way in limiting the Packers' offense and forcing the quarterback to look for his other weapons that aren't always quite as reliable.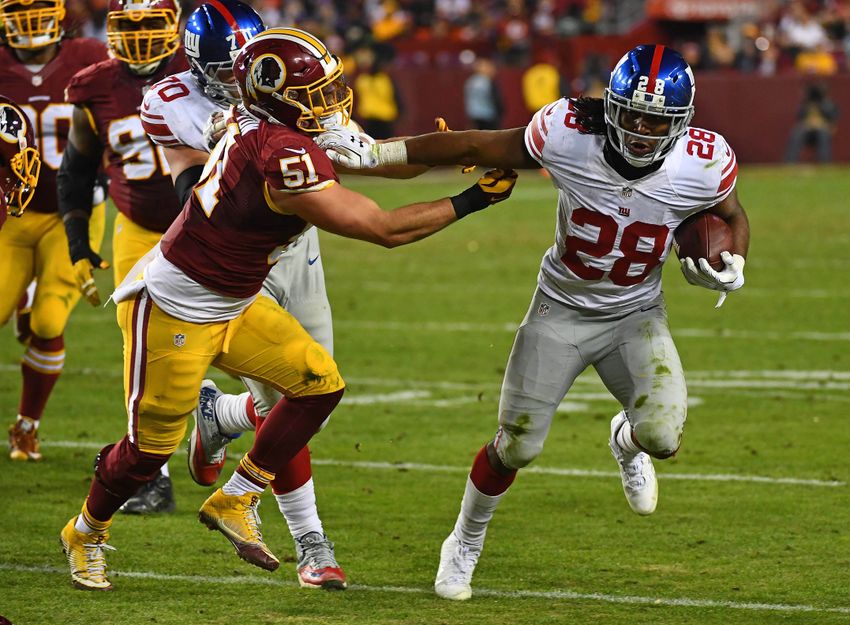 "Perk"ing Up the Ground Game: In New York's Week-17 19-10 rout over Washington, rookie Paul Perkins became the first Giants' running back to go over the century mark since 2015.
The 5-foot-10, 208-pound jitterbug's feat was especially noteworthy considering the anemic nature of the Giants' ground game that has produced a league-worst six touchdowns and a scant 88.3 yards per contest with only three offenses (Minnesota, Los Angeles and Detroit) below them in that category.
Perkins has steadily become the team's best option carrying the football. In his last three games, in fact, he's averaged 16 totes and registered over 4.5 yards per carry each time.
The UCLA product won't remind anyone of Marshawn Lynch since he lacks the size and power to be a sustaining bellcow that runs through contact; but what he does bring is a sudden burst to quickly eat up yards that has sorely been missing from this offense.
Unlike the plodding Rashad Jennings, Perkins can actually make people miss and behind an offensive line featuring a healthy Justin Pugh at left guard and Weston Richburg at center—both of whom delivered strong performances last Sunday—the Giants may be able to slow down Green Bay's pass rush by letting their young back move the chains.
Recent games have proven that the Packers can be run on given how thin they are along the interior where only Mike Daniels stands out as the lone trenchman that consistently wins his battles with leverage.
No Lifesavers for Drowning Secondary: Fresh from his Florida excursion with Justin Beiber, OBJ looks primed to rip up a brittle Green Bay secondary that will be without the services of Quentin Rollins and may be without Damarious Randall as well.
Beckham has accounted for over 35-percent of New York's passing yards and is an explosive big-play threat that can take a two-yard dump off and leave an entire defense in the dust.
Of his 23 receiving touchdowns over the past two seasons, eight of them were from 50 yards and beyond.
If the Packers plan on being successful in containing the glittery showboat – as they did in Week 4 – they cannot miss tackles and that means the safeties cannot be caught out of position.
Though it would be hard to fathom a defensive backfield that has seen opposing quarterbacks throw for an average of 364 yards against them over the past three weeks preventing OBJ from breaking off at least one big play.
The question is: Will Beckham convert those big plays into touchdowns? It may not matter with the prolific (Sterling) Shephard running alongside No. 13. In his last nine games, the 5-foot-10 pass catcher has hit pay dirt no fewer than six times.
I would expect the Packer corners to be physical in hopes of throwing off Beckham's timing, but what might be even more effective is a fierce pass rush and strong wind gusts.
This article originally appeared on