Green Bay Packers: What to expect today against the Cowboys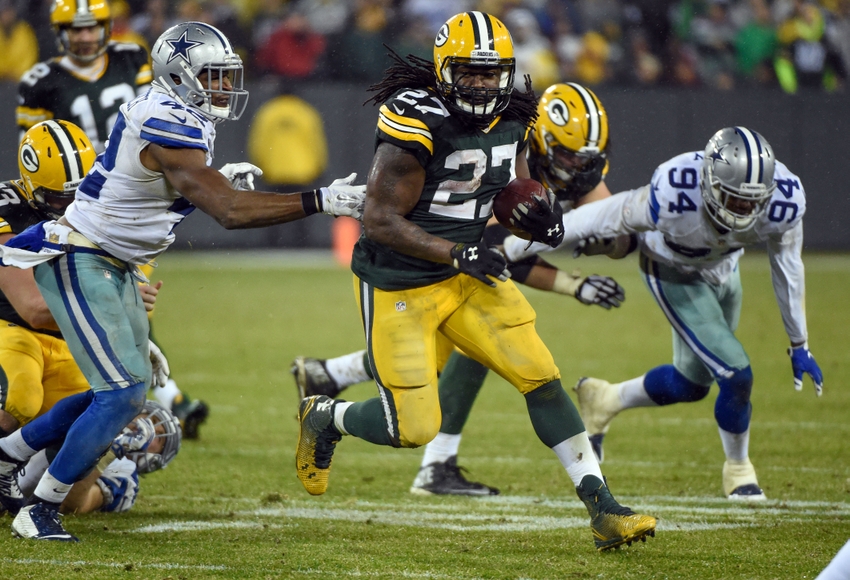 The Green Bay Packers will host the Dallas Cowboys today when the visitors bring their impressive 4-1 record to Titletown. 
What should the Packers and their fans expect to see from this 3:25 CST game?
Let's start by stating what you will not see.
QB Tony Romo is still out with his back issues. 
Rumblings have his healing on track with a Week 9 return to the team. Questions lately has been swirling around about if he takes over the reins when he gets back or do they stay with their impressive rookie franchise QB Dak Prescott. 
Owner Jerry Jones says it is Romo's when he gets back. So does Prescott.  I will leave it to the Cowboy fans and writers to decide what is best for their team but the Packers are only concerned with Prescott.
Packers RB James Starks has two reasons why he will be not playing this Sunday. The Packers say that Starks has a knee injury but he also has been excused from practice this week due to a death in the family.
Packers All Pro CB Sam Shields is still not cleared to practice from sustaining another concussion in week 1 of the season. Obviously, it is best not rush Shields until and only if he has recovered fully.
Free agent pickup TE Jared Cook is still sidelined with an ankle injury from the Detroit game a few weeks ago.
Who might you see?
Let's take a look …
What we will see today
News from Dallas is that All Pro WR and Packer playoff favorite Dez Bryant was back at practice this week. Asked about his availability Bryant said he would go against the Packers if he could but would skip this game heading into the Cowboy bye week if he wasn't ready and take an extra two weeks to heal some more.
Who will you see?
Looks like RB Eddie Lacy has been participating at practice at a limited basis. Between Starks being out and Lacy getting past his left ankle injury from last week's Giant game. Barring aggravating his ankle again or injuring something else you should see Lacy in the backfield when the Packer's offense takes the field.
The Packers will get to see firsthand the Dak Prescott phenomena. 
Many people thought that once Romo went down in this years' preseason that the Cowboys season followed. Enter the Mississippi State rookie QB who has been playing like anything but a first year player let alone performing arguably the toughest position on any NFL team. 
Prescott has brought life into the Cowboy faithful and has done it with extreme poise and few mistakes.  Prescott has thrown for 1,239 yards so far this season and has found his favorite targets WR Cole Beasley (27 receptions) and TE Jason Witten (24 catches).
We will also see Dallas' 2016 Draft first round pick with former Ohio State Buckeye RB Ezekiel Elliot. 
A lot of people thought the Cowboys were reaching when they drafted Elliott in the first round but so far this season he has quieted most of the doubters. 
Zeke has started the year on fire for a 109.2/yards per-game average and has crossed the end zone five times already.
Overall, the matchup I am looking forward to is the Packers impressive run defense so far this season versus Elliott and former Redskin RB Alfred Morris. 
The Packers run defense has held opposing rushers to 42.8 yards a game. 
Yes, under 43 yards a game. 
You can attribute the stout defense to DT Mike Daniels and LBs Clay Matthews and Nick Perry. 
Daniels' efforts don't always show up on the stat sheet but do not underestimate his impact. Daniels has been a beast anchoring the Packer's line.
Clay Matthews has been playing back as an outside linebacker again after being asked to help out on the inside for a few years to help out. 
Now he is back in his nature and preferable position and he has excelled so far. Matthews has collected three sacks for the season and has been his normal disruptive self.
Arguably, Nick Perry, along with the fore-mentioned Daniels, has been the MVP of the Packers defense this season. 
After being hurt most of his Packers career, Perry has led the team in tackles with 17 and sacks with 4-½ and fifth on the team with tackles with 17. 
This production has been a long time coming for the now healthy linebacker. The faith the Packers' staff had in Perry has finally paid off and in a big way.
So, the 4-1 Cowboys will come to Lambeau to face the 3-1 Packers in a game that is the Fox's "America's Game of the Week" and we should expect a great game.
More from Lombardi Ave
This article originally appeared on