Green Bay Packers: Week 9 special teams recap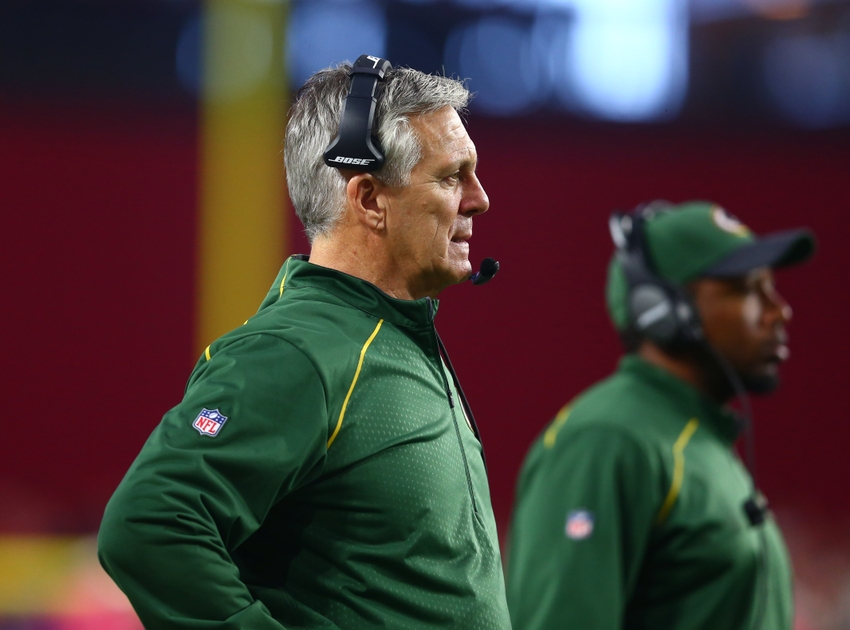 The Green Bay Packers lost their Week 9 contest with the Indianapolis Colts to drop to 4-4.
In this game, there were tons of areas which helped lead to the eventual defeat, and no unit should be spared criticism for their overall dismal showing.
The offense was slow to find any rhythm until it was too late for their scoring to make a difference.
The defense, while holding up admirably for multiple stretches, couldn't make the plays when needed at the end to give their offense one last chance to steal away a game they should never have had a shot in based on their beginning performance.
The special teams? In short , it was not good.
Let's look into why.
The Kicker
Kickoffs:
IND 1; 99 yard return TD
Touchback
IND -6; 61 yard return (GB 45)
Touchback
Touchback
Touchback
Scoring:
Extra points: 2/2
Field goals: 2/3 (Made: 34, 27; Missed: 48)
Everything about this game was off for Green Bay — including their usually reliable kicker.
Crosby started off the game with the kickoff which was returned for the touchdown. Usually I say the returns can't be blamed on him, but in this one he clearly erred — and that started the cavalcade of screw-ups which helped allow Jordan Todman to have such an easy return opportunity.
According to his special teams coordinator Ron Zook, the coverage call on this particular kick was meant to have Crosby place the ball more towards the right side of Green Bay's field; Crosby's kick went to the middle. With there being an overload of players set to the right, there were few players able to get over to the middle and close off Todman's path. Other errors were made (I'll get to those later) but it all started from the top.
After that, Crosby also saw another kick get returned 61 yards, but that one was less on him — he put it six yards into the endzone; sans a touchback, what more can he really do? — than the coverage.
His most egregious error may have been the missed field goal though. It was a long kick to be sure (48 yards is no chip shot), but this is the kind of kick most guys have come to be expected to make, and he has done well with them over the years — 61/83 on FG attempts between 40-49 yards in career (73.4%); 23/30 since his awful 2012 season ended (76.7%). He went out and missed this attempt though, further wasting what was a drive that had originally started at the IND 29 following Ha Ha Clinton-Dix's first INT of the contest.
This was one of the worst showings we've seen from Crosby in a long time, on multiple levels. It isn't time to panic, but with multiple misses in the past three games, keep an eye on him. Kicking has been somewhat off for tons of kickers this year; hopefully this is a blip on the radar rather than the beginning of another bad trend.
The Punter
Punts:
54 yards (IND 20); 3 yard return (IND 23) *IND Penalty* (IND 13)
61 yards (IND 14); *Muffed punt* (IND 10)
43 yards (IND 4); Fair Catch
31 yards (IND 24); Out of Bounds
I don't know how we got here, but somehow Schum is becoming a mostly competent performer. Not only that, but he put in yet another week where he challenged to be the best piece of this entire unit.
His first two kicks were monster showings, flipping the entire field.
His first took a failed possession inside Green Bay's 30 and put it into Indianapolis' 25 (and it got even better with a Colts' penalty). His second was also inside Green Bay's 30; it went 60+ yards to put the Colts inside their own 20 (eventually at their 10 after a muffed catch).
This drastic change of field position worked out for Green Bay in both instances. The first one saw Andrew Luck throw an interception in his own territory; the Packers would score from there. The second one became a punt forced by the defense, getting Green Bay the ball back in touchback-level starting field position.
His third punt may be the best one of the game, and second-best of his season. This one didn't go nearly as far distance-wise, but it let him do what he was seemingly brought in to do: enact his ability to place the ball well and pin the opponent deep. This punt was fair caught at the Colts' 4 yard line, giving the Packers an excellent chance to make a stop and get the ball back in great field position. Unfortunately, much like his best punt (pinned Dallas at their own 2 in basically this same exact position), the defense could not make something out of the opportunity provided. That can't be put on him though; he gave them everything he could, and they just didn't capitalize.
The final punt was a return to the Schum we saw most of the early season (short kick, out of bounds, hands over easy starting yardage), and the Colts turned decent starting field position into a TD to go up 31-13.
Still, what he did in the early going was more than enough to consider this a very positive game for him. He still needs to get rid of the underwhelming attempts, but he's done far less of those as the weeks have progressed.
Somehow, the Packers may have actually ended up with a decent punter; it just took some time for him to prove it. With the turmoil surrounding what else is happening with this team, that's at least one somewhat bright spot to point to in this 4-4 start.
The Return Units
Punts:
Fair Catch (GB 21)
8 yard return (GB 26)
Out of Bounds (GB 20); *Offsetting Penalties* Re-kick; Touchback *IND Penalty* (GB 25)
Fair Catch (GB 20)
Kickoffs:
26 yard return (GB 31)
17 yard return (GB 18)
Touchback
Touchback
21 yard return (GB 25)
Touchback
The return units were a big part of the Atlanta game; Trevor Davis took one punt for 55 yards, while the threat of a return forced the Falcons to hand over a 25-yard starting spot to Green Bay each time the offense took the field.
This game was more of a mixed bag at best.
The punt unit didn't have anything close to the previous huge return from Davis this time around, but Green Bay didn't ever end up trapped deep. They also didn't try to do too much and risk becoming yet another problem in a game full of them for the Packers.
The kick return game tried to do something more often than we've seen most weeks, but rarely did it make much difference. The returns were necessary though; each of the three returned kick attempts were ones where the ball was aimed to drop in the field of play.
The first one gave Green Bay some extra starting yardage on their first drive; it eventually became their first points in the contest. The second sort of undid that positivity abit — failing to get to the Packers' 20 — but again, they had to attempt some kind of runup. The third one did that better — getting back to the Packers' 25; essentially a touchback that never reached the endzone — but wasn't a dynamic showing.
Overall, this unit didn't shine, but it did not falter much (a penalty for hitting the punter could have hurt, but it was offset by an Indianapolis penalty). They reached the slim bar of competence needed to not put their offense in a tough situation on a tough day.
I wouldn't celebrate that, but with the mistakes elsewhere it's at least one less area in need of fixing going into an upcoming three game road trip.
The Coverage Units
Punts:
3 yard return (IND 23); *IND Penalty* (IND 13)
Muffed Recovery (IND 10)
Fair Catch (IND 4)
Out Of Bounds (IND 29)
Kickoffs:
99 yard return TD
Touchback
61 yard return (GB 45)
Touchback
Touchback
On a day filled with unrelenting terrible play, this unit may be the one which did the most damage.
I mentioned Crosby's error on the game-opening kick return TD by the Colts, but this unit had a handful of additional errors which followed. They were done no favors by the incorrect kick placement by him, but once that happened there was time to adjust in some fashion to at least keep a score from being inevitable. The coverage was weighted towards Green Bay's right side, but there were a couple guys on the left. Jeff Janis was there first, but he got swallowed up by Darius White; behind him, Ha Ha Clinton-Dix was coming up late and got himself blocked down by Josh Ferguson. Past those two, Green Bay had nobody close, giving Todman a clear lane to the outside. From there, he burst by everybody and left the team in the dust without ever having a hand laid on him.
The bad efforts didn't stop there. On the third kickoff, Crosby put it deep in the endzone, but it was still returned. That either caught guys off-guard or they were not running their coverage lanes properly to begin with, because again the ball was returned for a huge gain; this one was stopped before a touchdown fortunately, but it was still in Green Bay territory by the time they got the returner down. Indianapolis would end up with a field goal following Green Bay's defense slowing them in the redzone.
The rest of the day wasn't bad for them — and their punt coverage did help force a muffed punt as well as ensure Schum's third punt would pin the Colts deep — but the early foibles were more than enough to help put Green Bay in a hole they were unable to climb out of. Even one mistake from special teams can be the difference in a win and a loss, and this unit made two huge ones. Those became 10 points for the Colts in a contest they won by 5 — and the first 7 of those did not even give the defense a chance to do a single thing.
This cannot continue, and people have been put on notice. Jermaine Whitehead — one of the players who screwed up on the opening kickoff — wound up getting cut almost immediately following the contest (the fullback Green Bay added — Joe Kerridge — looks to be exclusively used to shore up some of the issues with the unit).
Those who are left better come prepared and ready to stick to their assignments; if not, they could get a pink slip as well.
This article originally appeared on