Green Bay Packers Week 6 Fantasy profile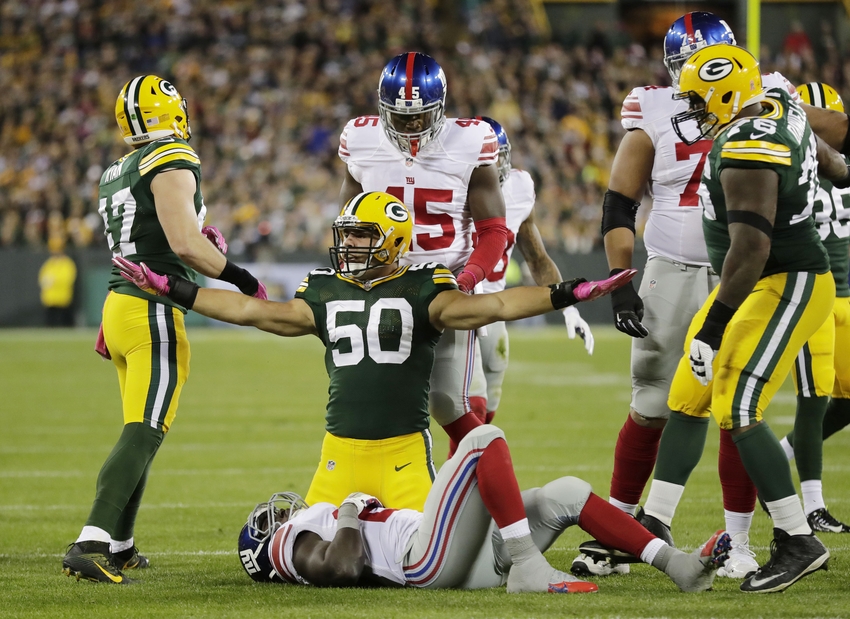 Disclaimer: For any fantasy scoring numbers, I will be using those generated by Yahoo! fantasy football. It is the system on which I've played a majority of my fantasy football over the years – and currently play. Other setups are fine – I've worked with ESPN and NFL fantasy football teams in the past – but seeing as I have the most experience using this scoring system, I'll stick with using their methods of scoring.
The Green Bay Packers returned from their early bye week to put together a disjointed offensive effort (but stellar defensive showing) against the New York Giants in Week 5.
This week, the team faces a Dallas team that has performed beyond expectations in the absence of Tony Romo behind an effective run-heavy offense and a defense playing above expectations.
How will this affect the fantasy outlook for the team this week?
Let's take a look.
Week 5 Statistics: 
23/45, 259 passing yards, 2 passing TDs, 15 rushing yards, 2 INTs; 17.86 fantasy points
Rodgers' performance is becoming an all-too-familiar concern.
Among other things his raw numbers are not looking great, his decision-making hasn't been as pristine as we've rightfully come to expect, and too many of his throws have ended up either off-target and/or eminently interceptable.
The game against the Giants was a banner example of all of these worrying trends. Though he managed to hit some excellent shots early (the placement on the two TD passes was classic elite-level Rodgers), as the game progressed he couldn't keep it up. His ball placement was off, helping cause his first INT (slightly high, which in part turned what would have been a routine Nelson grab into a tipped ball) and almost putting at least two more right into the hands of the defense (had it not been for Davante Adams expertly knocking both down).
His second INT was purely a bad decision, throwing the ball to someone when his player in a bad spot with Janoris Jenkins (a guy who has built his career — and earned his huge contract — off his ability to make spectacular plays) all over him and breaking in the direction he was throwing in.
This was all with possibly the best single-game blocking effort I've ever witnessed from the five guys in the trenches. He had all night on basically every single dropback he took. Yet even with all that time, Rodgers still couldn't find an accurate touch and was rushing into bad decisions. He barely completed half of his throws, and he now is ranked last in terms of completion percentage on the year.
Still, it is far too early to expect him to not find a way to get back to some semblance of his old self.
Even with all of this, Rodgers still ranks highly in a bunch of advanced statistics. In ESPN's QBR rating, he currently sits at #4 with an 79.4 (0-100 scale). Pro Football Focus — who got A LOT of grief for their weekly grading on Rodgers last season — gave him a 79.0 (the high end of average in their particular 0-100 grading system) for last week's game and still consider him the league's #6 QB through five weeks despite all the negative aspects he's shown in his game so far in 2016, while also noting he has the highest number of positively-graded throws among all QBs by their metrics.
In Football Outsiders' ALEX* metric, Rodgers is behind only Ben Roethlisberger, showing he is looking to rack up yardage with his arm on key downs instead of relying on his guys to make players miss underneath to earn a first down.
If Rodgers can fix his recent dips in accuracy and decision-making, he's much closer to a return to normalcy than it may seem.
This week could provide the perfect opportunity to do so.
Dallas has looked great on their way to a 4-1 record, with the offense running dominantly and the defense playing better than expected.
While the defense may appear better however, it may have more to do with the success of a ball-control offensive gameplan keeping them fresh than anything.
They have run out a completely anonymous pass rush (4 players have 50+ snaps there; none rank higher than #59 among edge rushers in PFF's edge defender grades), and have been suspect versus the pass (#25 in Pass Defense DVOA).
Saying someone is "due" is the definition of the Gambler's Fallacy, but if the concept has any ground to stand on, this feels like exactly the kind of situation where it would come to fruition.
The offense will likely need to focus on passing the ball due to injury problems with Lacy and Starks, this defense has plenty of exploitable holes, and Rodgers should again be given massive chunks of time to pick them apart.
I'm not expecting the kind of offensive explosion we saw in the first half of that Detroit game, but a steady and calculating dissection of an overmatched unit feels well within the cards.
Week 6 Prediction:  
275 passing yards, 3 passing TDs, 25 rush yards; 24.00 fantasy points
Verdict: (Finally) Finding A Groove
*ALEX stands for Air Less EXpected, and measures the average difference between how far a quarterback threw a pass (air yards) and how many yards he needed for a first down. A positive number in this metric is better. Example: If a quarterback throws a pass to a receiver who is 5 yards behind the line of scrimmage on third-and-15, then that would be minus-20 ALEX. A pass thrown beyond the first-down marker would earn a positive ALEX figure.
Week 5 Statistics:
Lacy – 11 carries, 81 rushing yards, 1 catch, 3 yards; 8.40 fantasy points
After passing the 100-yard plateau earlier than ever in his career against the Lions in Week 3, Lacy appeared poised to make the Green Bay ground game a dangerous force for an offense in dire need of some consistency.
As the game against the Giants got going, Lacy continued on his strong early pace, racking up multiple decent runs — three of which went for 10+ yards, including a rumbling 31-yarder — to what appeared to be his second consecutive 100+ yard effort of the season.
Unfortunately, he wouldn't get that chance. On one of his rushes, his ankle got injured, and his night was done far too early.
That injury has had his ability to suit up at all against the Cowboys be a major question this week, and although he is expected to play now his effectiveness is most likely going to be limited.
Of course, Lacy has shown the ability to play well despite injuries (including to his ankle; a gritty 15 carry/84 yard effort against Pittsburgh in his rookie year sticks out in my mind) and his running style being built on strength rather than speed somewhat lessens the potential impact, so maybe he still manages to be productive.
For now however, I'm keeping my expectations relatively low for him.
Between the injury and the fact that the Cowboys' defense appears more exploitable through the passing game, expect the Packers to lean more on Rodgers and his receivers to rack up most of the offense's yardage while turning to the running game as a change-of-pace to keep them honest.
Week 6 Prediction:
Lacy – 60 rushing yards, 1 catches, 10 yards; 7.00 fantasy points
Verdicts: Injury-Afflicted Backup Plan
Week 5 Statistics:
Nelson – 4 catches, 38 receiving yards, 1 TD; 9.80 fantasy points
Cobb – 9 catch, 108 receiving yards; 10.80 fantasy points
Adams – 5 catches, 85 receiving yards, 1 TD; 14.50 fantasy points
Montgomery – 1 rush, 1 yard; 0.10 fantasy points
Despite the continued struggles of the offense as a whole in Green Bay, the main wide receiver group had a pretty strong day in the fantasy realm.
Nelson may have come up with some drops (one of which turned into a tipped INT), but he was the recipient of the opening drive TD pass on an excellent diving catch.
Though his yardage wasn't great, he wasn't far off on some of those plays and continues to garner plenty of looks from his quarterback (40 targets in 4 games — including 13 against New York).
Cobb finally had the breakout game we've been waiting for from him. After producing below expectations going back to early in 2015, he became a focal point again.
He was just under double-digit receptions, with his final catch sealing the victory and putting him over 100 yards on the night.
He also would have broken his TD-less streak if not for offsetting penalties on his presumed TD catch early in the game.
Adams game may have been just as impactful (if not moreso) than Cobb's, though not all on the stat sheet.
He made a pretty nice TD catch of his own to help put Green Bay up 14-3, and continues to earn more of Rodgers' trust with each passing week.
Something that helps: on a couple of his QB's more errant throws, he managed to get his hand in to bat down what appeared to almost surely be interceptions.
With the gameplan for the Packers lining up to be pass-heavy for numerous reasons, each of these three should get a handful of chances to make plays.
In terms of fantasy production, I feel like of the group we are likely to see at least two of these guys make sizable impacts.
While Jordy is the clear #1 option for Rodgers, this may be a week to look elsewhere.
As mentioned before, the Dallas defense can be beaten with the pass, but Nelson is likely matched up against a resurgent Morris Claiborne.
That resurgence is somewhat overhyped (I've seen some places saying he's playing like one of the best CB's in the league; he's done well, but not THAT well), but he's done well enough to be a nuisance — especially if he has consistent help from his safeties over the top (Dallas is #9 in Defensive DVOA versus #1 receivers in part due to those aspects).
With that taken into account, the options Dallas can send to guard Cobb and Adams aren't nearly as good. Brandon Carr has long been a bust of a high-priced free agent signing in Dallas, so Adams should be able to make some plays on him. Cobb should especially make hay in this matchup, with Dallas being particularly susceptible to the kind of short routes he has routinely carved out (#25 in Defensive DVOA versus short passes).
Lastly, I get to an intriguing possibility here with Montgomery.
Even with an expected heavy dosage of passing, Green Bay won't fully abandon the run.
Injuries to Lacy and James Starks (who won't be suiting up due to a meniscus tear) — the only two pure running backs on the roster — put any production from that area in peril, however.
Keeping the defense honest (and not allowing them to constantly load up on bodies in coverage to muck up potential spacing) will be much desired, but Lacy likely won't be able to do that all on his own; even if he garners yardage in chunks, his ankle injury will likely require him to rest at least every now and then.
With no Starks, when Lacy isn't getting carries somebody else has to step in, but the options are limited. Ripkowski could see a few carries, but he isn't someone we should likely expect to have a high workload outside of short-yardage situations and still be productive.
Past him, however, Cobb and Montgomery both could be guys used in the backfield more.While Cobb likely gets first look between the two, this could be an excellent chance for the Packers to get an under-utilized player onto the field more.
Montgomery's two carries so far this year have gone for exactly zero yards, but if he is given a legitimate opportunity back there, those numbers could drastically improve.
Give the man 10 to 12 snaps back there, work him as a runner and a screen option, and we may see this offense stumble into a new dynamic weapon for their arsenal.
I wouldn't risk playing him this week, but watch him; if things work out, he could in effect become Green Bay's version of Darren Sproles going forward.
Depending on your fantasy league and upcoming matchups, he may turn into a wild-card piece for you.
Week 6 Predictions:
Nelson – 3 catches, 50 receiving yards; 5.00 fantasy points
Cobb – 7 catches, 90 receiving yards, 10 rushing yards, 1 TD; 16.00 fantasy points
Adams – 5 catches, 65 receiving yards, 1 TD; 12.50 fantasy points
Montgomery – 3 catches, 25 receiving yards, 20 rushing yards; 4.50 fantasy points
Verdicts: An Off Week (Nelson); Continued Strong Play (Cobb); Worth A Shot (Adams); Keep An Eye On Him (Montgomery)
Week 5 Statistics:
Rodgers – 1 catch, 6 receiving yards; 0.60 fantasy points
With Jared Cook still out with an injury, Green Bay has only one tight end option worth even considering looking towards in the other Rodgers.
This isn't exactly a ringing endorsement, of course.
Rodgers has only 6 catches all season, after all, and is pretty far from being a dynamic option (few things in the NFL are the lock that is Rodgers going down on first contact).
Regardless, this matchup is enticing for a number of reasons.
Part of this starts with the Green Bay offense. The passing game has continued to struggle despite the litany of options at their disposal, and it remains to be seen if the coaches are willing to give some of their under-utilized wideouts.
Even when he isn't getting targets, Rodgers is going to see snaps — especially without Cook around. Case in point: in the past couple weeks (with Cook getting hurt during the Detroit game), Rodgers has been on the field for over 85% of the team's offensive snaps.
Putting him out there on routes guarantees nothing in terms of production, but he has a chance if he can find an open space in a zone or a size mismatch.
Another part — and perhaps the more important one — is the matchup itself.
Dallas has not been great against the pass as a whole, but are even worse against tight ends in particular: the Cowboys rank dead last in Defensive DVOA against this position (by a pretty large margin.
Adding to this point, they've allowed at least five catches to tight ends in the past four weeks — and they aren't exactly a murderer's row of opposition; while one was Jordan Reed of Washington (#10 TE in Pro Football Focus' rankings), the others were Chicago's Zach Miller (#15), and Cincinnati's C.J. Uzomah (#19), and San Francisco's Garrett Celek (#47).
Rodgers isn't going to dominate any matchup, but there should be opportunities for him, especially around the end zone and in short-yardage. If you find yourself needing a one-week option at tight end, he might be worth a look.
Week 6 Predictions:
Rodgers – 4 catches, 35 receiving yards, 1 TD; 9.50 fantasy points

Verdicts: Red-Zone Target
Week 5 Statistics: 2/2 PATs, 3 FGs (44, 33, 25); 12.00 fantasy points
With few things making much sense in terms of what is working (and what isn't) for this team in 2016, there's at least one place Packers fans can still turn to for a sense of positive normalcy; that's Crosby.
As usual, when Crosby is called upon, he simply does his job without fail. He's made all 7 of his field goal attempts this year, and hasn't missed (including playoffs) since Week 15 of last season. Including playoffs, since Week 16 of 2012 (if you'll remember, that was the year he went 21/33 in the regular season, owing to a stretch from Weeks 5-14 where he went 12/24), he has made 103 of his 117 field goal attempts.
Also impressive: since the rule change to extra points to start 2015, he has made all 52 of his attempts (including playoffs) on the now-33 yard kicks.
To me, nobody feels more automatic than Crosby right now, and as long as he's given the chance to score he will make it happen.
In this game, the offense should have a great opportunity to move the ball with consistency; if they do, he'll come through for them. I wouldn't expect all the kinks to be worked out yet — especially with the running game suffering from injury issues — so a couple field goal tries even on an overall good offensive day.
Add that to some extra point kicks on the drives that do finish with TDs, and you get a third straight 10+ fantasy scoring performance for Green Bay's stalwart kicker.
Week 6 Prediction: 2 FGs (1 30-39 yards, 1 40-49 yards), 3 XPs; 10.00 fantasy points
Verdict: Decent Option
Green Bay Defense

Week 5 Statistics: 16 Points Allowed, 4 Sacks, 1 Fumble Recovery; 7.00 fantasy points
So far through this season, what we have seen from the Packers' defense is pretty perplexing in relation to what we've been used to.
Before this year, the things most would have likely said they expect to see from this unit would be a strong young secondary, a flailing run defense, an inconsistent pass rush led mostly by Clay Matthews, and the usual sieve at the inside linebacker spot.
Instead, everything is reversed!
Due to injuries and inconsistencies from its young players, the supposed strength of this defense is in fact its biggest weakness, dropping from #6 in Pass Defense DVOA for 2015 down to #19 in 2016.
The run defense is all of a sudden putting up historically good numbers while jumping from #19 in Run Defense DVOA in 2015 to #2.
The pass rush has been even better than hoped and constantly forcing pressure in a way they couldn't sustain previous, and instead of Matthews leading the charge it is Nick Perry.
Even the weak spot in the middle has become average at worst — a huge upgrade from before — with the combination of Jake Ryan, Blake Martinez, and Joe Thomas.
This week presents a unique challenge for them, however. While jumping to a stellar start against the run, they haven't faced anyone in the stratosphere of Dallas yet.
Ezekiel Elliott has easily been a top-3 back already, and Dak Prescott has been excellent in Romo's stead.
While it would be foolish to expect a shutdown of the run in this game (Elliott has been excellent, but his offensive line rightfully gets credited as the top group across the league for their work in the trenches), it isn't like Dallas has really faced much of a defensive challenge themselves yet.
Four of the teams they've played so far are average at best in defending the run (Washington, Chicago, San Francisco, and Cincinnati rank #32, #25, #23, and #16 in Run Defense DVOA, respectively), and against the best run defense they've seen so far (New York Giants, at #10 in Run Defense DVOA) held the team to their lowest rushing total — led by Elliott's worst performance of the season (20 rushes, 51 yards).
Quite simply, as much as Green Bay hasn't had to face a rushing attack on Dallas's level, the Cowboys in turn have not faced a run defense playing as well as the Packers' is — and unlike for Green Bay, we have at least some evidence that Dallas's attack can be slowed.
If Green Bay can slow their rushing attack, it could force Prescott to have to take on a heavier burden.
He's done well so far (including no interceptions yet and few bad passes to point to), but it isn't as if he's needed to do all that much behind the spectacular play of Elliott and the rushing attack besides play within the offense and take the throws the defense gives him.
If the defense forces him to do more, we may see the young quarterback make some of those rookie mistakes he has so far avoided.
Between the struggles by the Packers' offense and the injury problems in their defense's secondary this is far from a given, but the defense has played great overall even with their secondary struggles.
Assuming the Packers' offense holds up their end here (while he hasn't done so yet, you have to think Rodgers will find a rhythm at some point, and the Dallas defense should give him a decent chance to do so), we could see Prescott put in the kind of 14-3 or 17-6 hole which puts them in the kind of obvious passing situations which will allow Perry and the gang to pin their ears back and rush with relentless abandon.
Week 6 Prediction:
16 Points Against, 3 Sacks, 1 INT, 1 Fumble Recovery; 8.00 fantasy points
Verdict: Trustworthy Choice
This article originally appeared on