Green Bay Packers Week 3 fantasy profile – Who's up? Who's down?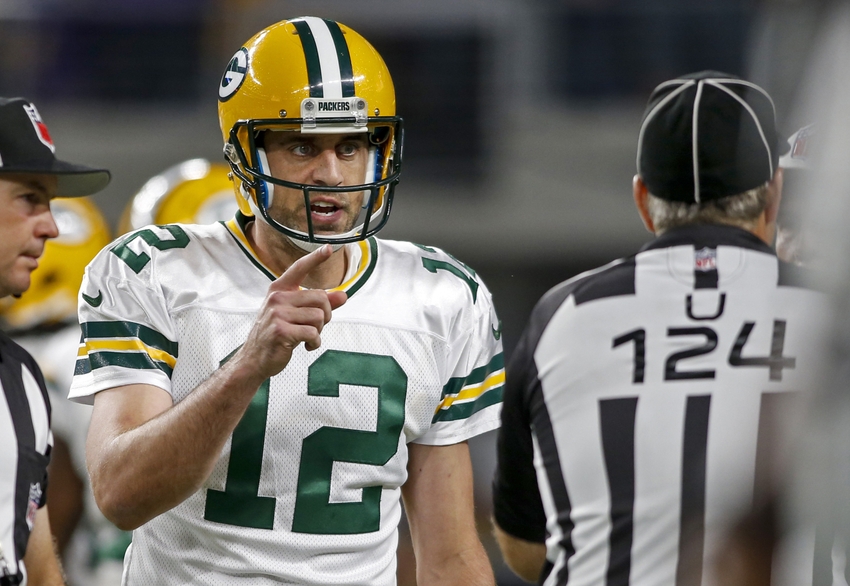 No In-Editor Preview for 120 Sports Videos
Video Details
ID: 202734332
Source: 120 Sports
Disclaimer: For any fantasy scoring numbers, I will be using those generated by Yahoo! fantasy football. It is the system on which I've played a majority of my fantasy football over the years – and currently play. Other setups are fine – I've worked with ESPN and NFL fantasy football teams in the past – but seeing as I have the most experience using this scoring system, I'll stick with using their methods of scoring.
Week 2 of the season brought the Green Bay Packers a frustrating defeat to their rival Minnesota Vikings which raised a bunch of questions about the offense; when it comes to the fantasy realm, those questions are quite relevant to how your teams performed — and may continue to do so.
For the Packers, just about every player performed below expectations (both in real and fantasy terms) against the Vikings; from the quarterback to his runners and receivers, nobody had what could be considered a stellar day, and few even reached the heights of mediocrity.
This week they get matched up with a Detroit team that, while causing problems for the Packers in the recent past, should be much easier to attack for an offense that is in dire need of a strong performance.
We start at the quarterback spot.
Week 2 Statistics: 
20/36, 213 passing yards, 1 passing TD, 1 INT, 1 Fumble Lost, 29 rushing yards, 1 rushing TD; 18.42 fantasy points
It may be hard to believe, but Rodgers has been in a slump for awhile now.
It's been much discussed all around the sports stratosphere this week, but it has been going on since at least midway through last season; in that time, the NFL career leader in passer rating has failed to reach 100.0 in that metric since Week 6 of that year, and his team has gone a collective 6-8 (including playoffs) in those games.
This doesn't all fall on the quarterback of course, but there are things he must do better.
The offense as a whole has remained, as All-22's Oliver Connolly put it, "flawed by design", but the elements they have run haven't been able to be done so in an effective manner with the way Rodgers has been performing. There have been quick openings and timing routes where Rodgers has failed to set his feet properly or pull the trigger immediately, which takes away potential gains and forward movement which could help provide some semblance of a rhythm for the offense.
He excels in his ability to extend plays, but those plays have become fewer and further between going back to last year, with defenses acknowledging the need to keep themselves aware for longer periods of time and sticking to receivers like glue.
To turn the tables on this, he'll need to try falling more into the planned flow of the offense more often. Instead of just trying to beat defenses on broken coverages and holes that might open up deep, he has to hit his guys as soon as possible; finding guys as soon as they hit their route breaks is difficult to defend against, and those have been available (and missed) a handful of times already just two games into the season.
Though Detroit has given the Packers fits on offense in the recent past, this week is a great opportunity for Rodgers the kind of flow he has been missing.
The Lions will likely be missing multiple key players on their defense for this game. Star defensive end Ezekiel Ansah is their best player on that unit; he's not expected to play. DeAndre Levy is an excellent coverage linebacker (in 2014, he covered Jordy Nelson 1-on-1 on a game-sealing 4th down drive that ended Green Bay's last grasp effort to mount a late comeback); he's not likely to play either, leaving the Lions with exactly two healthy linebackers for this game.
With a weakened front seven, Rodgers should have the time necessary and enough space provided to attack the defense in the short- and mid-range (the areas an in-flow West Coast offense like coach Mike McCarthy desires to run would pick apart relentlessly) and have his offense — and himself — flowing in a way we haven't seen for at least a year.
If he can't do something this week, then Green Bay REALLY has some problems. It is one thing to not produce against an elite-level Vikings defense, but not performing against a weakened defensive unit in Detroit would be an all-new level of trouble — the kind that usually threatens jobs.
Though there is enough evidence to show this shouldn't be assumed as a given, for now I still believe this offense and its quarterback have the ability to put up a good performance against a depleted defense.
Week 3 Prediction:  
275 passing yards, 2 passing TDs, 20 rush yards; 21.00 fantasy points
Verdict: Stick With Him
Week 2 Statistics:
Lacy – 12 carries, 50 rushing yards; 5.00 fantasy points
Starks – 7 carries, 3 rushing yards, 1 catches, 16 yards; 1.90 fantasy points
Despite all the hype coming into this year about Lacy, he's been stuck in the mud the same way he's started every season of his career.
Despite his passing game struggling and both contests so far staying close, Lacy has only 111 yards on the ground across two games, with only 50 coming against the Vikings. As he has an awful tendency to do, there has been a lot of hesitant movement from Lacy on his runs, with him dancing around far too often instead of just sticking to his talents and barreling forward.
This could be an even bigger problem than before too; with his lighter weight, he might be feeling like he can make something happen with more of these elusive moves that have rarely worked for him in the past, and that won't turn out positively.
The bigger issue though may be the amount of carries he has been receiving; in two games, he has 26 rushes total. This isn't because of time-share issues between him and Starks either, with Starks only garnering 11 of his own while not being used as a weapon in the passing game.
McCarthy has already discussed needing to give him a larger workload, and this would be a good week to do so. The Lions are giving up 5.1 yards per carry to runners so far this year, and as stated earlier are missing key pieces in their front seven.
Letting Lacy barrel through a depleted unit would be a strong strategy on multiple fronts. It could allow him to find a rhythm that's been absent so far this year. It would also provide the offense a balance they've clearly lacked, while taking the burden off a passing game which has yet to find any discernable rhythm. The offensive line might also be able to find a groove in this facet as well (so far, Pro Football Focus' run blocking grades on the offensive linemen are avergae at best).
If the coaches stick to the running game as they've stated they want to, Lacy can have a good game here.
Meanwhile, Starks should see some intermittent series here and there (a role he has proven to work well in previously), and could see an uptick in production if Green Bay reinserts the usage of screen plays into their gameplan.
Week 3 Prediction:
Lacy – 65 rushing yards, 1 rush TD, 1 catches, 15 yards; 14.00 fantasy points
Starks – 30 rushing yards, 2 catch, 15 yards; 4.50 fantasy points
Verdicts: Finally Getting Going (Lacy); Low-End Backup (Starks)
Week 2 Statistics:
Nelson – 5 catches, 73 receiving yards, 1 TD; 13.30 fantasy points
Cobb – 5 catches, 42 receiving yards, 1 rushing yard; 4.30 fantasy points
Adams – 3 catches, 26 receiving yards, 1 Fumble Lost; 0.60 fantasy points
Last season when Nelson was out and the receiving corps was stuck in a quagmire of injuries and inconsistencies, it was a popular idea that once he returned the ills at that position would be fixed.
Cobb would go from the #1 option (and top focus of defenses) to the secondary choice in the passing game, Adams wouldn't be the only option on the outside of the defense (and usually matched up against a team's top corner), and guys like Jared Abbrederis, Ty Montgomery, and Jeff Janis would be able to work on their precision and execution in lesser roles against the weaker depth pieces the opposing unit could throw at them.
So far, it isn't working anywhere close to that vision.
Nelson has put up decent fantasy production in two games, but he has definitely been missing the trademark timing he used to have with Rodgers. We've seen numerous passes that just miss the mark (whether due to the positioning of Nelson or the throw from Rodgers) and many of those have led to drives stalling out.
As they practice and play more though, those issues should alleviate themselves on some level. This may be another week where we witness some of those struggles, but there are also other factors that may lead Rodgers to focus elsewhere in this game.
Nelson should be matched up with Lions' cornerback Darius Slay (PFF's #13 graded corner so far in 2016); he has the talent to slow many receivers on his own, and Nelson with Nelson still finding his footing he may struggle to consistently find space against him.
More than that, however, is that beyond Slay and safety Glover Quin the team is currently lacking in proven options across their defense. This should allow the players not being directly covered by those guys to have a better chance at finding openings, and I expect Rodgers and McCarthy to be putting more emphasis on taking advantage of those matchups than trying to force-feed their best wideout the ball.
This feels like the kind of game where Cobb breaks out of his own slump. Names like Quandre Diggs and Nevin Lawson will be who should end up directly covering him, and they are not exactly what you would call "starter-quality" contributors (PFF rates both as replacement-level players), and the Lions currently only have two healthy linebackers to potentially help in the areas Cobb is most effective at exploiting on a defense (underneath and across the middle).
Despite not focusing on Nelson though, I don't see Adams having a particularly good game. He shouldn't see a difficult matchup, but I think a combination of his inconsistencies (drops and poor route-running) showing up and Rodgers looking more towards the middle of the field will have him end the game relatively anonymously.
Week 3 Predictions:
Nelson – 3 catches, 45 yards; 4.50 fantasy points
Cobb – 8 catches, 85 yards, 1 TD; 15.50 fantasy points
Adams – 2 catches, 20 yards; 2.00 fantasy points
Verdicts: Not This Week (Nelson); Breakout Game (Cobb); Still Too Inconsistent (Adams)
Week 2 Statistics:
Cook – 4 catch, 31 receiving yards; 3.10 fantasy points
Rodgers – 2 catch, 25 receiving yards; 2.50 fantasy points
The tight end spot routinely has been a sore spot for me in recent years. Though I had plenty of frustrations brought on by Jermichael Finley over his career, when his career ended it took out an integral piece of this offense that has never come close to being replaced since.
Green Bay has added options at the spot in that time, but none have ever brought along the kind of value and production that let the coaching staff trust making the position a focus of their offensive gameplans.
As it stands however, the offense is struggling with what they had found success doing in the early wake of Finley's absence, and the guys they added in recent offseasons should allow them to at least try incorporating more usage of the position.
This would be a great week to really test that theory out.
Among the things lost in the 17-14 slugfest against Minnesota might be that we actually did see this spot getting a decent amount of looks in the passing game. Between Cook and the other Rodgers, we saw eight passes targeted to tight ends against the Vikings, with most of those coming in the few times the offense gained any semblance of a rhythm.
With the health issues that have struck the Lions at the linebacker position, the middle of the unit is likely to have holes all game. With only two healthy linebackers as it stands, Detroit may have to resort to using more nickel and dime package looks — giving guys like Cook (6'5″, 254 lbs) and Rodgers (6'4″, 257 lbs) a massive size advantage; even if they don't, the current available players there aren't exactly world-beaters (per PFF, every Lions LB option is currently rated as replacement-level for their 2016 play).
If the team's gameplan focuses on attacking the weakest areas of their opposition, Cook and Rodgers should see a good combined workload, and their size should help them act as great end-zone targets to finish off drives.
Week 3 Predictions:
Cook – 4 catch, 60 yards; 6.00 fantasy points
Rodgers – 4 catches, 35 yards, 1 TD; 9.50 fantasy points
Verdicts: Low-End Starter In A Good Matchup (Cook); TD-Dependent (Rodgers)
Week 2 Statistics: 2/2 PATs; 2.00 fantasy points
Crosby didn't provide much of anything against the Vikings fantasy-wise, but that wasn't his fault.
His offense struggled massively to move the ball with consistency, so multiple drives ended well before field goal range, limiting his chances.
Then, of the legitimate possible drives he could have had a decent try at putting points on the board, he never saw the ball; of the four drives that either reached or got close to his field goal range, the Packers scored 2 TDs, lost a fumble, and went for it on 4th down (only to fall short).
With the offense having a weaker unit lined up against them, we should see more success from that side of the ball — that means more potential chances for Crosby. Also, though the team should be more productive, they likely will still have inconsistencies to work out and could see drives still stall at times — if those get to Detroit's side of the field first, then that increases Crosby's odds even more.
Last week was about the worst possible scenario for Crosby owners coming to fruition; it is unlikely to see multiple games in a row bringing about the exact factors that caused him to not get a single attempted field goal. This week, with a bounceback from his offense, Crosby should have a performance more in-line with what we expect from him.
Week 3 Prediction: 3 FGs (1 20-29 yards, 2 40-49 yards), 3 XPs; 14.00 fantasy points
Verdict: Strong Bet
Green Bay Defense

Week 2 Statistics: 17 Points Allowed, 4 Sacks, 1 Fumble Recovery; 7.00 fantasy points
Just as they did during the second half of last season, while the offense has struggled it has been the Green Bay defense which has kept this team in games and really become the strength of the Packers.
The front seven of this team especially has coalesced into a powerful group, allowing just 78 rushing yards (1st in NFL) in two games so far while mounting consistent pressure with their pass rush (tied 4th in NFL with 7 sacks). In terms of Defensive DVOA, they are #10 — as well as #1 in Run Defense DVOA.
The issue so far with them has been what was supposed to be their strongest area: the secondary. Green Bay has made a conscious effort to get younger at the position, and last season it seemed to work out exceedingly well; despite multiple rookies and 2nd-year guys taking significant snaps in 2015, the team ranked #6 in Pass Defense DVOA.
This year however, those young guys at corner are getting taken advantage of. In Week 1, Quinten Rollins got attacked with multiple players and gave up a lot of plays to Jacksonville; Week 2, Damarious Randall had Stefon Diggs digging his grave for him all night. With Sam Shields downed by another concussion, these guys will only see more time out there, and if they cannot stop allowing big plays in key moments it won't matter how well the front seven plays.
Even with their failings so far though, the team has only dropped to #16 in Pass Defense DVOA through two games, and this matchup could surprisingly work more in their favor.
Detroit as a diverse set of receivers to choose from, but their overall style is different from what they past two teams could throw their way. Jacksonville can attack deep over the top, while Minnesota has a receiver in Diggs who can make catches of all brands against all types of coverages. Detroit on the other hand calls tons of quick-release passes to guys like Golden Tate who are best at making things happen after the catch.
This presents a problem of its own (quick tackles are a necessity, something that has been a problem in the past for Green Bay), but I think keeping everything in front of their corners seems to be the best option for them currently. By not having to worry as much about the deep shot (Tate and others can go deep at times, but Detroit's scheme so far hasn't utilized that aspect too often), they are able to focus on a less broad task and could find hopefully find their footing.
Something else to consider in this matchup is the offensive line of the Lions. The group is pretty young, but for the most part have played well so far this year (per PFF, four of their five starters have at least a 77.0 grade through two games, with three having a grade over 80.0); add in the quick throws they utilize often, it could prevent the Packers from applying consistent pressure.
The left side of that line is a weak point however, and that works out well for the Packers; that just so happens to be where Mike Daniels and Clay Matthews line up, so this is a huge opportunity for them to have big games. With those two expected to take advantage of their matchups, if the litany of other pass rushers on the Green Bay roster can break through this young offensive line things could get ugly for Matthew Stafford.
I don't expect total domination, but a strong performance with lots of pressure applied is well within their means.
Week 3 Prediction:
17 Points Against, 4 Sacks, 1 INT; 7.00 fantasy points
Verdict: Good Bet
This article originally appeared on