Green Bay Packers: Week 12 special teams recap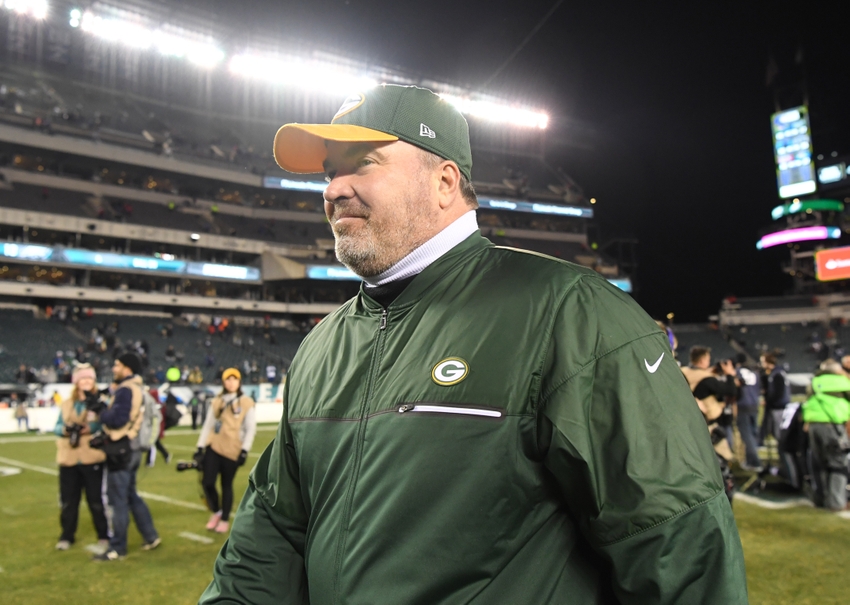 After falling into a 1-5 skid which almost completely dropped them from playoff contention, the Green Bay Packers finally managed to put together a winning effort again to get themselves to 5-6.
The offense showed off an adept ability to control the clock and convert drives from the start, helping the team not have to worry about playing from behind.
The defense, with much more rest than usual and fewer drives to have to defend, showed up with their best performance in at least a month.
How did the special teams factor into this eventual 27-13 victory?
As with each week, let's start with the kicker.
Mason Crosby
Kickoffs:
PHI -2; 21 yard return (PHI 19)
PHI -2; 16 yard return (PHI 14)
Touchback
Touchback
Touchback
PHI 1; 12 yard return (PHI 13)
Scoring:
Extra points: 3/3
Field goals: 2/2 (Made: 33, 32)
Look at that: Green Bay's recent skid is finally broken, and so is Crosby's!
In all seriousness, it had been a growing concern of mine that the usually-reliable Crosby had gone from being among the top guys at his position in the league to someone who had missed at least one kind of kick (field goal or extra point) in each of the past three weeks and four of the past five.
For a guy who had missed only four field goals since the start of 2015 and no extra points under the 2015 extra point rule changes, seeing three field goals and two extra points come up empty since Green Bay's Week 7 matchup with the Chicago Bears is a huge concern. His misses never ended up causing losses themselves, but they were just another nail in the coffin of what quickly turned into large blowout losses and a 4-6 record. I wasn't getting 2012 flashback with him, but another few weeks of it and I may have started to.
This week, he's put my mind at ease. Crosby had three different extra point tries; all three went through the uprights. He had a couple field goals of about that same length as well, making them both.
It's great to see Green Bay's usual best special teamer back to his usual productivity. The only thing now is that he's no longer the one positive for a moribund group; in fact, for at least this week he may only be the third-best part of the entire unit.
If third-best looks like this, I'll gladly take it.
Jacob Schum
Punts:
43 yards (PHI 1); Downed
Another week, another single punt showing from Schum.
Even with little chances to produce though, he proved once again he really is a quality punter after all.
This week, Schum did his single-best work yet, helping his team pin back the Philadelphia offense all the way on their own 1 yard line.
He didn't do it alone of course — some help at the end from his coverage guys made sure it was a pinned kick and not a touchback — but the biggest part of the effort was up to him and he delivered.
If you haven't taken notice yet, open your eyes now: Schum is a legitimate starting punter in this league, and he is just getting better week after week.
Now obviously, I'd rather see as many low-opportunity games as possible for Schum (less chances for him likely means more success is being had by the Green Bay offense), but I finally believe it is alright to feel like Green Bay is in safe territory behind the leg of this guy on their change of possessions.
The Return Units
Punts:
Out of Bounds (GB 13)
Muffed *GB Recovery* (GB 15); *GB Penalty* (GB 8)
Kickoffs:
Touchback
Touchback
18 yard return (GB 17)
Touchback
In a week where the unit was nearly flawless as a whole, there is one sore spot for me: these guys.
Still, it is picking pretty deeply in the nits.
The return units only had few chances in general based on the few possessions to go around, and most were pretty routine. One of the two punts went out of bounds, and three of the four kickoffs were touchbacks.
Those other two didn't technically cause any major issues in this game, but they are worth delving into, albeit for vastly different reasons.
The kick return was one that was just in the endzone; with those, the inclination for most players is probably to take their chance with bringing it out unless the see a problem form ahead of them (such as their blockers not setup correctly or the coverage unit barreling down particularly fast). Seeing as this one was brought out, it's fair to say Montgomery didn't see anything major wrong in the coverage, so a chance was worth taking in his eyes. He didn't make it far on this return attempt though, setting his offense up inside their own 20 when they could have instead started from their own 25 had he just simply sat on it in the endzone, resulting in a net loss of eight yards.
The question from there is whether the result of that net yardage loss (and the risk the return itself brought with it) was worth Montgomery trying to turn a guaranteed 25-yard line start point for something more. Factoring in that the Eagles boast the league's best special teams unit (a major part of which is their own coverage ability), the game situation (under 30 second left in the half, Philadelphia gets ball after halftime) and the fact that by that point the game portended to being a low possession contest (so a big play would be worth drastically more than most games — but so would a mistake), the answer will come down to your preferences really.
If you are someone more likely to weigh decisions toward higher-risk/higher-reward thinking, this makes it likely that risking the loss of field position or perhaps even a fumble is worth whatever yardage (or, at best, a touchdown) could come from a return try. If you tend to think conservatively on the issue (stay safe with the touchback, but take out the possibility for an even better starting spot for your offense — and most likely possible points before the half), you want the touchback.
Based on the situation (have the lead, little time left in half, game likely has few possessions, opponent gets ball after halftime, opponent has league's best opposing special teams unit), the decision was one I agree with. With so little time left in the half, the offense isn't likely to go and score here with a touchback.
As long as the returner doesn't commit a fumble or get stopped right along the endzone, the damage is effectively nil; with Montgomery, Green Bay had a returner they can trust to not make the cataclysmic mistake (remember, he is intelligent enough to exploit rulebook loopholes in special teams — as he did to get Green Bay to their own 40 on a kickoff along the sideline earlier this year).
If he does break a big return though, even with limited time remaining his offense might actually find themselves in range for a quick pre-halftime score they otherwise wouldn't have even considered. The actual result matters little in terms of what could possibly have happened, and his decision speaks directly to the low-risk/high-reward mentality coaches and players alike would love to get the opportunity to take advantage of.
As for the other play…that one I have the opposite of praise for.
The muffed punt was bad enough on its own. Green Bay has been using Randall Cobb on their punt returns the past couple games specifically because of a muffed fumble by Trevor Davis giving away an early possession in that Tennessee game to bury the Packers even further in a blowout loss; for him to muff one himself essentially undoes the exact reason he's now in that spot in the first place. It is good that he got back on top of it, but not surely handling it could have provided the necessary spark to an Eagles team down by 11 had they come away with it.
The negatives didn't end there, either. Before that even happened, a penalty was called against Jeff Janis on his way back to block; he was flagged for holding, costing Green Bay another 7 yards on what was already a potentially costly play. I'll gladly take a 7 yard penalty over loss of possession, but for an offense that had been playing well on the night but struggled for most of the season, pinning them within their own 10 yard line is flirting with disaster — especially since that elite Eagles' special teams unit has multiple return touchdowns already this season and easily could have been gifted another prime opportunity had the offense stalled out.
Just because it did not it this instance doesn't erase the fact that they had shown a distressing (though understandable, based on that situation being a tough one for any team) habit of doing so in the past two seasons.
Janis has had a handful of bad plays like that this season; just a year after turning into a potential special teams star for years to come, he may be eroding that confidence in him to a point that costs him a future roster spot. If not for that special teams prowess, he wouldn't have survived this year's roster cuts; without it, he isn't someone consistent enough to keep around for other reasons.
For his sake, he better fix this issue over this final month.
The Coverage Units
Punts:
Downed (PHI 1)
Kickoffs:
21 yard return (PHI 19)
16 yard return (PHI 14)
Touchback
Touchback
Touchback
12 yard return (PHI 13)
As deep as I dived into the return team, I don't really need to do so for the Green Bay coverage guys.
Quite simply, the played a superb game.
They stuffed every kickoff return attempt within Philadelphia's 20, giving them a net gain of 28 yards compared to what would have occurred if those had all been touchbacks. That's nearly three first downs' worth of yardage there, and against a team which is filled with dangerous return options.
The crown of their showing was the downing of the punt, however. That punt was excellent by Schum, but even so it needed a slight bit of help from the coverage guys to keep it out of the endzone. We almost had a massive mistake there, with one of the guys stepping across the endzone before reaching back for the ball as he tried reestablishing position in the field of play; fortunately, he was smart enough to either not touch the ball at all or only do so very slightly after he successfully put his body fully back past the endzone line.
That gave the defense the best possible field position you can have to start; as has happened with every Schum punt inside the 5 though that unit failed to capitalize yet again (probably one of the most baffling and frustrating trends I've seen with this team in 2016), but the coverage team did everything possible to set them up positively.
This showing, against the NFL's best special teams group, was a commendable effort all around. If they can capitalize on this level of performance, they might find their way back into the levels they showed most of last season.
They proved they have the talent to do so; what's missing is the consistency to do so each and every week. That's what separates the elite from everyone else.
I don't expect them to reach that high plateau on the year, but a hot stretch of games to end the year could go a long way towards helping Green Bay improbably fight their way back into the playoff picture.
This article originally appeared on