Green Bay Packers: Week 11 special teams recap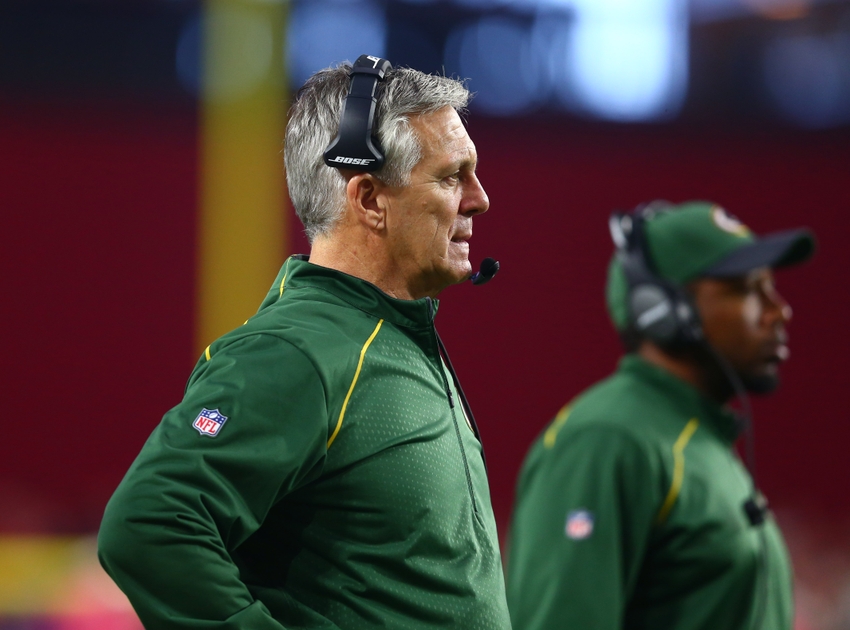 Yet another painful showing for Green Bay Packers fans in Week 11, as their team fell to Washington in yet another blowout effort to drop to 4-6.
The defense was yet again unsightly, letting Washington score on all five meaningful drives of the second half.
As with Week 10, the offense took awhile to get going and then couldn't keep up as Washington flooded the scoreboard with points.
The special teams had its own misfortunes to contribute as well.
Let's look into what those were.
Mason Crosby
Kickoffs:
Touchback
Touchback
WAS 4; 24 yard return (WAS 28)
Touchback
WAS 3; 16 yard return (WAS 19)
Scoring:
Extra points: 3/3
Field goals: 1/2 (Made: 36; Missed: 36)
Yet again, we saw Crosby miss a field goal. That now makes five missed kicks (two PATs, three field goals) in the past five games. Troubling to be sure, but before you freak out this one isn't quite as worrisome on its own.
The winds were hectic and changing all evening, and it had both teams leery of attempting kicks for most of the night (Washington decided to forego multiple PAT chances for two-point attempts, and also missed one too). On this particular kick, you could see Crosby immediately after the miss motioning with his hand to show that he had expected the wind would switch in the other direction.
He did make his other four kicks (one field goal, three PATs), so I don't feel like this should be a problem. Stay aware however, because as the weather gets worse going into December we could see more games where wind, rain, and/or snow effect kicks.
As for his kickoffs, the ones which weren't touchbacks ended up short (likely attributable to the wind) and returnable, but the onus seems like it should be placed more on the coverage team than him.
Jacob Schum
Punts:
34 yards (WAS 41); Fair Catch
58 yards (WAS 6); Downed
46 yards (WAS 37); 8 yard return (WAS 45)
At first it was a joke, but now it is somehow becoming reality: Schum might be one of the best performers on the roster right now.
Once you finish laughing/angrily typing a retort, here's my reasoning: this team has a litany of massive holes we never thought possible, and Schum has actually become a pretty consistent player who helps his team in his overall contributions.
He does still have a weekly questionable kick, but this week's one (like Crosby's attempts) can be chalked up to strong, swirling winds.
To go with it the questionable kicks he has though he's also been adding in great ones as well each game, and he didn't disappoint here. His second punt went nearly 60 yards to flip the field entirely and pin Washington inside their own 10. It's been startling that those punts have ended up becoming TD drives surprisingly often, but [1] that didn't happen this week, and [2] we can't blame that on him anyway.
His third kick was returned for decent Washington field position, but again like Crosby, some of this has to be put on the combination of wind and his coverage team.
As I always say, it would help if he had more pure leg strength, but Schum has continued to both make more positive punts as well as cut down on his mistakes.
He's no Marquette King, but he does give the special teams at least one area (in the wake of Crosby's recent issues) who is performing pretty well each week.

The Return Units
Punts:
Out of Bounds (GB 34)
Fair Catch (GB 10)
10 yard return (GB 44)
Kickoffs:
Touchback
Touchback
7 yard return (GB 18)
Downed (GB 2)
Touchback
11 yard return (GB 18)
14 yard return (GB 17)
Touchback
For yet another week this unit made a mind-numbing gaffe.
Likely due to the wind, many of the kickoffs coming to the Packers were short. On the fourth one though, we saw something I'd only ever seen in a particularly ridiculous game of Madden. 
The kickoff was going, and it appeared like it would end up outside the endzone. Jeff Janis apparently expected the kick to bounce past him and out of the endzone from there, but it halted upon impact to stay in the field of play.
There were a couple moments of hesitation (as if he and the other Packers nearby knew just how ridiculous this must look) and in the calamity Washington was pretty close to getting back the ball right at the endzone, if not in it. Richard Rodgers of all people had the presence of mind to dive on it before the speedy oncoming Washington coverage unit could get to it, but it still set up an inconsistent Green Bay offense at their own 2 yard line to start the drive down 16-10.
Past that, there still wasn't much to look to for positives either.
Each of the other three returnable kickoffs trapped the Packers within their own 20, the Washington coverage unit getting on top of Green Bay's return unit instantaneously every time.
One of the punts was returned a decent distance, but even that wasn't that great, with Demetri Goodson going down with a knee injury so brutal NBC refused to show it. The others either went out of bounds or had Green Bay trapped inside at their own 10 (good decision at the end of the day, but was more about stopping the bleeding than adding anything productive).
We can blame the wind all we want for the negative plays here, but this unit is showing a propensity for at least one major bad play each week while doing little to make up for it with big returns.
With the offense still not where we hoped it would be at the start of the year, the flailing team needs help any way it can get it; having this unit adding more flames to the dumpster fire hurts more than it may seem on the surface.
Even with usual special teams stalwart Janis and Randall Cobb back there to make these returns though, we still saw these problems and lack of positive influence on full display.
We have lots to worry about with this team; this unit is officially another to add to the list.
The Coverage Units
Punts:
Fair Catch (WAS 41)
Downed (WAS 6)
8 yard return (WAS 45)
Kickoffs:
Touchback
Touchback
24 yard return (WAS 28)
Touchback
16 yard return (WAS 19)
This unit didn't have the same bad day of their return brethren, but they were definitely outplayed by their Washington counterparts.
While Washington seemed to be increasingly fast in their kick coverage (especially on that nearly-disastrous kick that ended at the Packers' two yard line), this unit was at best a step slow at times.
On the third punt for Green Bay, the coverage team wasn't able to shut down the return immediately, with Jamison Crowder of Washington avoiding multiple tackles along the sideline before getting sent out of bounds after eight yards.
On the third kickoff, they also weren't there fast enough; because of that, Washington took a kick beyond touchback territory on what became a field goal drive.
Still, it wasn't a totally poor showing from the group, and there were a couple notable plays made by them.
They were there quickly on the final kickoff from Crosby, stopping Washington inside their 20 on a short kick (excellent strategy for any week, if the unit can close on quick tackles). They did well on the first punt as well (though at least in part aided by Schum's hangtime on it) to force a fair catch.
Their biggest play was on Schum's best punt. He got the ball deep on Washington, but it was due to the coverage team getting there fast that a return wasn't attempted at all. With the distance put behind the kick, it could be a question as to whether the coverage players could run over half a field's worth of yards fast enough; they did, and Washington had to start inside their 10.
They have issues of consistency to work out — undoubtedly not helped by the injuries to the team forcing the main players here to take regular snaps on offense and defense — but they came away from this one at least as net positive contributors to Green Bay's performance.
This article originally appeared on