Green Bay Packers vs. Seattle Seahawks: Lombardi Ave predictions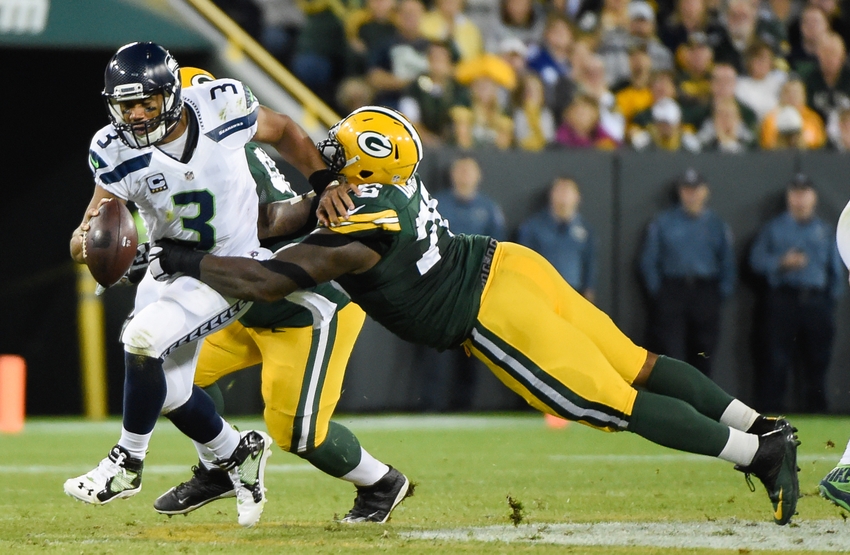 A must-win meeting with the red-hot Seahawks at a frozen Lambeau Field is about as close to a playoff game you could wish for in December.
Winning out would become a serious possibility if the Green Bay Packers overcome their nemesis Sunday. But until then, Aaron Rodgers' words can't be repeated with a straight face.
But maybe Rodgers has a point. After all, he hasn't lost at Lambeau Field in the month of December since 2008. The Seahawks haven't won here since 1999. None of the matters now, of course.
It's crunch time for the Packers. Will their season roll on for another week?
Freddie Boston: This all feels a little too similar to last season. After losing four of their previous six, the Packers beat up on a struggling NFC East team and followed it up with victory over an inconsistent AFC outfit. Then it was the 4-9 Cowboys and 6-8 Raiders, this year the 5-6 Eagles and 6-6 Texans.
All was right in the world again. The Packers were back to winning ways and destined for a Super Bowl run. Except they weren't. Two losses followed—a 38-8 humbling at Arizona paired with an NFC-North conceding home defeat to Minnesota—the Packers stumbling into the playoffs.
Two wins on the bounce has inspired belief Aaron Rodgers' "run the table" remarks might in fact come true. This is the game to prove it. Beating a rookie quarterback with limited receiving options is one thing. Slowing down Brock Osweiler is nothing to write home about.
ANALYSIS: Identifying the X-Factor in Packers-Seahawks
ANALYSIS: Three things to watch in Packers vs. Seahawks
Seattle is an entirely different kettle of fish.
The importance of this one runs deeper than simply saving the season. Beating Seattle would send a statement to the league. Suddenly the Packers would be viewed as a force. Confidence would reach new heights. And you can bet the division-leading Lions would be looking over their shoulders entering consecutive road tilts with the Giants and Cowboys.
The Seahawks will want to run the football on a snowy Lambeau afternoon, but they are a far worse rushing offense away from Seattle. Averaging 122.7 yards on the ground per game at home, this drops to just 80.3 on the road. They've run in 11 touchdowns on home turf, just one away from CenturyLink Field.
A perfect 6-0 at home, the Seahawks are an unimpressive 2-3-1 without their beloved 12th Man.
But no matter how much I'd love to believe they lose for a fourth time, injuries on defense will continue to get the better of the Packers against a Seattle offense loaded with talent. All the talk is about Earl Thomas' injury, but the Seahawks are as resilient as they come. It's the Packers' own injury to sack-leader Nick Perry that is a greater cause for concern.
Seahawks 23, Packers 20
Ralph Mancini: This week's meeting with the Seahawks is essentially a playoff game for the Packers in that you can easily make the case that it's time to start looking ahead to 2017 if they can't secure a victory over their NFC-West rivals.
But while Seattle's defense has earned the reputation of being a dominant unit over the past few seasons, their offense may be the bigger issue.
Russell Wilson is healthier than he was earlier in the year and has picked up his level of play as a result. The fifth-year quarterback, moreover, is surrounded by an impressive supporting cast featuring the likes of Doug Baldwin, Jimmy Graham, Jermaine Kearse, Tyler Lockett and Thomas Rawls among others.
A porous Packers' back seven will be hard pressed to keep the visiting team's passing attack at bay and any hope of our pass rush rising up to the challenge against a subpar offensive line has been dashed by injuries to Nick Perry and the artist formerly known as "The Claymaker."
Aaron Rodgers will probably find a way of keeping his guys within striking distance of their opponent, but unless Green Bay is hit with six inches of snow and winds ranging between 30 and 40 mph, the Packers will be walking off the field with a bitter taste in their mouths at about 6 p.m. CST.
Diehard Cheeseheads will be totally engrossed in discussing offseason upgrades by the time the pain of another missed opportunity subsides sometime during the middle of next week.
Mark your calendars for plenty of hot-stove Packers' talk—it'll be here before you know it.
Seahawks 27, Packers 23
Brad Miller: Aaron Rodgers and the Packers offense will need to continue to utilize all their weapons to attack Seattle. The Seahawks allow the least amount of points per game so it won't be an easy task.
Not only will the receivers need to have a solid game but so will the running backs. Look for Coach McCarthy to get Rodgers in rhythm early while also utilizing former Seahawks RB Christine Michael and Ty Montgomery.
On defense, it is uncertain if LB Clay Matthews will suit up so LBs Julius Peppers, Blake Martinez and Jake Ryan need to play their best to offset a potentially key loss. They will have their hands full with RB Thomas Rawls and TE Jimmy Graham.
The weather, like last week, may play a part on how this game turns out. Expect it to be low-scoring.
With the Seahawks coming off a 40-7 demolition of the Panthers, along with the fact that the NFC West title is all but in their hands, I look for a Seattle let down. The Packers will be eager to play well. I think it will be a close game but the Packers and the cold weather will be too much for Seattle.
Packers 24, Seahawks 17
This article originally appeared on