Green Bay Packers: Three things they must fix ahead of Week 10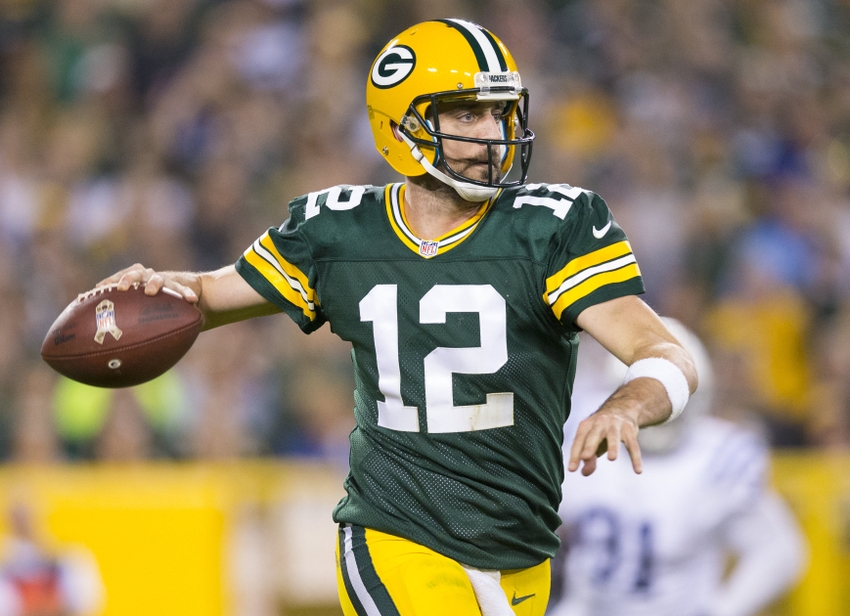 Sunday's loss to the Indianapolis Colts was an absolute catastrophe for the Green Bay Packers.
Losing at home to a 3-5 team isn't acceptable in Green Bay. There were problems all across the board, and some of them will prove far more difficult to fix than others. Here's three things that the Packers must fix in order to turn their season around in the second half.
1. Offensive play-calling and personnel 
This was probably one of Mike McCarthy's worst-called games in a long while. His infamous stubbornness struck in a big way as he called for 43 pass attempts on a day when the passing attack just wasn't clicking.
Ty Montgomery needs to become the featured weapon on this offense. Every time Montgomery touches the ball, it seems, good things happen. He had 53 rushing yards yesterday, but just 7 carries. When he's being that productive on the ground, why abandon it? Even if/when Eddie Lacy returns, Montgomery deserves a significant amount of carries in every game.
Montgomery also had just 3 receptions, while Richard Rodgers had 6. That's baffling. Who frightens defenses more, the lumbering Rodgers or the powerful and speedy Montgomery?
While we're on the topic, Jeff Janis needs to have a much more limited role on offense. Janis had 44 snaps on offense, using those to catch one pass for 25 yards and drop a sure 75-yard touchdown on one of Aaron Rodgers' few accurate deep throws.
Yes, Janis is fast. But he's not a deep threat, because he's simply atrocious at tracking the football in the air. He has some utility on this team, but Trevor Davis deserves the offensive snaps that Janis is receiving.
Aaron Rodgers undoubtedly needs to play better. But Mike McCarthy needs to help him. Rodgers has averaged 45 passing attempts over the past 5 games. That's not the way to get a struggling quarterback out of a slump.
Starting next week, the Packers need to feature Montgomery much more in both the passing game and the running game. They need to give Trevor Davis more opportunities on offense. And they need to stop throwing passes to Davante Adams out of the backfield, because YAC is simply not his forte.
These changes won't fix the Packers' offense, but they'll certainly get them back on the right track.
2. Pass rush
This stat should tell you all you need to know about the importance of the pass rush for the Packers' pass defense:
Andrew Luck vs. pressure Sunday: 3-13, 37 yards, INT, 2 sacks, 7.5 rating.

Luck vs. no pressure: 20-24, 224 yards, TD, 122.9 rating. (@PFF)

— Zak Keefer (@zkeefer) November 7, 2016
Currently, Dom Capers is forced to play either Demetri Goodson or Micah Hyde on nearly every defensive play. That's an obvious weakness, but there's really nothing that Capers can do until Damarious Randall and/or Sam Shields return from injury.
Pressure is absolutely paramount for the Packers in the coming weeks. When Luck felt pressure, Ha Ha Clinton-Dix was able to answer my call and come up with two huge interceptions. But in drives at the end of each half, Andrew Luck had far too much time to dice up the Green Bay secondary.
In addition, pass rushers had Luck in their arms at least three times before letting him escape. Luck has Roethlisberger-esque strength in the pocket, but bringing him down more than twice all day would have been a huge boon for the defense.
Getting Clay Matthews back from injury will help. In addition to that, though, Nick Perry and the Packers' front seven needs to begin dominating games again like they were doing in the beginning of the year. With a lost offense and an injury-riddled secondary, it might be their best chance of winning games in the immediate future.
3. Special teams troubles
I've already touched on aspects of coaching, offense and defense. Naturally, the final area the Packers need to improve is on special teams.
The failures of Ron Zook's unit were a huge contributing factor to the loss. Starting the game with a kickoff returned for a touchdown (which I couldn't even see live by the way, thanks CBS) is a surefire recipe for a flat, uninspired performance at home.
Besides the opening kickoff, Mason Crosby missed a field goal and the coverage team gave up another long kickoff return.
Who would've thought that Jacob Schum and the punt unit would be the bright spot of the Packers' special teams?
This is the most easily fixable issue of the three, but it's just as important as the other two.
Conclusion
This loss has Packers fans in an absolute panic, and that's somewhat justified.
But before you give up on this team completely, let me bring your attention to another horrible loss that the Packers suffered seven years ago.
In 2009, the Packers lost their second game in a row to drop to 4-4 on the season in a brutal 38-28 decision to the then 0-7 Tampa Bay Buccaneers. Aaron Rodgers threw three interceptions and was sacked six times, and the inept Josh Freeman threw for three scores in his first start. Heck, the Bucs even ran back the opening kickoff 83 yards for a near touchdown.
This article sums up the sentiments of most Packers' fans after that loss.
This abysmal performance signaled the nadir of McCarthy's tenure in Green Bay…

Clearly, the Packers haven't accomplished much of anything in 2009, but until Sunday, they at least knew how to beat up on a patsy.
Read the whole article. Those Packers had some different struggles than these ones, namely, an inept offensive line. But the themes were the same–uninspired coaching, a seemingly broken Aaron Rodgers, and a defense that failed to make big plays when they mattered most.
The 2009 Green Bay Packers won seven of their next eight games to finish the season 11-5.
So all is not lost for this team. There's still half a season left, and the Packers are hardly out of the NFC North race at 4-4.
Mike McCarthy's seat may be getting a little bit warm, but it isn't hot yet. Let's see if he can repeat the performance of 2009 and implement some of these changes to get this team into the playoffs over the second half of the season.
This article originally appeared on