Green Bay Packers: Stock up, stock down entering Week 14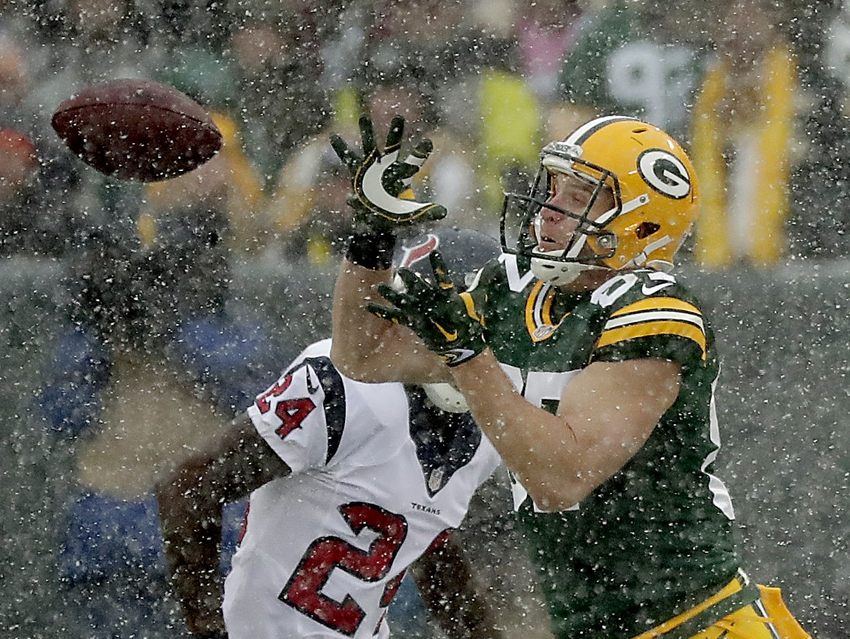 Neither the snow nor a well-devised game plan on the part of Texans' defensive coordinator Romeo Crennel could stand in the way of the Packers earning a hard-fought, gut-wrenching 21-13 victory that saw the home team overcome a number of obstacles in their return to Lambeau Field after an absence of nearly a month.
During the first half of this contest, fans witnessed a superior Green Bay squad continually win the field-position battle, but ultimately fall short of taking a commanding lead due to an early fumble at the opponent's 2 yard line, an ineffective running attack and the total lack of a deep passing game.
Another factor that stood in the way of the Packers generating more than a sole touchdown in the first half was Aaron Rodgers' tender hamstring that forced him to often navigate the pocket very carefully in an effort to steer clear of aggravating his ailing muscle.
The two-time MVP couldn't tuck it in and use his legs in typical Rodgers fashion and was further hamstrung (pardon the pun) by a disciplined secondary that neutralized Davante Adams for most of the game and suffocated all of the other downfield options with tight coverage.
As the game wore on, Brock Osweiler began gaining confidence by leading a well-balanced attack into Packers' territory with the defense repeatedly allowing tight ends C.J. Fiedorowicz and Ryan Griffin to take control of the middle of the field. A 10-play, 63-yard scoring drive culminated with a 6-yard touchdown toss to Griffin that knotted things up at 7 in the third quarter.
Cheesehead supporters had to be on the verge of raiding their respective liquor cabinets or medicine chests at the all-too-familiar sight of their team losing control of the ball game at this point.
Much like a punch-drunk Rocky Balboa in the 15th round of his second go-around with Apollo Creed, the Packers were on the ropes with their 2016 season hanging in the balance.
But just when the light at the end of the tunnel had reduced itself to a wavering flicker, the offense pulled itself up from its bootstraps and put together two inspired drives in the fourth quarter that put away their NFC South foes for good.
Everything came together as the Packers stuck with what was actually working and collectively began playing with fire and urgency.
Mike McCarthy's decision to make an emerging Ty Montgomery the focal point of the running attack took some heat off Rodgers, who courageously hopped, skipped and slowly jogged his way to gains of 5 and 11 yards. No. 12 also unleashed deep shots that exploited an undermanned defensive backfield following the exit of starting cornerback Johnathan Joseph.
Some might call the Joseph injury a stroke of dumb luck, but I would prefer to credit an opportunistic quarterback for identifying a hole in the defense and vigorously attacking it.
Sunday's triumph was by no means a dominant performance that should elicit grand expectations going forward since there is so much left to prove for McCarthy's erratic group.
What the last 15 minutes did bring to light, however, is heart and character. Rodgers, Jordy Nelson, Morgan Burnett and several others reached down deep within themselves to execute plays in the face of adversity.
They delivered their blows as well they took them and found the strength to get back on their feet.
Who were the Packers that came out swinging and who were the ones shaking in their boots? This week's Stock-Up, Stock-Down Report tells the story.
Stock Up
Ty Montgomery: It was too bad the Packers didn't start feeding him the ball sooner because Montgomery was far and away the most dangerous backfield option.
The second-year man provided that spark in the ground game the team had been looking for all game in the third quarter by using his quick feet to find an open lane on the right side of the line and attack it for a 13-yard gain. During the run, he unleashed a thunderous stiff arm to fend off the advance of oncoming linebacker Brandon McKinney.
Montgomery ran hard and decisively into traffic on a pair of runs that produced positive yardage, but his 1st-and-10 scamper for 11 yards at about the 6:37 mark of the fourth quarter may have been his most impressive rushing attempt as he patiently waited for a hole to develop before exploding upfield.
Montgomery may have finally earned McCarthy's trust to become the offense's feature back since he has done nothing, but produce since he started lining up in the backfield earlier in the year.
The RB/WR also made his presence felt as a kick returner as well by taking back a third-quarter kickoff 39 yards following Houston's first touchdown.
Jordy Nelson: The veteran wide out is a silent assassin who does all of his talking on the field by going the extra mile on a weekly basis. Simply put, the Packers don't beat Houston without Nelson coming up with clutch plays on a day when his quarterback needed all the help he could get on a bum hamstring.
Nelson was effective as an underneath receiver early by coming back to Rodgers and providing a safe target to throw to by fighting off tight coverage throughout the first half just as he did on an 8-yard completion where he turned Joseph around to break free.
But the best was yet to come for No. 87 after the halftime break.
Nelson ran part a slipping Charles James to catch a 32-yard touchdown and later caught a 21-yard laser in stride and ducked as an oncoming Corey Moore was coming straight at him at full speed.
During that same drive on which the Packers scored their third and final touchdown, Nelson outworked and outjumped his defender on a 28-yard completion on 3rd-and-6.
There were times when the 32-year-old struggled to get open downfield, but no one worked consistently harder to find a way to get open and extend drives.
Randall Cobb: Green Bay's No. 1 slot man wasn't as omnipresent as Nelson was, but he came up with a few key plays that went a long way in helping Green Bay secure their sixth win of the year, including his 9-yard touchdown grab in the second quarter.
On the play, Cobb wouldn't be denied as he was in constant motion by running away from his man, Kareem Jackson, until Rodgers saw an opening in the back of the end zone.
The sixth-year receiver also chipped in with punt returns of 21 and 23 yards to set up the Packers with optimal field position during the early stages of the contest.
Bryan Bulaga: The steady right tackle was a rock in pass protection. Bulaga always seemed to take the right angles while dropping back and engaging his pass rusher.
Hi balance and hand usage allowed him to lock up his opponents and keep them away from the pocket just as he did on Rodgers' 5-yard scramble two plays prior to Nelson's 32-yard touchdown that put the home team up 14-7.
Lane Taylor: The first-year starter isn't lighting the world on fire, but he's holding his own and was especially strong in the running game.
One of his standout plays took place on a successful 4th and 1 in which Taylor pulled out as the lead blocker for Christine Michael on a drive that the Packers scored their first touchdown on.
As a pass blocker, the 27-year-old interior blocker gave up three hurries, but no sacks or quarterback hits on 34 dropbacks.
Pro Football Focus (PFF) rated Taylor as the Packers' best offensive lineman in Week 13 based on the service's proprietary scoring metrics.
Dean Lowry: The rookie defensive lineman made the most of his 18 snaps by racking up a tackle, a sack, a quarterback sack and quarterback hit.
In addition, Lowry did things that didn't show up on the weekly stat sheet, including his play on 1st and 10 in which he stood up his man allowing Jake Ryan to swoop in and tackle the running back on the 2-yard advance.
The 6-foot-6, 295-pound defender was especially impressive in breaking free from the clutches of left tackle Duane Brown and delivering a well-timed hit on Osweiler, who was looking to get the ball to an open Fiedorowicz in the end zone.
Jake Ryan: The instinctive linebacker was in seek-and-destroy mode early on. He broke through on a 1st and 10 in the first quarter and met Lamar Miller head-on for a 4-yard loss.
After briefly leaving the game with an ankle issue, Ryan returned with a vengeance by dropping Blue for a loss on an all-out blitz following a completion made under duress that the running back had no chance to gain yards on.
Ryan is playing hurt…but that's not stopping him from contributing to the cause.
Morgan Burnett: The versatile enforcer was a commanding presence by laying timely hits after the catch and consistently being in position to make plays, as evidenced by his near interception on an off-target Osweiler pass to Griffin on the first drive of the game.
Two plays later, Burnett was Johnny-on-the-spot on a Griffin fumble that No. 42 scooped up and ran back 35 yards to the Houston 24 yard line.
The veteran safety stepped up on Houston's second drive by closing in on Jonathan Grimes on a 9-yard burst that could have been a much bigger play if not for Burnett, who would end up leading the team in tackles (9).
The technically-sound defensive back can bring it in the trenches, as well as making impact plays in space. He is a true man for all seasons.
Haha Clinton Dix: Burnett's tag-team partner is another straight-out baller, who had on his hitting shoes for this one.
Clinton Dix absolutely leveled Alfred Blue on a 4th-and-1 carry that forced the Texans to give the ball back to their adversaries at their own 49 yard line.
The third-year striker was at it again late in the second quarter when he pounded Braxton Miller just as the rookie receiver was in process of reeling in a pass on 3rd-and-10. The young Texan never caught the ball and actually had to be helped off the field with what looked to be a significant shoulder injury.
Stock Down
James Starks: Following a solid all-around game versus the Eagles, Starks brought nothing to the field in Week 13. He seemed to lack any explosiveness or burst on his first three carries in the first quarter, although he didn't get much help from his blockers either.
Starks didn't see the field again until the second half and did nothing but run straight into the arms of a blitzing Whitney Mercilus on his one carry that gained no yardage.
McCarthy had seen enough at that point and put the 30-year-old back in mothballs with No. 44 ending the day with a meager 1 yard on four carries.
Montgomery is the quicker back with tons more burst and looks to be the best choice to lead the Packers in touches from this point forward.
Davante Adams: The effort was certainly there with Adams, but the results (1-17) weren't with the Texans' secondary clamping down on the breakout receiver.
A deep ball in the third quarter that saw Adams trapped in double coverage told the whole story, as (Romeo) Crennel was dead set on not letting Rodgers beat him going long.
The 24-year-old wideout's performance was further marred by an illegal-block-in-the-back penalty that wiped out a Richard Rodgers 7-yard catch.
There will be better days for Adams.
David Bakhtiari: The blindside bookend had his hands full trying to keep Mercilus from disrupting plays and, quite frankly, didn't do much to prevent the Texans' pass rusher from infiltrating the pocket.
Bakh let Mercilus get past him on a 3rd-and-1 running play where the edge rusher dropped Starks for a 3-yard loss.
Mercilus was back for more on the second play of the third quarter by gaining leverage on Bakhtiari and never letting his blocker get a hand on him on his way to sacking Rodgers 9 yards behind the line of scrimmage.
Was this just the case of an individual player having the left tackle's number? Probably so based on Bakhtiari's mostly strong outings prior to this one.
Clay Matthews: The golden-maned linebacker and television pitchman is playing hurt and was a virtual ghost for 60 minutes, as he failed to make a single tackle in his 29 snaps.
It's clear that the Packers are trying to preserve him, but why put him out there at all if he's just jogging around and trying his best to avoid suffering another physical setback? Defenders are paid to initiate contact, not avoid it.
Micah Hyde: The veteran car wreck predictably added another stinker to his disappointing ledger by continually getting caught out of position.
Late in the game, Hyde was bullied by Griffin who was overpowered the smaller opponent in gaining the necessary yardage on 3rd and 9.
His coverage on DeAndre Hopkins' 44-yard catch-and-run score had to be cringe-inducing to any Packers' supporter. On the completion, instead of meeting the receiver head-on, Hyde faded toward the right sideline allowing the pass catcher to adjust and cut inside him on his way to the end zone.
Damarious Randall: It burns me to refer to this player as a former first-round pick considering his abysmal level of play. But then again I will never have Randall's name attached to my name or record; that's Ted Thompson's cross to bear.
The starting corner (feel free to add your own punchline) was lost on multiple plays, including the Hopkins touchdown where Randall looked as if he was expecting something else (perhaps a running play?) to take place and just let the Texans' game breaker run right by him untouched.
One play earlier, the Arizona State product failed to wrap up Griffin, who tacked on several yards on the 18-yard completion.
But the one blunder that really took the cake was a third-quarter 25-yard surge by Blue who was able to find an open perimeter lane due to the fact that Randall got caught looking inside and failed to seal the edge.
Again—lost and clueless.
The reason why Thompson's decision not to bring back Casey Hayward wasn't a wise one in retrospect is because Randall was and is nowhere near ready to be in anyone's starting lineup, but that's a topic for another article.
This article originally appeared on