Green Bay Packers: Stock up, stock down entering NFC Championship
Ralph Mancini/FanSided via Lombardi Ave

Fansided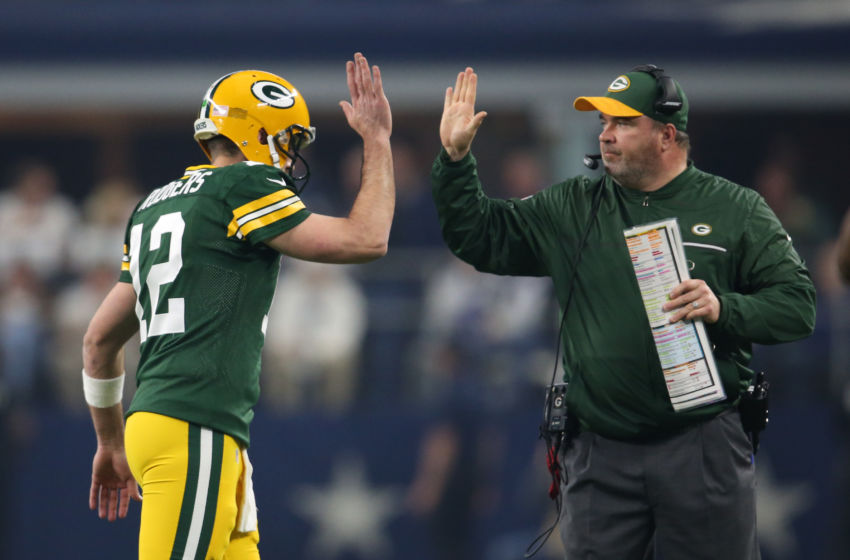 Finishing off a 13-3 Cowboys' squad destined in the eyes of many to make its first Super-Bowl appearance in over 20 years seemed highly improbable to several fans and media pundits, but the Packers took care of business by jumping out to a 21-3 lead and forcing the home team to air it out in catch-up mode rather than employing their tried-and true method of playing it safe with the running game behind their monstrous offensive line.
The fact that a mostly passive defense allowed America's Team to tie the game on two occasions and nearly pull off a come-from-behind victory was a burden that Aaron Rodgers and company had to continually overcome.
RELATED: Scouting the Falcons ahead of NFC Championship
ANALYSIS: Can anyone stop Aaron Rodgers?
But in the end, this battle-tested group persevered thanks to the exploits of a few unheralded veterans that contributed to a thrilling upset that will be talked about for years to come.
Yes, this unlikely rag-tag bunch that stood on the outside looking with a 4-6 record only two months ago is now only four quarters away from representing the NFC in Super Bowl LI.
The only thing standing in their way is a multi-faceted and prolific Falcons franchise that can light up the scoreboard against anyone especially when they're playing within the friendly confines of the Georgia Dome.
There will be more analysis on the matchup that you can shake a stick at between now and Sunday afternoon. In the meantime, let's examine the state of the Packers personnel headed into that rematch of a late October 33-32 shootout in favor of the Dirty Birds.
Here is your NFC Championship version of the Stock-Up, Stock-Down Report highlighting the players that are peaking as the stakes get higher along with those that are in need of a jolt with their stock values tumbling south.
Pull up a chair, lean back and enjoy the analysis.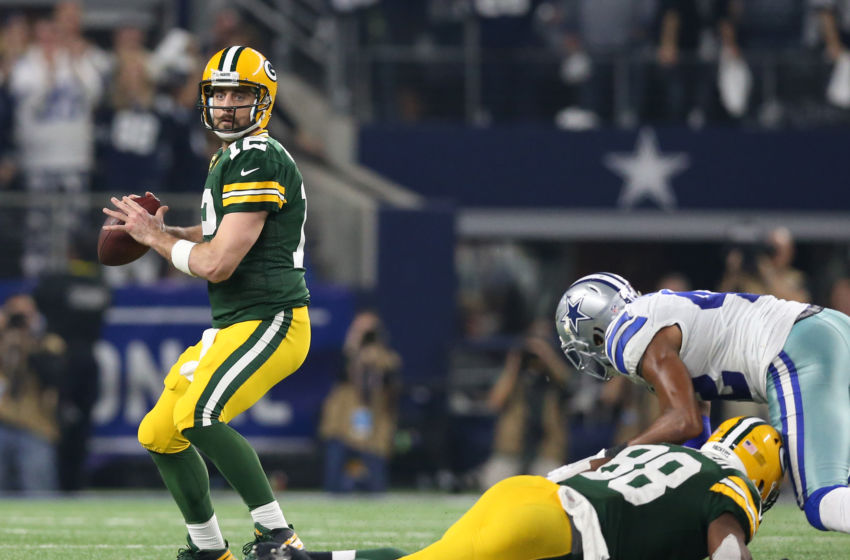 Stock Up
Aaron Rodgers: Another win and yet another heroic display on the part of the unquestioned franchise leader, who had no choice but to throw his team to victory with a defense that was practically negating all of the positive work produced by the offense.
Rodgers came out like a trained assassin in leading his team to a 21-3 lead early on by dialing up a few of his classic tricks, such as catching the Cowboys with 12 men on the field on 3rd and 5 on the first drive and earning the automatic first down.
Three plays later he took advantage of a free play as the result of Dallas jumping offsides and connecting with tight end Richard Rodgers on a 34-yard connection that gave the visiting underdogs a 7-3 advantage.
During the sequence, the Green Bay trigger man looked to his right in the direction of Davante Adams to induce safety Barry Church to move with his receiver only to then quickly turn his head and target (Richard) Rodgers who was in single coverage versus linebacker Sean Lee.
His second scoring drive was highlighted by 32-yard completion that saw Rodgers hit his man (Adams) in stride on a well-executed deep out.
While Cowboy defenders did force No. 12 to rush a couple of incompletions with well-timed blitzes, Rodgers was masterful in his utilization of multiple weapons in the absence of Jordy Nelson, as five different players caught one or more passes of 25 yards plus.
His biggest mistake of the game came on a 3rd-and-8 downfield throw intended for a streaking Adams that went astray and was picked off by safety Jeff Heath.
Adams would have been off to the races and on his way to the end zone had Rodgers made a more accurate throw. But the man is human and that turnover was his first interception in 319 pass attempts.
But the man with the golden arm bounced back in the fourth quarter by responding to two Cowboys' scores by engineering two scoring drives of his own—both of which resulted in field goals.
On his final series, Rodgers put Mason Crosby in position in kick a game-winning field goal by driving his team 43 yards with only 35 ticks left of the clock.
Two plays prior to completing his well-chronicled 36-yard laser to Jared Cook that preceded Crosby's 51-yard effort, Rodgers was blasted by a blitzing Heath while having only one hand on the football.
Credit the 33-year-old field general for maintaining a tight grip and avoiding a fumble that would have put Dallas in position to earn a hard-fought come-from-behind win.
Rodgers not only held on, but went on to make one of his most memorable passes of his storied career by drifting to his left to elude the rush and uncork a 36-yard missile with eyes on it to Cook, who made the reception stand by gracefully keeping his toes in bounds and maintaining possession of the ball as his body fell out of the field of play.
All told, Rodgers completed 28 of 43 pass attempts for 356 yards and two touchdowns in what will go down as one of his signature performances of all time.
The California-born future Hall of Famer refused to lose and willed his teammates to victory against all odds. This is the stuff that true legends are made of.
Ty Montgomery: The lightning-quick Montgomery used his brains and brawn in playing a key role as a runner and pass catcher.
The Mississippi native's determination was evident on his touch in which he turned a 3-yard catch on a curl route into a 5-yard completion by churning his legs forward for extra yardage.
He followed that up by ripping off a long gain by running behind fullback Aaron Ripkowski and bouncing outside to daylight for 15 yards on Green Bay's first scoring drive.
Montgomery converted five of his 17 touches into first downs or touchdowns and gaining a total of 81 yards.
On his first trip into the end zone, No. 88 turned his body sideways and slipped under and through defenders in traffic on the 1st-and-goal draw play.
His second score was a 3-yard scamper in which the one-time Stanford Cardinal merely skipped to pay dirt following left tackle David Bakhtiari, who wiped out an oncoming linebacker during the 1st-and-goal play.
Montgomery's best—and arguably most important—contribution came on the last drive on a 2nd-and-10 screen that went for 17 yards. The second-year veteran gained most of that yardage with an exceptional burst allowing him to run past would-be tacklers.
Although Green Bay would end losing 10 yards on the subsequent snap that resulted in a sack. The Montgomery catch-and-run still earned the offense an extra 7 yards that probably ended up being the difference between a difficult, but makeable 51-yard field-goal try and a lower-percentage one from 58 yards.
The 23-year-old may not be the classic 230-pound pile pusher, but he has the ability to run physically, as well as using his patience, hands, elusiveness and vision to provide his quarterback a bit of relief in the ground game.
Jared Cook: The first-year Packer is currently in rare form and there wasn't much the Cowboys could do to stop him, including standout free safety Byron Jones.
Cook had a step on the UCONN import early in the game on a 14-yard Rodgers' dart on the well-executed crossing pattern.
The freakish 6-foot-5 seam stretcher would go on to beat linebacker Anthony Hitchens on a considerable mismatch for 6 yards and later used his size the pull in a high-arcing delivery in between defenders that went for 26 yards on the first drive of the second half.
On the very next snap, Rodgers found Cook again for a 3-yard toss in the end zone that put the visiting side ahead by a 28-13 tally.
No. 89's 19-yard sliding catch versus Hitchens in the fourth quarter was noteworthy for the big man's uncommon body control and flexibility to go down on his knees on low throws.
The well-traveled veteran would reemerge with only 12 seconds remaining on a 36-yard connection that put the Packers in field-goal range to send the opposition packing.
The ball was thrown hard and deep along the left sideline not leaving Cook much room to come down with a legal grab.
To his credit, the eighth-year pro showcased magnificent balance and agility in keeping his toes in bounds while his knees and the rest of his body were on the verge of landing outside of the white boundary line.
His toes clearly made contact with the ground before his knees hit the turf outside of the field of play.
So big, so athletic…that was Jared Cook at his very finest.
David Bakhtiari: Rodgers was pressured and even sacked on three occasions, but his blindside was never a concern given the flawless play of Bakhtiari, who had DeMarcus Lawrence on lockdown by continually dropping his hips and generating leverage against the Dallas pass rusher.
But while the highly-skilled bookend has been an elite pass protector for years now, the 2013 fourth-round selection has made strides as a run blocker as well.
His run-blocking prowess was on grand display while clearing the way for Montgomery's second touchdown of the game by steering Damien Wilson out of his path.
Mason Crosby: Bakhtiari wasn't the only former Colorado Buffalo that delivered a superlative effort with Crosby sending two decisive field goals from 50 yards plus through the pipes and paving the way for the Packers to advance to next Sunday's NFC Championship.
Kudos go out to the longtime Green Bay place kicker for staying focused enough to convert a second field-goal try on the game-clincher after Jason Garrett's icing ploy of calling a time out right before Crosby sent his first one through.
Kenny Clark: The rookie's maiden voyage through the NFL has been a real learning experience for the 314-pound lineman who's had his share of struggles.
Clark was on the ball, however, throughout most of this ball game by using his quickness off the ball to slip into the backfield, as he did on a 1st-and-19 Elliott run that saw the defender read the direction of the play and prevent the running back from advancing on the 2-yard loss.
On the subsequent Cowboys' drive, Clark fought his way underneath blockers to trip up Elliott on a carry that went for 4 yards, but could have been much worse.
The 2016 first-round pick is beginning to demonstrate solid instincts and the ability to use quickness and leverage to penetrate backfields. This former wrestler finished the contest with four tackles and is suddenly going places.
Nick Perry: While the big club he's sporting on left hand is limiting his ability to fight off blockers, Perry played with incredible energy that showed up in his ability to play the run and get after the quarterback.
In the fourth quarter, the 265-pound outside linebacker penetrated the backfield and didn't allow Ezekiel Elliott to elude him on the 2-yard loss.
On the next play, Perry was a man possessed by pushing his blocker into the pocket and persistently chasing Dak Prescott until he ultimately sacked the fleet-footed rookie signal caller.
The veteran enforcer went on to make a crucial pass deflection on Dallas' last offensive series by getting one of his hands on a Prescott pass that was headed to an open receiver on 3rd and 3 with 44 seconds on the clock.
His play not only compelled Garrett to opt for a field goal to tie the game, but it also left the Packers with ample time to regain the lead for good.
Micah Hyde: No. 33's late-season turnaround has been one of the few positive signs of a far-from-impenetrable defense.
Hyde filled up the stat sheet with four tackles, one sack, two pass deflections and a quarterback hit.
His first-quarter sack was a major reason why the Packers were able to hold The Silver and Blue to three points on the first drive.
On the play, Hyde blitzed the line of scrimmage and did a great job of stopping his feet and going around a flat-footed Jason Witten before dropping Prescott for a 6-yard loss.
But the crafty veteran created one of the most spectacular defensive plays not only of the game, but of the year when he read and broke on a screen pass that he picked off and ran back for 18 yards.
Hyde doesn't stand out athletically, but his smarts, physicality and overall fearlessness have been the key ingredients behind him getting to the ball in key moments.

Stock Down
Julius Peppers: The long and versatile front-seven defender was nowhere to be found, as he struggled to get off blocks and was held to a single tackle.
Though his snap count has been significantly reduced in his 15th season, the Packers still count on him to make his two-to-three splash plays every week whether it's a sack, turnover or key pass deflection.
Is this the case of the 36-year-old wearing down late in the year or was it simply the fact that Peppers was going up against the top offensive line in the sport?
I would say it's the latter especially given the fact that the elder statesman does a commendable job of keeping himself in shape and avoiding injury.
Damarious Randall: The only things saving Randall at this point are that he's 24 years old and that he's a former first-round pick which means that the Packers' coaching staff will do everything in their power to help him improve as a cornerback.
His issues in pass coverage have been well-noted and in this game, he allowed far too many easy completions to Witten, who ran straight at him, stopped, turned and shielded the defensive back, who was giving up far too much cushion to a tight end that has the burst of a weed-eating push lawnmower.
Randall's run support was just as dreadful particularly on a first-quarter 9-yard run by Elliott in which No. 23 was caught inside and gave up the perimeter to a player who thrives in exploding for sizeable gains to the perimeter.
The second-year defensive back wasn't any better when he matched up with Cole Beasley, who shook him for a 6-yard gain on a late second-quarter drive that ended with a Dallas field goal.
His technique is so terribly lacking that he can make any average receiver look like the second coming of Don Hutson.
Ladarius Gunter: The former undrafted free agent was entrusted with putting the clamps on Bryant and while no one expected Gunter to shut down the star wideout, some of us were hoping for the "X-man" to be held to somewhere in the neighborhood of five catches for 50 or 60 yards with no touchdowns.
Well, that didn't happen and it was clear early on that it was going to be long, hard struggle for Gunter, who got torched and overpowered to the tune of 9 catches for 132 yards and two touchdowns.
Holding on to Bryant's jersey was the only way the embattled corner even had a chance. No. 88 forced the holding penalty on the second drive of the afternoon, as he was about to pull away from his man on a quick move to the post.
The receiver's first touchdown saw Bryant sidestep and lose Gunter off the snap on his way to a 40-yard touchdown thrown with great precision on the part of Prescott.
On the 29-year-old's second trip into the end zone, Gunter actually had tight coverage on his man, but Bryant wouldn't be denied by going up for the ball and holding on tight with his strong hands.
The young coverman has had an up-and-down season, but he's the best the Packers have at the outside corner position right now.
Gunter is long, physical and his technique is better than that of Randall or Quentin Rollins. His lack of long speed, however, make him a liability on deep throws.
The 24-year-old would be better suited as a nickel or dime defender.
Dom Capers: This is the first time I've listed a coach in the Stock-Up, Stock-Down Report, but the Packers' defensive coordinator came up small in yet another playoff game.
His feeble defense continually allowed the home team to regain momentum by Prescott and company moving the ball at will against lots of soft, vanilla coverages.
It's understandable that putting extra defenders in the box to stop Elliott was the top priority, but why was Witten given so much respect? Why was Gunter isolated on Bryant as often as he was when it was clear that he didn't have a prayer against him?
But more than anything, why did Capers show such a lack of consideration for Prescott in almost inviting him to throw his team to victory?
Yes, the 66-year-old defensive strategist wasn't going to hold every Cowboy to a sub-par performance, but why did he put all his eggs in one basket by simply loading up to stop Elliott, who still put up 125 rushing yards?
Capers would have been better served by changing his looks a bit more especially with a pass rush that wasn't generating much pressure save for a couple of plays by Perry.
Most defenses don't stand a chance against today's offensive schemes when they don't play aggressively and the Packers' unit is no exception.
This article originally appeared on