Green Bay Packers special teams recap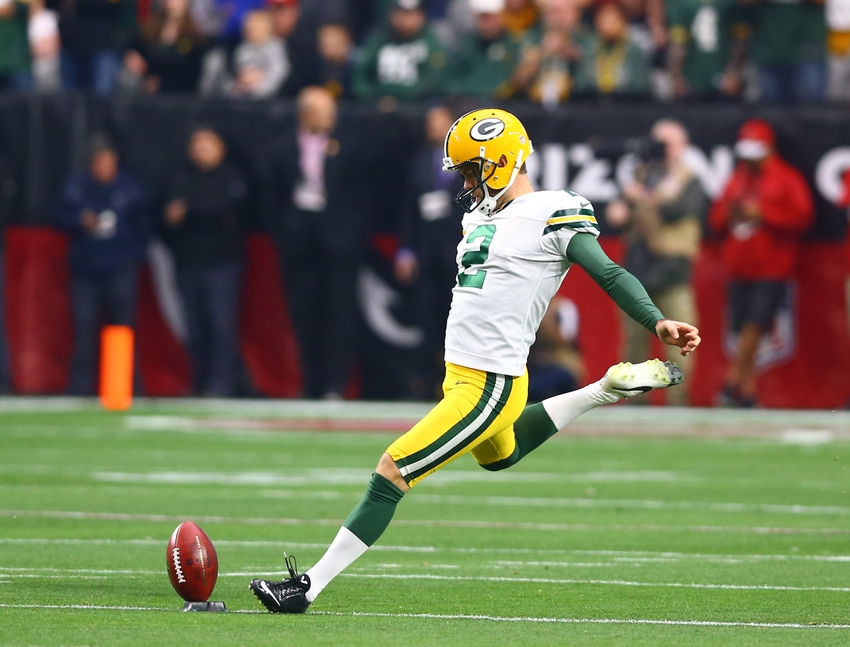 Last season, as part of my evolution as a Green Bay Packers and NFL fan, I decided to start paying more attention to an area of the game that many (including myself) have tended to overlook and take for granted: special teams.
This idea came up first and foremost because of the struggles Green Bay had exhibited in this regard during the 2014 season — especially with the major gaffes in this segment of the game that helped cost the Packers a victory against the Seattle Seahawks in that year's NFC Championship Game — but also because of my interest in learning more about the game as a whole.
It was pretty intriguing overall to delve into a part of the game I never paid attention to beyond big returns and game-ending field goals, so much so that I've decided to run it back again for this season.
Special teams may not be the most exciting part of the game, and it's overall impact usually pales in comparison to that of the other two areas of the game, but the contributions (or lackthereof) made in this facet almost always make a difference — even if it is a somewhat hidden one.
This area has also experienced a rule change which is worth knowing since last season as well: touchbacks now move the ball to the 25 yard line (previously it was the 20).
So how did Green Bay do on special teams in Week 1 against the Jacksonville Jaguars?
Let's take a look.
The Kicker
Kickoffs:
19 yard return (JAX 18)
Touchback
Touchback
Touchback
Touchback
32 yard return (JAX 31)
Scoring:
Extra Points: 2/2
Field Goals: 2/2; 25 yards (Made), 20 yards (Made)
Mason Crosby is coming off another year where he performed well. He tied his 2nd-best field goal percentage for a season (85.7%; 2011), making 24 of 28 attempts. He also stepped up to make some impressive stops of his own in coverage. Generally, there aren't many teams with a better kicking situation.
There was a big change coming into the start of this season: his friend (and holder for his kicks) Tim Masthay was unceremoniously released at the end of August, with relative unknown Jacob Schum taking his place. A change like that is small, but could have a negative impact on guys; chemistry takes time to develop, and moving on from a pairing that had held the fort for pretty much all of Aaron Rodgers' tenure as a starting quarterback is a risk.
He did get back his long-time friend and long-snapper Brett Goode after an absence brought on by a torn ACL towards the end of last season, so that is a positive for him, and since his 2012 struggles Crosby has proven to be as mentally strong as they come.
In terms of the Week 1, we got to see the Crosby we have become used to seeing.
He didn't end up with too many opportunities to contribute, but made the most of them. He completed the two short field goals he was tasked with, and most of his kickoffs were touchbacks. The final of the two that actually did get returned could have been better, but the coverage has to bear some blame for how far they allowed Corey Grant to get before Damarious Randall eventually stopped him.
All in all, solid game from Green Bay's stalwart kicker.
The Punter
Punts:
56 yards (JAX 38); 14 yard return (GB 48)
48 yards (JAX 21); Fair Catch
46 yards (JAX 47); Out of Bounds
34 yards (JAX 47); Out of Bounds
Here we have the new guy!
After Masthay looked to have won his competition over Peter Mortell in the summer, this looked to be another year of watching him mostly play above our low expectations (he did set a Packers' record for net punting average last season with 40.2) but with just enough head-scratching inconsistency to undo much of his positive contributions.
Then the unfathomable occurred: he was cut not long after Mortell, leaving the roster bare of anyone to man the position for a short time. After a quick workout, the team brought in Jacob Schum (formerly of the Tampa Bay Buccaneers) and here we are today.
Schum didn't get much work in his only season with Tampa Bay; the Bucs were at the bottom of the board in the majority of punting metrics, with their best area probably being that they tied for 22nd with forcing 15 fair catches (though they did so in a league-low 56 attempts).
Suffice to say, the Packers must have seen something here that doesn't show up in his current professional production (or maybe they just put themselves in an impossible situation — much like they did in 2013, when they cut all their backup QBs before picking up Seneca Wallace on the fly — and just needed to get pick up somebody as quickly as possible.
That's risky business (remember how that Wallace move played out; had it not been for the lucky break of Matt Flynn being available late, the team almost certainly wouldn't have been able to hold out long enough for Rodgers to return and get them into the playoffs), but if you are gonna do that with any position, it should be one with a relatively low variance like punter (few are great, few are terrible; most are usually anonymous).
One week in, Schum provided a mixed bag. For his first punts, he booted the ball pretty well, gaining at least 46 yards on each of them. Jacksonville ended up with good field position on two of them, but that was more a product of where he had to kick from; Green Bay kept getting put into abysmal field position during this game (the two punts the defense forced ended up getting the offense pinned at their own 3 yard line), and that didn't give Schum much space to do more than just boot the ball and hope it isn't returned.
Schum's big mistake came right near the end of the game, and it set the defense off in a difficult situation to begin the final drive.
After doing well to that point, Schum sent the ball out of bounds after only 34 yards; had it not been for a 10-yard penalty, this would have been even worse.
That kind of play is exactly the reason Masthay was moved on from, so it is disheartening to see his replacement immediately make that kind of mistake only one game into his tenure.
One bad play isn't reason to bring out the pitchforks, but it does give us something to worry about. Schum will have to do better over the next few weeks to alleviate our concerns — and perhaps more importantly, we should allow him the time to settle into his role before we start clamoring for another change.
The Return Units
Punts:
Downed (GB 3)
Downed (GB 3)
Kickoffs:
Touchback
Touchback
Touchback
Touchback
Touchback
Ty Montgomery 14 yard return (GB 18)
Not much to talk about here.
The Jaguars did really well in the punting game, with their two attempts being not only booted deep (58 and 67 yards, respectively) but getting downed all the way at the Packers' 3 yard line. There wasn't really anything the returners could do in this case though (unless we want to fault them for Jacksonville's punter doing his job exceptionally well).
The kick return game wasn't much better, but again there isn't much they could do. The first five kicks were touchbacks. The only one that had any chance was the final kick, which went to the Green Bay 4 yard line. Ty Montgomery tried to make something happen, but ultimately ended up with 7 yards less than a touchback would have provided.
This part of the game will probably continue to matter less and less with the rule changes that come seemingly every couple seasons, so we shouldn't be too worried if we aren't seeing much from this facet of the special teams.
The Coverage Units
Punts:
14 yard return (GB 48)
Fair Catch (JAX 21)
Out of Bounds (JAX 47)
Out of Bounds (JAX 47); *JAX Penalty* (JAX 37)
Kickoffs:
19 yard return (JAX 18)
Touchback
Touchback
Touchback
Touchback
32 yard return (JAX 31)
While the return game for teams shouldn't be expected to be much of a threat anymore, the coverage team's job is actually even more paramount.
Just think if it like this: because return units really don't have anywhere near as much as they used to, when they do break a big play it is a much bigger deal. The onus (and blame) for those big plays happening (or not) falls mostly on whether the people defending the play — if they do their jobs nothing happens, but if they screw up it can result in a big play.
For the most part, Green Bay's coverage guys did their job adequately, but there were some hiccups.
The first came on the initial punt. They allowed a decent return on a punt that didn't go too far into Jacksonville territory, and it ended up with the Jaguars in Packers territory; from there, it took them only three plays to score a quick touchdown to tie up the game 7-7.
The second gaffe was less damaging overall, but it could have been something to point to if Green Bay had eventually lost. A somewhat short kick by Crosby and lackluster pursuit by the coverage team allowed Corey Grant of the Jaguars to get up to their 31 yard line; that wasn't much more than a touchback would've given, but a decent return like that can provide an intangible emotional boost to players and their crowd. Perhaps that was at work as Jacksonville moved down the field, eventually scoring a field goal to put the score at 27-23.
Had Blake Bortles not gotten called for delay of game towards the end of the drive, maybe that becomes a TD and the game is tied up; if Green Bay followed up with the same drive that came next, all of a sudden the Jaguars just need a field goal to win, and could settle for overtime even if they miss. That great stop by the Packers' defense to seal it would never had even gotten the chance to occur, and maybe we sit at 0-1.
Fortunately that didn't happen — and there is plenty of projection and speculation in there — but little plays and hidden advantages like this could make a long-reaching difference of that magnitude if a team is unlucky. The coverage unit will have to iron out kinks like this, or eventually the team might suffer the unnecessary consequences.
This article originally appeared on