Green Bay Packers seven-round mock draft: Improving the roster
Dan Dahlke/FanSided via Lombardi Ave

Fansided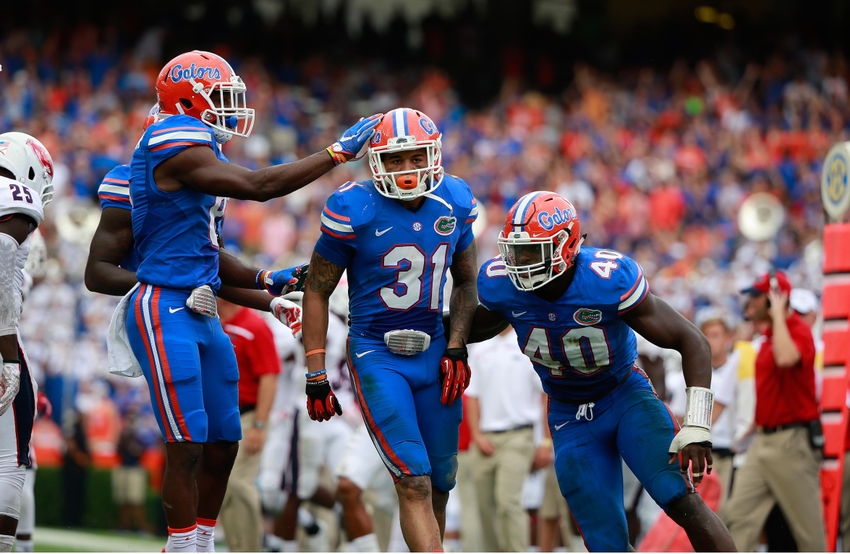 Well, Green Bay Packers fans, do you miss watching football on Sundays already? The Packers season has only been over for three weeks now, and it's already time to look ahead to next season.
February through April in the NFL calendar is all about how each team can improve their roster, whether it's through the NFL Draft or free agency. The Packers have several notable pending free agents, including last year starters Nick Perry, T.J. Lang, Jared Cook, and Eddie Lacy.
The Packers also have several pressing needs at key positions that need to be addressed this offseason, whether if it's through the draft or free agency. However, knowing Ted Thompson and his front office, we better not hold our breath he's actually going to bring in veteran help.
The Packers primarily build through the draft, and while their needs may be too many for their eight selections this spring to shore up every weakness on the depth chart, as fans and writers we can at least get the ball rolling on what Green Bay can do to improve their roster going into next season.
Granted, a lot could change between now and late April. The Packers could bring back some of their key free agents, or they could even sign a few key players in free agency (fingers crossed). Prospects' workouts at the combine and pro days could move them up or down draft boards.
But, as their roster currently sits, what could they do in the draft to improve their team? That's what we should discuss when looking at mock drafts.
So, join me in this hypothetical exercise and let's see who Ted Thompson and company could target on draft day to help get their team over the hump in this Packers seven-round mock draft.
Also, let me know what you think of each pick. I'd love to hear who you would have selected instead in each round.
1. 29th pick — Teez Tabor, CB, Florida
Simply put, the Packers need more playmakers in their secondary, and Tabor is just that. The former Gator has recorded four interceptions in each of the last two seasons with Florida. He has also amassed 28 pass breakups in his three seasons as a starter.
However, the strength of Tabor's games is much more than just good production on game day. Yes, he can make game-changing plays, but Tabor is also an excellent cover corner, which will make him a desirable player in the first round. Opposing quarterbacks averaged a dismal 38.0 passer rating throwing into his coverage in 2016.
While Tabor's teammate Quincy Wilson may get more love from scouts and analysts this spring because of his impressive measurables, Tabor is still a great athlete and weighs in at 6-feet, 200 pounds. He's a feisty player in coverage, showing good ability to press receivers at the line of scrimmage, and has the strength to contest jump balls downfield.
Tabor also has decent straight-line speed and change of direction ability to stick with receivers all over the field. Tabor can be a bit of a gambler, which leads to him making a lot of big plays, but it will be something he'll have to be careful about at the next level because NFL receivers could take advantage of him with double moves.
In typical draft years, Tabor may be the first cornerback off the board, but in 2017 with top prospects like Wilson, Marshon Lattimore, Marlon Humphrey, and Sidney Jones likely to get more hype and go earlier in the first round. This could cause a guy as talented as Tabor to fall to the end of the first round and land with a team like the Packers, who need a starting-caliber cornerback on defense.
2. 61st pick — Tarell Basham, OLB, Ohio
Basham's senior season was nothing short of impressive. 10.5 sacks, 15 tackles for loss, and 12 quarterback hurries on the year simply highlights just how disruptive the 6-foot-4, 259-pound edge rusher can be behind the line of scrimmage.
Basham received very little draft buzz during the 2016 college season. However, many took note of the former Bobcats defensive end at the Reese's Senior Bowl.
Down in Mobile, Basham showed a tremendous blend of power and speed rushing off the edge, while also demonstrating strong hand technique and ability to shed blocks. He also showed surprising athleticism and lateral movement when lining up in a two-point stance as an outside linebacker.
If he tests well athletically at the NFL Combine this spring, he could be a strong candidate to play outside linebacker in a 3-4 scheme in the NFL. He could be a steady riser on draft boards in these next few months as more people dive into his tape.
He's a good fit here at the end of the second round to the Packers. Even if Green Bay manages to re-sign Nick Perry, they still need a young, ascending pass rusher to feature on defense. If they manage to move Clay Matthews to inside linebacker next season, Basham, Perry, and Kyler Fackrell still form a strong outside linebacker group.

3. 93rd pick — Kareem Hunt, RB, Toledo
Hunt is a guy currently receiving a lot of buzz in draft media, and for good measure. Not only was he one of the most impressive players down at the Senior Bowl, people are now just getting into his 2016 game tape.
At 5-foot-11 and 208 pounds, Hunt is a compact runner with tremendous lower body strength and power. He runs through arm tackles and shows excellent balance in staying on his feet after contact.
While he may not be the fastest or strongest halfback coming out of college, the former Rocket has an uncanny ability to get small and slip through holes in the line or stop on a dime and change direction to cutback and burst upfield. He possesses good short area explosion.
Throughout his four years starting in college, Hunt has averaged around 6-yards per carry, and in 2016, he rushed for 1475 yards and 10 touchdowns, while also catching 41 passes for 403 yards and a touchdown.
Impressively, Hunt only fumbled once in his 782 carries at Toledo–a feat almost unheard of with college tailbacks. Knowing Coach McCarthy's affinity for ball security, selecting a guy like Hunt ball security may be an added bonus.
Hunt was suspended for the season opener in 2015 for violating team rules, so he'll have to answer to that in interviews with teams this spring. He's also had a few hamstring and ankle injuries in college, which could also cause him to drop a bit in the draft.
On talent alone, Hunt would probably be selected in the second or early third round. However, a few off-field and minor injury concerns could cause him to drop to the end of the third round.
Even if the Packers bring back Eddie Lacy for another season and plan to utilize Ty Montgomery more in the backfield, selecting a guy like Hunt would be a good idea. He'd give them another early-down bruising runner who could also serve as an insurance policy if Lacy or Montgomery deal with injuries during the season.
He would also give the Packers a guy who could develop into a future starter if things don't work out with Lacy.

4a. 132nd pick — Elijah Lee, ILB, Kansas State
The Packers could really use a coverage linebacker to feature in their nickel looks, especially on third downs. While both Jake Ryan and Blake Martinez have shown some promise at the position, they lack the speed and athleticism to hold up consistently in coverage.
Joe Thomas has played admirably as a nickel linebacker, and even Morgan Burnett has been a useful tool to bring up in the box to defend tight ends over the middle of the field. However, Green Bay could really use a consistent three-down player at the position.
Lee has the speed and athleticism to roam the middle of the field and defend the pass. However, he also possesses excellent instincts and ability to read run progressions. He can be a tenacious run defender, and even though he only measures in at 6-foot-3 and 230 pounds, he hits like a heat-seeking missile in the open field.
Vanderdoes was one of the standout players from the Reese's Senior Bowl this past month. The 6-foot-3, 320-pound defensive tackle showcased to scouts his quickness at the line of scrimmage and explosion off the snap.
He's a better athlete than people give him credit for, and the tenacity and motor he brings to the field makes him a very disruptive player on the interior line.
The former Bruin has the tools to be an early-round prospect. However, an ACL injury that caused him to miss a majority of the 2015 season will still give some teams pause, considering his size and position, on draft day. This could cause him to drop to the middle rounds of the draft.
He'd be good value at the end of the fourth round for a team like Packers, who could use another big-body run stopper on the defensive line.

Roberts was another Senior Bowl standout, who improved his draft stock by showing scouts he can be a three-down player at the next level.
The 6-foot-4, 260-pound pass catcher might be the strongest tight end in the class. This helps him win on the edge when run blocking against defensive ends. He stonewalled several defensive linemen in run blocking drills down in Mobile. Any team who drafts Roberts immediately upgrades their rushing offense because Roberts is so effective in this area of the game.
However, Roberts is also an underrated athlete and he has tremendous hands. He led all college tight ends in 2016 in receiving touchdowns with 16 on the year. While Robert is not the fastest player or the most elusive athlete, Roberts shows good quickness in and out of his breaks. This allows him to create some separation in his route tree.
Roberts would give the Packers another big receiving target over the middle of the field and a guy they could utilize in the red zone to pair with Jared Cook. The former Rocket would also help bolster their run game by giving them an actual legitimate run blocker at the tight end position–something they've been missing for some time.

6. 215th pick — Darius English, OLB, South Carolina
English is a bit of a project pick, but in the sixth round, he's well worth the risk. At 6-foot-6 and 245 pounds, English as the length and size to hold up well on the edge as a 3-4 outside linebacker. He's also a decent athlete, who if tests well this spring could sneak into the later rounds of the draft.
English's games remains raw. He needs to use his hands better to shed blocks. He also needs to develop more pass rush moves in order to win consistently at the next level, as well as get stronger and add more bulk to his frame.
However, he did show gains in 2016. As a senior, he recorded nine sacks, 13 tackles for loss, and five hurries. It was a bit of a breakout year for English after four quiet seasons at South Carolina.
Even though I had Green Bay selecting Basham in the second round, it might not be a bad idea for the Packers to take another edge rusher in the draft and double-down at the position. They could never have enough talented pass rushers to develop at outside linebacker.

7. 252nd pick — Blake Jarwin, TE, Oklahoma State
The Packers could use another late-round pick to readdress a position of need. Even with the Roberts selection in the fifth round, tight end remains a position lacking depth.
The Packers will probably re-sign Cook this offseason, and Richard Rodgers still gives them a viable backup at the position. However, the way Coach McCarthy likes to use two-tight end sets or line up one wide on the boundary, Green Bay could use four quality pass catching tight ends on their roster.
Jarwin is a towering 6-foot-5, 248-pound target over the middle of the field. He's also use to playing in a spread offense and shows a good ability to work out in space and get open. While only possessing moderate straight-line speed, Jarwin is a smooth athlete and shows good route-running ability.
He'd provide depth for the Packers and could contribute on special teams as a rookie, which is a good value at the end of Day 3.
This article originally appeared on