Green Bay Packers: Second quarter rookie report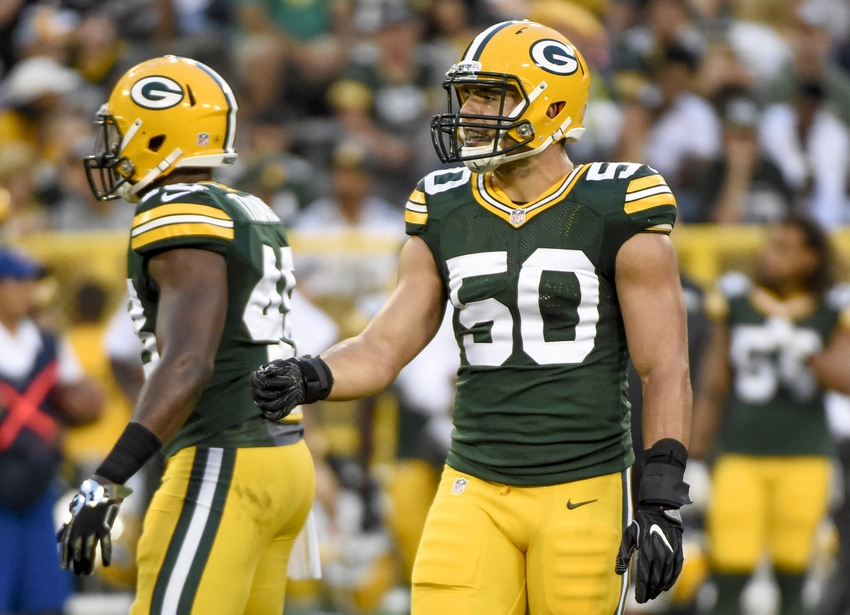 Eight games into the 2016 season, Green Bay is one of many mediocre teams, sitting here with a 4-4 record through half of their schedule.
With much time being spent on wondering why the team has stumbled from a 3-1 start to their current 1-3 stretch, a great place to look could be the team's many rookie players.
Due to a combination of building heavily through the draft with little usage of free agency and a bundle of injuries striking down multiple swaths of the roster, the young players here are usually not only expected to perform well but need to do so for the Packers to live up to any hopes they have for their team.
So, let's take a few moments to see how the Green Bay rookies have performed halfway through their first season playing professional football.
We start with Green Bay's addition from the first round of the 2016 NFL Draft.
Kenny Clark
After a decent start to the season, Clark has slowed down considerably.
His statistics were not impressive, but although we never should have expected that due to his assignments when he's in the game, it still is bad when a guy is getting a decent number of snaps yet ends up with less tackles than games played over a month of contests (3 tackles total the past four games.
The advanced statistics aren't kind to him either. Pro Football Focus rated him as slightly below average through four games, but he's since taken a precipitous drop to just being bad. His run defense — the biggest plus in his game — has levelled off to be below average in their grading system, and his pass rushing is below replacement-level.
Part of the drop-off could seem to come due to other players returning (thus taking his usual snaps), but that isn't exactly the case.
Through eight weeks, he's behind only Mike Daniels in total snaps on the defensive line. He did have a couple 30+ snap games early on, but his average between games 1-4 (107 total; ~27 per game) and 5-8 (87; ~22) is basically negligible. Mike Pennel's return from a 4-game suspension is part of that drop in Clark's snaps, but with Pennel playing better than him against both the run and pass Green Bay is likely better served with lining Pennel up out there right now.
I wouldn't worry too much about Clark though. He's a rookie at a stacked position, surrounded by veteran guys more ready to contribute immediately. Green Bay's not going to give up on him, and long-term he could still prove to be a nice option in the coming years.
Don't be surprised if he drops off some more of his snaps in the meantime, though; with the team struggling to win right now, they may be leery of sticking with Clark in lieu of putting more experienced guys out there to try busting out of their 1-3 slump. He'll still see some time, but it may be in the 10-15 snap range rather than his current 20+ output.
Jason Spriggs
Like his draft-mate before him, Spriggs is stuck as another piece in a deep group of options in the trenches. Unlike Clark however, Spriggs hasn't needed to see the field much at all — and hopefully, that will continue to be the case.
Spriggs got in some snaps against the Cowboys in Week 6 with Bryan Bulaga going down with an injury late in that game. In those snaps, he was below-average overall; his pass blocking was average on its own, but his run blocking was far into replacement-level territory.
It should be fine that Spriggs isn't exactly starter-quality right now, however. Per Pro Football Focus, the Packers have consistently held the title of best pass blocking line throughout the entirety of this 2016 season. Every one of the usual starters from the year are at least an 82.2 rating on the season, and for the most part everyone has stayed healthy outside of a handful of drives missed within games between them. The only notable injury so far is to J.C. Tretter, and that just happened a week ago; in his place, Corey Linsley — the starter at center the past two seasons — stepped in and played well in his first action following a stint on the Physically Unable To Perform (PUP) list.
Even when Tretter is able to return, Linsley seems likely to hold onto his starting spot; this leaves Tretter as the probable first-up off the bench not only for the center position, but also at either tackle spot. He's also just one of multiple linemen on Green Bay's roster which can play in a handful of spots across the line. Besides Tretter, Don Barclay (infamous as he may be) is able in theory to play at tackle or guard; with the experience gap between those guys and Spriggs, they'll be first up for snaps at the spots he would have a chance.
Hopefully we won't see too much more of Spriggs this season; if he does see the field, it means the offensive linemen ahead of him have been stricken down by the same injury bug which has eaten away at plenty of other areas on this team.
Kyler Fackrell
Someone we should want to see more of is Fackrell, however.
In the first quarter of the year, Fackrell was doing well in limited snaps. He picked up a couple sacks and forced a fumble in just 65 snaps on defense. With his strong play in limited chances and injuries hitting Clay Matthews hard (missing the past two games as well as seeing limited time in another), it seemed like a great chance to unleash more of Fackrell on the opposition.
Or not.
Despite only 27 snaps going to Matthews in the past three games, Fackrell did not see any sort of usage increase; in fact, he saw a decrease, picking up just 48 snaps over the past four games.
Instead of giving the Matthews-less snaps to Fackrell, the team has decided to hand more of the snaps to Julius Peppers and Datone Jones. Granted, those players have done pretty well in the snaps given to them (each have a comparable-or-better pass rush PFF grade to Fackrell), but it does feel like having an option such as Fackrell out there more often — even if it cuts into the snaps of those other guys.
The trend as it stands doesn't bode well for Fackrell seeing the field, and neither does the fact that Matthews should find his way back to the field sometime soon. He was close to playing against the Colts before a flare-up of his hamstring injury a couple days before caused the coaching staff to play it safe.
Once Matthews returns — combined with the Nick Perry/Jones/Peppers triumvirate holding onto whatever snaps Clay isn't getting — there will again be little left for Fackrell snap-wise. Barring multiple injuries ahead of him, there's nothing seemingly working in Fackrell's favor in his hunt for playing time as this season continues on.
From the Packers' standpoint, that's probably a good problem to have; a deep stable of options to throw at opposing quarterbacks which can survive an injury or two.
For Fackrell, it just means we likely won't see much of him on defense.
Special teams is another story. Fackrell leads all Green Bay players in special teams snaps (156) and he has been one of the players constantly making his way into the play-by-plays by being there to end opposing return plays with his swift showings on the coverage unit.
This is not the most glamorous area, but at least he's getting to play, and he's doing well while he's out there.
He better get used to it.
Blake Martinez
Of all the rookies Green Bay has, Martinez is far and away the biggest contributor; unfortunately, that may be in both good and bad ways.
Of the three Packers' inside linebackers, he receives the second-most snaps (behind second-year man Jake Ryan). He's still proven to be strong in run defense, a continuance of his excellent first quarter of the year (per PFF, his run defense grade is the best among the Packers' ILBs). He's been huge in Green Bay staying among the best teams in the league against the run following years of the team struggling in that regard. Right now, the Packers are #6 in Run Defense DVOA; before that, they ranked #30, #24, #19 in that area from 2013-2015 respectively. Not all of that is him — play up front is integral as well — but having a player able to clean up behind them is massively important.
As great as he has been in against the run though, Martinez has been mostly a liability elsewhere.
Though he leads Green Bay's ILBs in PFF's run defense grades, he is at the bottom by a sizable margin in his coverage and pass rushing grades. He's been picked on time after time by the opposition when he is forced into coverage, whether it be against tight ends, running backs, or wide receivers; despite that, he's still gotten more snaps in those situations than the massively-better Joe Thomas (144 to 136).
At least he seems to be getting at least somewhat more competent in that regard. He has added an interception and three pass defenses in the second quarter of this season after having none in the first four games. As it stands he's still a liability there, but Green Bay may not have much of choice but to keep using him and hoping for the best.
While we could see Green Bay try handing more obvious coverage situation snaps to Thomas, it isn't quite that simple. Martinez's usual ILB counterpart Ryan isn't good in coverage either, so even if Martinez is taken out of the game teams can still focus their offensive attack right in the heart of the defense with success. The team could turn to more nickel and dime packages — bringing in more of Micah Hyde or Kentrell Brice (the only viable options right now due to injuries) into play — but that could put a dent in their run defense ability. We may have seen some of that happening against the Colts; though they mostly held them down in yardage (82 yards on 28 carries), there were a handful of plays where Green Bay stuck with a nickel or dime package look which may have hurt them.
The hope as the season continues has to be that either Martinez or Ryan (if not both) manages to elevate their play in passing situations, giving them the ability to be comfortable having one of those guys out there for any type of play. With his stronger ability against the run already cemented, the Packers would probably prefer to see the one who steps up in that aspect be Martinez.
Whether or not he does could shape the rest of his rookie season. In the meantime, he should be an overall capable (if flawed) piece to their defensive gameplans.
Dean Lowry
Lowry comes up against the same issues that Clark has to face: too many capable pieces ahead of him on the depth chart.
It doesn't help him that he hasn't really done all that well in the few chances afforded him, however.
Of all the defensive line players, Lowry has seen the lowest number of snaps through 8 games (45) despite being there all year; even Mike Pennel — who missed four games due to a suspension — currently has 53.
He hasn't been overtly bad per se — his overall is below average, but his run defense (ie: the main thing he was drafted for) is close to average — but his pass rushing deficiencies make him a liability if he's out there on anything but expected running plays. Somehow he's ended up out there on more passing downs so far — 26 compared to 19 for rushing snaps —  and that has not helped him.
With many players ahead of him on the line — including draft-mate Clark — Lowry isn't likely to see much beyond the half-dozen snaps he's been getting pretty much every week. That probably works out best for both him and the team.
Trevor Davis
Davis has been one of the many wide receivers on a roster full of them, so he hasn't gotten too much time with the offense in game situations. When he was called upon however, he did performed decently well.
Against Atlanta, with both Randall Cobb and Ty Montgomery out, Davis joined Jeff Janis and Geronimo Allison in immediately getting thrust into a ton of usage. He wasn't perfect out there, but he put up 3 catches, 24 yards, and a TD in 36 snaps to help Green Bay stay close in one of the few games where the offense has seemed to be on-point for more than a couple drives.
Davis cannot be judged just off of his receiving talents, however.
The biggest part of his contributions this season have been on the punt return unit. He has been the main player used for the punt returns all year, and though he hasn't made huge gains often, he has shown explosive ability. In that Atlanta game, to go with his wide receiver production he also added in a huge 55 yard return — helping give the Packers a very short field on one of a handful of scoring drives.
With the glut of receiving talent around him, Davis may not get to see much of the field with the offense as the season goes along; he will get chances here and there however, and we could see a few nice showings mixed in.
He'll continue to be a threat in the return game regardless though, and that is what you should watch for most with him.
Kyle Murphy
As with Spriggs, Murphy is someone we should never have really expected to see much from this season.
With the starting unit continuing to rank as the best in the league in pass blocking (per PFF), there's even less chance that someone outside of that group would see the field.
Among the many capable linemen Green Bay has at its disposal, Murphy provides the least malleable skill set. Every nonstarter above him has the ability to play multiple positions; Murphy can only play tackle as of now.
As with last check-in, if we see Murphy this year, that means something has gone horribly wrong with the players in front of him.
Undrafted Rookies
Kentrell Brice is undoubtedly the best of this batch of undrafted guys. He's seen the second-most special teams snaps of anyone on Green Bay and usually does a decent job there (the Colts game notwithstanding); it is his name I see pop up most often when I look at the coverage unit when it makes stops. He's also seen some time as a dime package safety for the Packers. He hasn't been great in that regard, but pretty average; for an undrafted rookie getting thrust into duty due to injury problems, that tends to be the best you can reasonably expect.
Don Jackson was brought up a few weeks ago as an emergency option due to the injuries which struck down Eddie Lacy and James Starks. He hasn't gotten much work in the three weeks he's had on the roster (just 10 carries), but he's done alright when they've given him the ball (average 4.0 yards per carry against the Colts). Regardless, between the team's lack of emphasis on running the ball, James Starks being expected back in the next couple weeks, and the emergence of Montgomery as a running option, he may not get much work going forward barring more injury problems ahead of him and a switch of the gameplan.
Geronimo Allison was brought up from the practice squad a couple weeks ago, and has already made an impact. Against Atlanta he caught a touchdown, and he still saw snaps against Indianapolis even with the returns of Cobb and Montgomery. As long as the guys around him stay healthy he probably isn't going to see much time, but he has shown he can be turned to when needed and be a threat. With Green Bay struggling to gain separation from coverages on offense still, his size could be handy in the coming weeks as a bit player.
Marwin Evans is one of the main special teams contributors on the Packers right now; his 93 snaps on that unit are bested by just seven other guys as of now, and they have been slowly increasing over the week (29 through four weeks; 14+ in each week since, reaching 22 against Indianapolis). He hasn't seen much work on defense (two solitary snaps against the Colts) but could see time there if another injury were to hit the guys usually playing in dime packages.
Joe Kerridge was just added in the wake of the special teams catastrophe that was Week 9. With the release of Jermaine Whitehead (who was one of the players at fault for the game-opening TD return by the Colts), he seems to be getting a chance to take over in that limited role on kickoff return coverage. Hopefully he does better at keeping to his assignments properly.
Josh Hawkins hasn't seen much work since an early-season appearance against the Lions. That makes sense — he was the one getting thrown down durin Marvin Jones' first of two TD catches — but it does bring up a question as to why he's even here if he's not getting used, especially with the issues decimating the cornerback spot. He has seen some special teams snaps, but those numbers are still pretty low compared to most other players. He seems like a guy who sits perilously on the roster bubble; if another need arises or a better player elsewhere becomes available in the near future, he may be gone.
This article originally appeared on