Green Bay Packers News: Eddie Lacy more likely to play than James Starks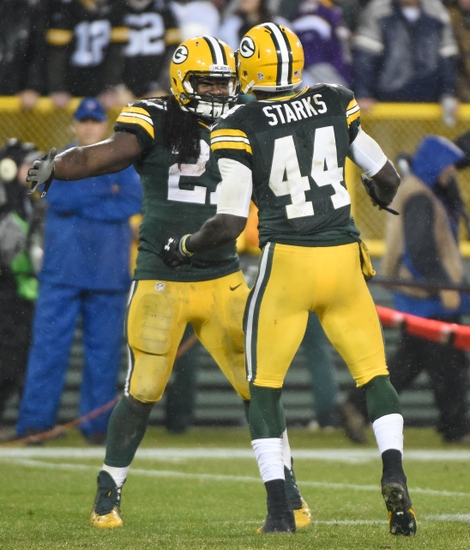 Stopping the run is the key to beating the Dallas Cowboys, but the Packers need to be wary of Dak Prescott's ability to run also. That and more in Thursday's Titletown Report.
Good morning, Packers fans. We move closer to the Cowboys' third trip to Lambeau in as many years. Much of the focus is on Ezekiel Elliott, who leads the NFL in rushing yards, but the Packers running backs are also under the microscope.
Eddie Lacy and James Starks are both dealing with injuries, and it remains to be seen whether either suits up against Dallas.
There's plenty to talk about in today's Titletown Report. As you sip your morning coffee, let's dive right into today's articles.
Prescott's Rushing Ability not a Threat, but Mobility is — Zachary Jacobson of Cheesehead TV
Dak Prescott has made a nice start to his NFL career in relief of the injured Tony Romo, but his biggest threat is his ability to take off and run. Prescott has scored three rushing touchdowns, despite not rushing as much as some might have expected.
Running back reversal: Lacy more likely to play than Starks — Rob Demovsky of ESPN
The Packers could be without their two best running backs on Sunday. Eddie Lacy suffered an ankle injury against the Giants, but a surprise was to see James Starks join him on the injury report. Starks' play has been disappointing, and the Packers need Lacy back on the field.
Packers-Falcons flexed to late slot in Week 8 — ESPN
The Falcons have taken the NFL by storm this year, handing the Super Bowl champs a loss on their own turf. The Packers head to the Georgia Dome in Week 8, and it's no surprise the game has been flexed from a 12 p.m. (CT) start to 3:25 p.m.
And finally:
Whoa. McCarthy "I don't know why the hell I have to come in here and answer questions about what you think went wrong on offense."

— Aaron Nagler (@AaronNagler) October 12, 2016
Coach McCarthy isn't known for giving much away in press conferences, but he was unhappy when questioned about the Packers offense on Wednesday. Not often does he show this kind of emotion in his answers.
But he is right to be questioned, the offense isn't reaching its potential.
This article originally appeared on