Green Bay Packers News: Christine Michael's increasing role in the backfield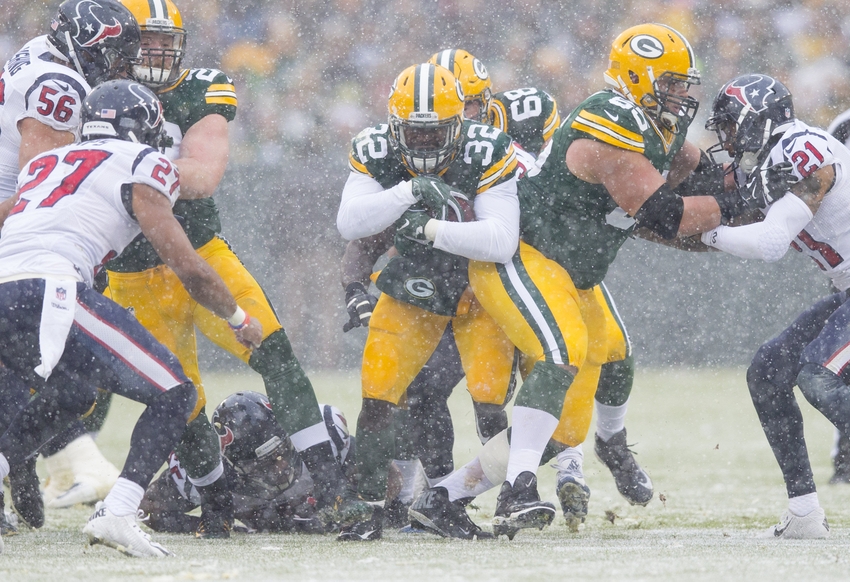 Considering James Starks' continued struggles, should Christine Michael see more action in the backfield?
While the celebrations of Sunday's victory are ongoing, Packers Nation is quick to turn the page to Seattle this week. Not many teams quite get the attention of Packers fans like the Seahawks, and beating them in Lambeau this week would not only help the playoff push, but feel all the sweeter given the rivalry of these two teams in recent years.
A change in the backfield would help. Christine Michael's role will continue to increase, but I believe it's time to hand the keys to Ty Montgomery, as I wrote in Monday's "Packer Perspective" column.
A win over Seattle would do wonders for Green Bay's playoff ambitions. You can find the state of the NFC playoff picture here.
Let's dive into the top content from around the internet.
McGinn: Rating the Packers vs. Texans — Bob McGinn of Packersnews.com
Bob McGinn rates the Packers after their second win in a row. It's no surprise Jordy Nelson's excellent performance helps bump up the receivers' grades.
Packers' secondary oozes with aggression — Michael Cohen of Packersnews.com
An interesting piece by Michael Cohen on the Packers' secondary. Despite failing to intercept Brock Osweiler, the defensive backfield remained disruptive all afternoon by deflecting passes and jumping routes.
Lots of (shoulder) pain for little gain for Packers' Clay Matthews — Rob Demovsky of ESPN
Clay Matthews has been plagued with injuries this season, and many wonder whether he should have suited up Sunday vs. Houston. The hope is Matthews' injured shoulder gets at least a little healthier ahead of this weekend's must-win game vs. Seattle.
Cory's Corner: Christine Michael deserves the ball — Cory Jennerjohn of Cheesehead TV
It's clear James Starks isn't the Packers' best option at running back. Christine Michael is still working his way into a role in Green Bay, locking down the playbook remaining his biggest obstacle, but Cory Jennerjohn believes it's time to put the ball in the former Seahawk's hands more often. Maybe a revenge game is in sight this week against the team that cut him last month.
This article originally appeared on