Green Bay Packers: Micah Hyde emerges as key defensive player
Kevin Culligan/FanSided via Lombardi Ave

Fansided
The 2016 Green Bay Packers season has illuminated some surprising truths about the value of certain players.
Eddie Lacy and Randall Cobb, for instance, have proven to be far more dispensable than originally thought. Even Clay Matthews has seemed replaceable for much of the year.
But one largely unheralded player who has undoubtedly proven his worth to this team is defensive back Micah Hyde.
Hyde will become a free agent after this season, and at the start of the year, it didn't look like he'd be a top priority for the Packers to re-sign. But in the past couple of weeks, he's shown that the Packers absolutely need him on their team in 2017.
ANALYSIS: Off-the-radar game balls for Week 17
PACKER PERSPECTIVE: Nobody wants to meet these Packers
Damarious Randall and Quinten Rollins were supposed to make big second-year improvements as they became full-time starters. Though some of their struggles are due to injury, they've overall been very disappointing this year.
Combined with Sam Shields' season-ending concussion in Week 1, that's left Ladarius Gunter as the only cornerback who's been consistently available and largely productive.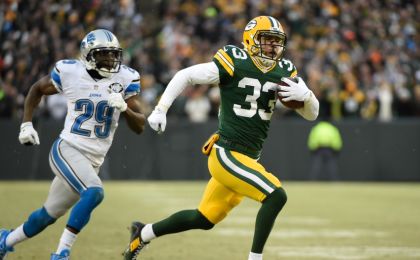 Insert Hyde. He's played mostly safety since his rookie year in 2013, and even when he has played cornerback, he's been in the nickel. Like Gunter, the biggest knock on him is his measurable athleticism. He ran a 4.56 40-yard dash at the NFL Combine.
But this year, Hyde has been an invaluable player for Dom Capers. Due to the various cornerback injuries, he's played roughly 80 percent of the Packers' defensive snaps. Most of that has been at the nickel cornerback position, though some has been at safety.
In the Packers' Week 15 game against the Chicago Bears, the Bears trailed by three with 1:30 remaining in the game. On a third-and-goal play from the four-yard line, Hyde played man coverage against Bears tight end Cameron Meredith. Matt Barkley threw an accurate pass to Meredith on an out route, but Hyde undercut the route and broke up the pass to force a field goal.
It was the subsequent Aaron Rodgers bomb to Jordy Nelson that got all the highlights, but without that play from Hyde, the Packers would have needed a touchdown and probably would have lost that game.
Sunday night against the Lions, Hyde was forced to play outside cornerback for essentially the first time in his NFL career on Sunday against the Lions, and he answered the call. Hyde had Pro Football Focus' top grade for Packers' defenders on Sunday at 83.5, sticking with receivers all night and intercepting a Matthew Stafford pass intended for Golden Tate late in the fourth quarter.
Though drafted much later than Randall and Rollins, Hyde has proven to be a more reliable cornerback this year than either of them. Hyde is PFF's 61st-ranked cornerback with a grade of 73.3, which is better than Rollins' 66.1 and miles ahead of Randall's 39.3. He still can't match up athletically with elite receivers, but he has good ball skills, is assignment-sure and has solid technique in coverage.
At this point, Hyde has become so valuable that its questionable whether the Packers should even risk having him return punts. He'll probably continue to return them because a) it's the playoffs, b) he's the most natural punt catcher on the team, and c) he's dangerous once he has the ball. But it's a testament to his importance that the Packers might consider themselves better off risking Cobb on punt returns than Hyde.
Going forward, Hyde should be an every-down player on defense, regardless of the health of Randall and Rollins. A few more timely plays could make all the difference in these playoff games and further cement his chances of landing a contract extension after the season.
This article originally appeared on