Green Bay Packers' Jordy Nelson: The comeback kid
Raymond Rivard/FanSided via Lombardi Ave

Fansided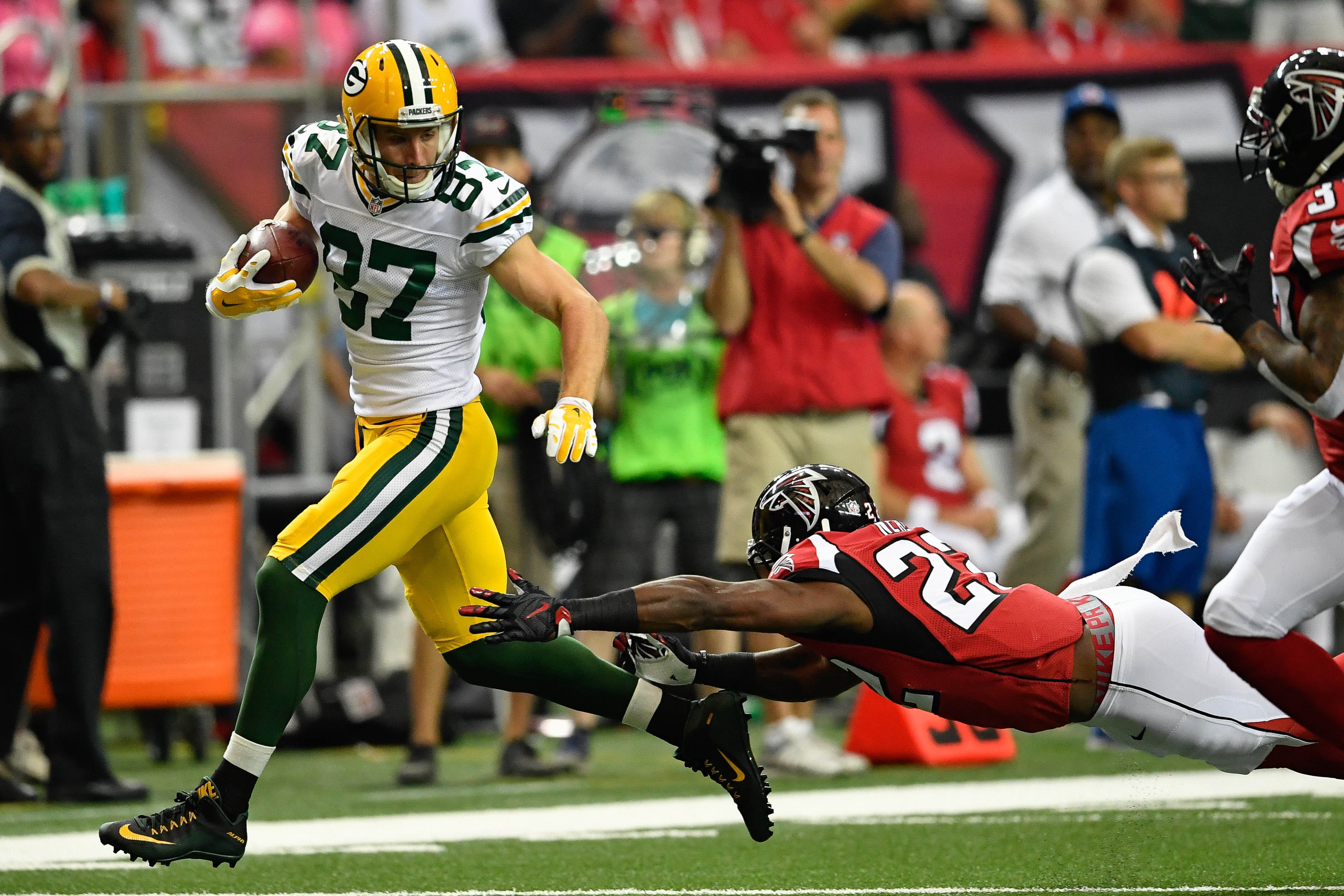 Jordy Nelson, the Green Bay Packers' wide receiver who sat out all of 2015, not only demonstrated over the past 16 weeks that he was missed last season, but why he is so important to his team.
Today, the Professional Football Writers Association named Nelson as its comeback player of the year.
Nelson caught 97 passes for 1,257 yards (13 yard average) and scored 14 times. He was fifth in receptions and sixth in yards.
Nelson played in all 16 games this year, but was injured early in the Packers' first playoff game against the New York Giants at Lambeau Field and missed the Divisional Round game at Dallas.
It's unclear if the two fractured ribs he suffered in that playoff game will keep him out of this weekend's Championship Game in Atlanta, but one thing is for certain – the nine-year veteran was a huge reason as to why the Packers roared through the final half of the season with a winning streak that helped crown Green Bay as the NFC North Division champion for the fifth time in six years.
In fact, if the Packers move on to the Super Bowl this season, that accomplishment will be legitimized because of Nelson's work – whether he plays in Atlanta or not.
Back before this season started, I penned a piece that was based on reasons specific players would help the Green Bay Packers win Super Bowl LI.
Nelson was one of those players.
Green Bay has MVP quarterback Aaron Rodgers under center; they've got one of, if not the best receiving corps in all of football – when healthy; and they've got a defense that has bent, for the most part, but not broken- especially down the stretch of this season.
Add in the fact that the Packers were three minutes away from the Super Bowl two seasons ago – even though they had a quarterback playing on one leg. Though the team's downturn on the offensive end of the field has been well documented, there are plenty of good arguments as to why the Packers were to once again be in the running for a berth in the 51st Super Bowl. And one of the most important cogs in the wheel of success in 2016 for the Green Bay Packers has been the wide receivers led by Jordy Nelson.
Could there be a better wide receiver to come along for the Green Bay Packers in recent times?
Oh, one could argue the Greg Jennings was pretty good half a decade ago and a guy by the name of Donald Driver had a pretty good career in Green Bay.
But when you look at the past few seasons for Nelson, he has been the Packers number one receiver. With speed, athleticism and toughness, Nelson has become feared across the league.
Teams that leave Nelson single covered on the outside are asking for trouble. We've seen him time and again catch that Aaron Rodgers laser, elude one cornerback, cut back and leave a safety grasping at air. His value is beyond reproach and he is a major player in the Packers drive toward another Super Bowl.
Let's take a closer look and why Nelson was poised to once again play such an important role in the Packers success.
Jordy Nelson: A standout and go-to guy
When Ted Thompson drafted Jordy Nelson out of the University of Kansas in the second round (#36 overall) of the 2008 NFL Draft, we probably didn't get too excited.
He was a big receiver who had speed and could jump, but he wasn't one of those guys who made headlines and were being touted the by draft experts as someone who could become one of the best in the league.
Since then, things have changed a bit.
Nelson has earned the number one receiver spot with the team and has become one of Aaron Rodgers' most reliable and favorite targets.
His absence in 2015 was a big reason for the Packers' less-than-stellar season.
We all know how good the duo of Jordy Nelson and Randall Cobb was in 2014, with both receivers going over 1,000 yards and helping to lead the Green Bay Packers to the franchise's fourth straight NFC North Division championship.
It was a helluva year for the two Packers stars, but was also a record-breaking individual year for Nelson.
In fact, with Nelson's six catches for 86 yards in the season's finale, he officially surpassed Robert Brooks's all-time single season record of 1,497 yards on 102 catches.
Nelson finished his 2014 season with 98 catches for 1,519 yards (15.5-yard average) and 13 touchdowns.
The Manhattan, Kansas, farm boy has long been overlooked as one of the best in the game, despite the fact that he's caught pass after pass and had big game after big game.
In addition to his single season franchise record, Nelson also registered seven touchdowns in 2014 of 40-plus yards. that's better than the likes of Elroy Hirsch, Bob Hayes and Jerry Rice – all Pro Football Hall of Famers.
That's some pretty good company.
It will most likely be some time before another Packers receiver registers more than 1,500 yards in a single season like Nelson did.
In fact, he was the first Packers receiver to surpass 1,500 yards. That's a pretty special accomplishment.
Nelson caught passes for more than 100 yards in seven games in 2014, with his best performance coming in Week 2 against the New York Jets, when he caught 209 yards in passes.
In Week 10 against the Chicago Bears, Nelson caught six passes for 152 yards and then in Week 14 against Atlanta, he caught passes for 146 yards.
Those were his three best days.
Nelson, in his patented "aw shucks" demeanor, isn't about to boast about his accomplishments, but he is clearly an elite receiver.
In his career, Nelson has caught exactly 497 passes for 7,366 yards (14.8 yard average), and 63 touchdowns .
If that's not elite, I don't know what is.
One of the biggest reasons Nelson was so successful once again in 2016 is the chemistry he has with quarterback Aaron Rodgers.
With Nelson's strong season once again in 2016, he helps give the Packers another run at the Super Bowl – and crystallizes his comeback of the year award.
If Nelson's ribs improve, we could see him on the field in Atlanta this season and if the Packers win he would most likely be ready to play in the Super Bowl.
But what's really great is that it appears Rodgers and Nelson will be together for at least the next couple of seasons.
Things can only get better.
This article originally appeared on