Green Bay Packers: It's time for a new era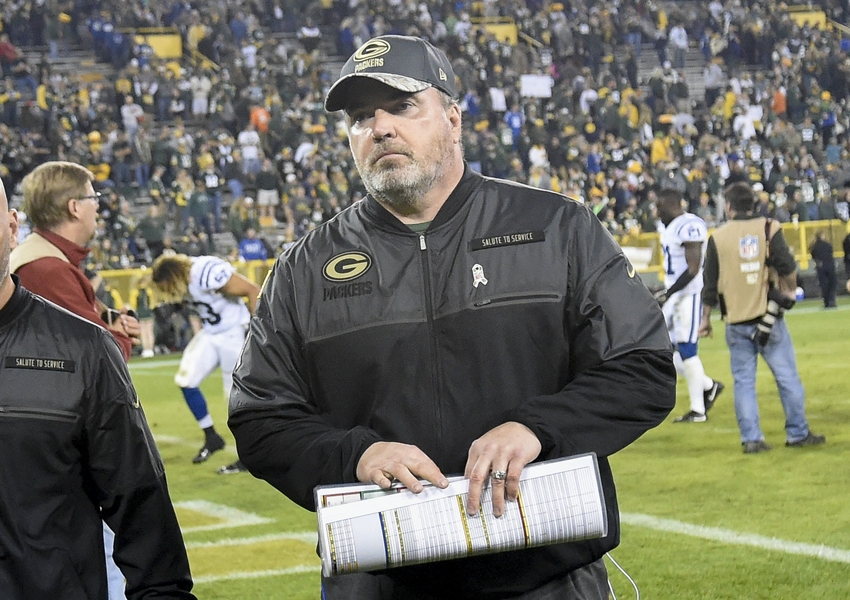 The Green Bay Packers lost their third straight game, after another shameful performance on the road against an inferior opponent, the Tennessee Titans.
To put the season in perspective, the Packers went from a preseason Super Bowl contender, to a fringe playoff team at best. But, quiet frankly, this team doesn't deserve a shot in the postseason.
They continue to be inconsistent, out-coached and outplayed. With that being said, it's time for change.
Not only should this be Mike McCarthy's final season on the sidelines, but also it's time to look for a new general manager because Ted Thompson's old school mentality has worn off.
Starting with McCarthy. Not many coaches are blessed with a quarterback in their first year of coaching. McCarthy, was fortunate enough to have Hall-of-Fame quarterback Brett Favre under-center in 2006, his first season at the helm.
RANKINGS: Potential replacements for Mike McCarthy
DRAFT: Four college prospects on the Packers' radar this week
NFL PICKS: Predicting each Week 11 game
However, that honeymoon ended in 2007 after the Packers were eliminated in the NFC Championship Game, 23-20, by the New York Giants.
It was the end of the Favre era, but the beginning of a new one. Aaron Rodgers took over the team in 2008 and once again McCarthy was fortunate to inherit another quarterback.
Despite not being able to bring the Lombardi Trophy back to Titletown with Favre, he was able to do it with Rodgers in 2010.
Finding a franchise quarterback is not an easy task. Just ask the Cleveland Browns, Buffalo Bills, and Jacksonville Jaguars; just to name a few. With that being said, McCarthy was given a gift from the football gods and one Super Bowl just isn't enough.
If you take away the magical 2010 run, McCarthy's postseason record is 4-7. The Packers have made the playoffs eight times under McCarthy. Of those eight, they have been eliminated in their first game of play three times.
Furthermore, McCarthy's game-planning makes you ask yourself: What is this guy doing on a week-to-week basis?
It seems as if each week he attempts to reinvent the wheel, and go away with what is working to try something different. Only to have the team fall behind and ditch any type of game plan.
For example, what happened to the short effective pass-game that worked against the Chicago Bears and the Atlanta Falcons?
Ty Montgomery had 25 targets and 20 receptions combined against the Dallas Cowboys and Bears. Since then, five targets and five receptions.
Why?
Lastly, any coach that needs to tell reporters that he is a highly successful coach is one that already realizes one foot is out the door.
Again, it isn't only McCarthy who deserves the blame; Thompson should be getting ridiculed as well and it isn't fair that only McCarthy needs to deal with the media on a daily basis.
But, as for Thompson, it is time to change the mentality of draft-and-develop because it isn't working.
Currently the Green Bay Packers 53-man roster is made up of 18 undrafted free agents, nearly, 34 percent. Will you the Packers find a couple diamonds in the rough, maybe? But expecting to find several is ludicrous.
This also doesn't include all of the rookies or second-year guys that are playing on a consistent basis. Is it great to have a young roster? Yes, but they lack talent and experience, two things that are key for a successful NFL franchise.
Look at the New York Giants, another organization that isn't known for spending money during the offseason. This past season they splurged to make that defensive unit better and more importantly the overall team better.
At 6-3, the Giants are set up to make a postseason run and are a much better team by addressing their necessary needs. Do the Packers need to spend that much money? Absolutely not. They should however, look to fill needs with experienced playmakers.
Thompson has ventured into the free agency market several times, but that isn't enough.
The mentality from top to bottom has gone stale for the Packers organization. This team lacks fight, energy and passion, all the more reasons for a new beginning in 2017.
This article originally appeared on