Green Bay Packers: Five players who must step up vs. Seahawks
Winning two straight ensures the Green Bay Packers' season continues, but the Seattle Seahawks are intent on crashing the playoff party at Lambeau Field.
Aaron Rodgers hasn't lost at Lambeau in the month of December since 2008. This mind-blowing statistic not only highlights the Packers' dominance at home late in the season, but also shows this team knows how to get the job done when it truly counts.
ANALYSIS: Why Packers will still make the playoffs
For Rodgers' incredible streak to continue beyond this week, he needs his teammates to step up. The two-time MVP is playing his best football of the season, battling through an ailing hamstring and frigid Lambeau conditions to light up the Houston secondary in the fourth quarter last week.
He'll need to be at his accurate-best when Seattle roll into Lambeau, fresh off a Sunday night beatdown of the defending NFC champions last week. But Rodgers' arm won't win this game alone. Better play from those around him is required to beat a team vying for a third Super Bowl appearance in four years.
Which Packers must raise their game Sunday in expected snowy conditions? Here's five players who must step up to increase Green Bay's win streak to three.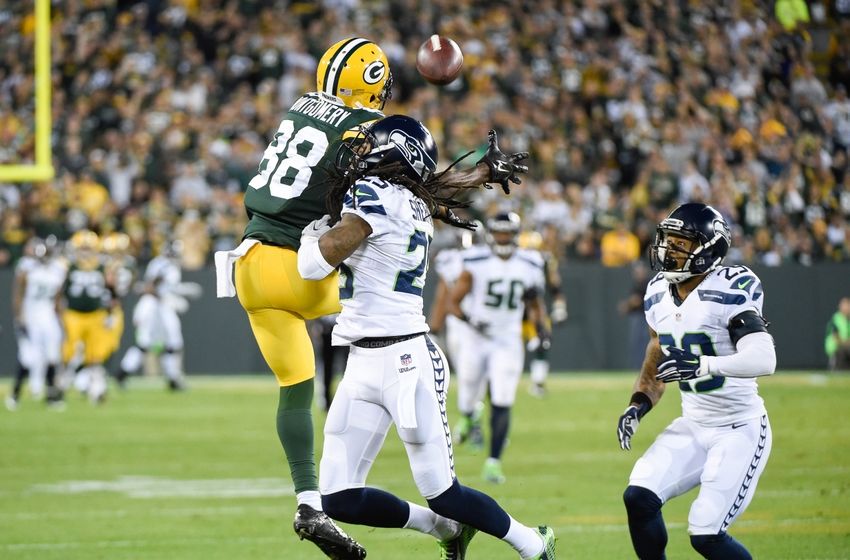 Ty Montgomery
James Starks' dancing at the line of scrimmage may see him headed for the bench. The veteran running back's regression is evident, and the Packers need to look elsewhere in the backfield.
Christine Michael offered more energy and burst during his cameo last week, but he's still in the process of picking up the Packers' playbook. Until he can be trusted on passing downs, his role will remain limited.
Enter Ty Montgomery.
People will question whether he can handle a consistent workload of 20-plus carries per game. He's a wide receiver, after all. I say forget that. Hand him the football. The 23-year-old has displayed good vision, strength to churn out extra yards between the tackles and is deadly in the open field. Montgomery can also pass protect.
Averaging 5.3 yards per carry, it defies belief he's carried the ball just 35 times in 11 games. Maybe there are concerns with his sickle-cell trait, an issue that forced him to sit out of the Packers' trip to Atlanta.
Montgomery's emergence began against Seattle last year. He caught all four of his targets for 37 yards and first displayed his excellent yards-after-the-catch ability.
As both a running back and pass catcher, we need to see more of Ty Montgomery. He can be a difference maker on Sunday.
Jake Ryan
Jake Ryan won't be named the NFL's defensive player of the year anytime soon, but his absence with an ankle injury hurt the Packers defense.
Ryan's work rate can never be questioned, he leaves it all on the field. His ailing ankle forced him to the sidelines last week, but he returned to finish the game. Ryan was clearly below 100 percent entering the game, but he still put in a shift in the middle of the field.
Ryan plays a key role against the run, and this will be crucial against Seattle. With snow expected, the Seahawks will aim to impose their will on the ground and control the clock. Thomas Rawls showed everyone what the Seattle backfield has been missing last Sunday against Carolina, turning his 15 carries into 106 yards and a pair of touchdowns.
Rawls is a violent, downhill runner who initiates contact and plows through it. The Packers' tackling game will need to be on point to limit Rawls' opportunities in the open field, and area he can burn defenses. Ryan will be key up front in preventing Rawls from getting going.
Seattle's offensive line struggles most in pass protection. Shutting down the run game will exploit their deficiencies and free up rushers to get after Russell Wilson.
Ryan is a better player against the run than pass, and he must play a role in limiting Rawls.
Packers corners
It's tough to pick out one cornerback to make this list, as all of them need to improve. Safeties Morgan Burnett and Ha Ha Clinton-Dix can't do it alone.
For all of his ability to make a splashy play from time to time, Micah Hyde has made far too many mistakes this season.
The fourth-year defensive back was at fault on DeAndre Hopkins' 44-yard touchdown last week. Both Hyde and corner Damarious Randall had an opportunity to bring Hopkins down shortly after making the catch, but neither touched him as he cut inside and strolled into the end zone.
Hyde did break up a Brock Osweiler pass, but his performance was spotty as it has been all year.
Randall and Quinten Rollins have both dealt with groin injuries this season, neither yet to build on impressive rookie seasons.
Seattle's pass catchers can create mismatch nightmares against anyone. Jimmy Graham is proving why the Seahawks spent a first-round pick to acquire him from the Saints. Doug Baldwin is deadly from the slot with tremendous route-running, while Tyler Lockett's lightning speed is a real danger for the Packers secondary.
Blown coverages and missed tackles have killed the Packers this season. This Seattle offense can score points through the air in a hurry. The entire cornerback group must be prepared.
Mason Crosby
Every point will count in what could be a close game. The Packers will struggle to score touchdowns on every drive. Seattle's red-zone defense is among the league's best.
This could be a big Mason Crosby afternoon. Kicking in the cold is a far trickier task than what those who play in a dome encounter this time of year, but these conditions are nothing new to Crosby. When called upon, he'll need to convert field position into points.
Crosby is quietly putting together another solid season. He's converted 87 percent of his field goal attempts, currently making it his second-best season in Green Bay. He has, however, missed twice from the 30-39 yard range. From 2013 to 2015, Crosby only missed once from this distance.
He's also missed two extra-point tries after going a perfect 36-for-36 last year.
The Packers can't bank on finding the end zone each time they take the field. This could become a low-scoring game with an emphasis on kicking in the cold. Crosby has proven throughout his career he can produce in the elements with added pressure.
Sunday might be a Mason Crosby game.
Randall Cobb
Earl Thomas' absence is a significant blow to the Seattle defense, and could open up opportunities in the middle of the field for the Packers.
The Seahawks boast corners able to blanket Jordy Nelson and Davante Adams on the outside. Jared Cook may draw a tough matchup with linebacker K.J. Wright, who excels covering tight ends.
Randall Cobb may be best positioned to create mismatches. He led the Packers in receiving (eight catches for 116 yards) in last year's meeting with the Seahawks. Everyone knows Cobb's big-play ability. He's a menace in the slot who thrives after the catch.
Cobb can also create matchup problems out of the backfield. Using him creatively along with Ty Montgomery might offer the Packers their best opportunity of attacking the middle of the field. Shifting Jordy Nelson in the slot regularly is also in play, moving him out of Richard Sherman's shadow.
Don't mistake Cobb's lack of production this year with poor play. Aaron Rodgers has many mouths to feed, but the sixth-year slot receiver has plenty to offer on Sunday.
Cobb has two receiving touchdowns in four career games against Seattle. Rodgers may look his way in the red zone again this week.
This article originally appeared on