Green Bay Packers: Five keys to beating Texans in Week 13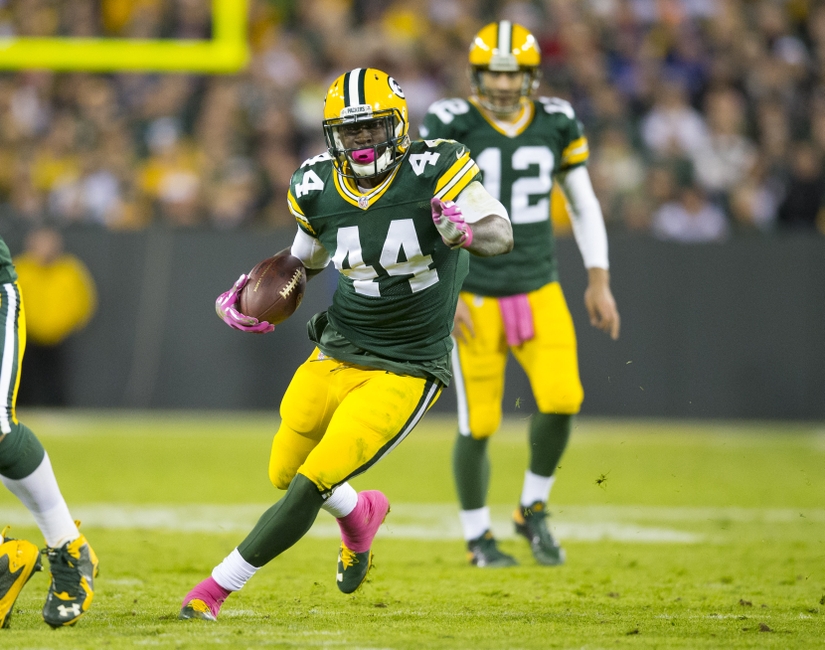 Monday's win at Philadelphia extended the Green Bay Packers' season by at least one more week, but they enter another must-win game with the Houston Texans.
Houston enters Lambeau Field atop the AFC South, searching to strengthen their grip on a playoff place. Green Bay must win to have any hope of regaining the NFC North crown and continuing an impressive postseason streak.
The Texans win with defense, despite boasting a number of talented skill players on offense. Poor quarterback play has capped their success on that side of the ball, but they have pulled through to win six of 11 games this year. A seventh would go a long way in the competitive AFC South.
MORE: Packers stock up, stock down entering Week 13
What will it take for the Packers to win for the second straight week? Having lost five of their previous six before winning at Philly, nobody is taking anything for granted, even at Lambeau Field.
Green Bay has already dropped two of three games against AFC South opponents, losses to Indianapolis and Tennessee following a Week 1 win at Jacksonville.
How can the Packers ensure a third defeat by this division doesn't follow? Here's five keys to beating the Texans.
Control the clock
Paramount to Green Bay's success last week was controlling the clock on offense. The Packers held possession for almost 11 minutes more than Philadelphia, making it incredibly difficult for the opposition to win.
Aaron Rodgers led drives of over six and eight minutes in the fourth quarter, the Eagles given just 4:39 to mount a comeback.
Given the defensive struggles, this is the way to succeed. Keep Dom Capers' unit off the field for as long as possible while wearing down the opposing defense with scoring drives that melt chunks of time off the clock. The Cowboys are masters of this, who lead the league in average time of possession per game, according to TeamRankings.com.
Houston's defense is talented, but sustaining long drives can limit their effectiveness, particularly late in the game.
Brock Osweiler's debut season with the Texans has turned out to be a major disappointment. Giving him limited time on the field to keep pace with the Packers can lead to all-important turnovers, as we saw in Philadelphia last week.
Time of possession bears greater importance for a Packers team struggling on defense. A key to beating the Texans is to sustain long, scoring drives.
Crank up the pressure
Despite ranking No. 31 in passing offense, Houston boasts a trio of complimentary pieces catching passes from Osweiler.
DeAndre Hopkins dominates opposing gameplans. A Pro Bowler last season, Hopkins' struggles in 2016 can be pinned on his quarterback. He's never possessed top-end speed or dominated after the catch, but his elite ability to secure contested catches makes him an almost impossible cover.
Rookie Will Fuller offers the deep speed Hopkins lacks. Fuller's hands often let him down, but the Packers need to respect his ability to go deep, an area the defense has struggled.
Fellow rookie Braxton Miller can burn defenses after the catch, while tight end C.J. Fiedorowicz has emerged as a safe target for Osweiler in the middle of the field.
The Packers' depleted secondary may struggle when faced with difficult matchups across the field. Easing the workload on the defensive secondary is key, and the best way to do this is generate consistent pass rush.
Osweiler has thrown at least one interception in every game he's been sacked twice or more. Generating pressure is the key to forcing mistakes from the Texans' struggling passer.
Intercept Brock Osweiler
Generating pressure goes hand-in-hand with this next point.
Osweiler is tied with Ryan Fitzpatrick and Blake Bortles for the league's most interceptions, 13, and is prone to mistakes. The Packers need more takeaways on defense, and opportunities should arise.
Green Bay's offense runs into a talented defense, which means a turnover could prove to be the difference in the game. The Packers must force Osweiler into poor decisions and take advantage of any opportunity to take the ball away.
Handing the ball back to Aaron Rodgers with a short field is a quick way to succeed.
Osweiler struggled last week, throwing a season-high three picks against San Diego. This led to a touchdown-less performance with a passer rating of just 45.6. Dom Capers will want to replicate this with his defense.
If the Packers fail to take the ball away, the Texans may find ways to expose a struggling defense and score points. Given the tough matchup awaiting Green Bay offensively, this can't happen.
A Carson Wentz interception proved to be a key in defeating the Eagles on Monday night. A similar scenario from Osweiler could lead the Packers to another win.
Stop Lamar Miller
Houston's biggest threat on offense comes on the ground in the form of Lamar Miller, a smart free agent pickup last spring. Fifth in rushing with 881 yards, Miller can take it the distance when free in open space.
Miller can also threaten as a pass catcher, although he hasn't been utilized in this role as effectively as he was in Miami.
The Texans will attempt to impose their will with the run, making life easier for Osweiler to find his receivers. The Packers can control the game with good play on offense and winning up front on defense to slow Miller's progress.
The former Miami Dolphin is dealing with a shoulder and ribs injury, which has limited him somewhat in recent weeks. Miller, a limited participant in practice Wednesday, is expected to play and still receive the lion's share of carries in the backfield.
Shutting down the run game is key as it would make the Houston offense one-dimensional. Green Bay must put the Texans' chances of winning into the hands of Osweiler, forcing him to outplay Aaron Rodgers.
In that battle, there's only one winner.
Start fast
Slow starts killed the Packers in losses to Indianapolis, Tennessee and Washington, placing them immediately behind the eight ball. It was no surprise, then, that an early lead in Philadelphia led to victory.
Of all the keys pointed out in this article, starting fast may be the most important, as it ties together many of the other points. If the Packers race out to an early lead, they force the Texans to throw more often and abandon the run game. Brock Osweiler must then win with his arm, making the Houston offense one-dimensional, allowing the Packers to tee off on the quarterback.
Starting fast became a staple of the Packers' great season two years ago, more of a surprise any time they didn't score on their opening possession. Last week's win felt more like the Packers of old we've come to expect, and racing to a quick start will put them in command against the Texans.
If Green Bay can sustain long, scoring drives from the opening possession, take away Houston's run game and pressure the quarterback, they will walk away with a second straight win and potentially close the gap on the Lions for the NFC North lead.
This article originally appeared on