Green Bay Packers: Fantasy football profile Week 11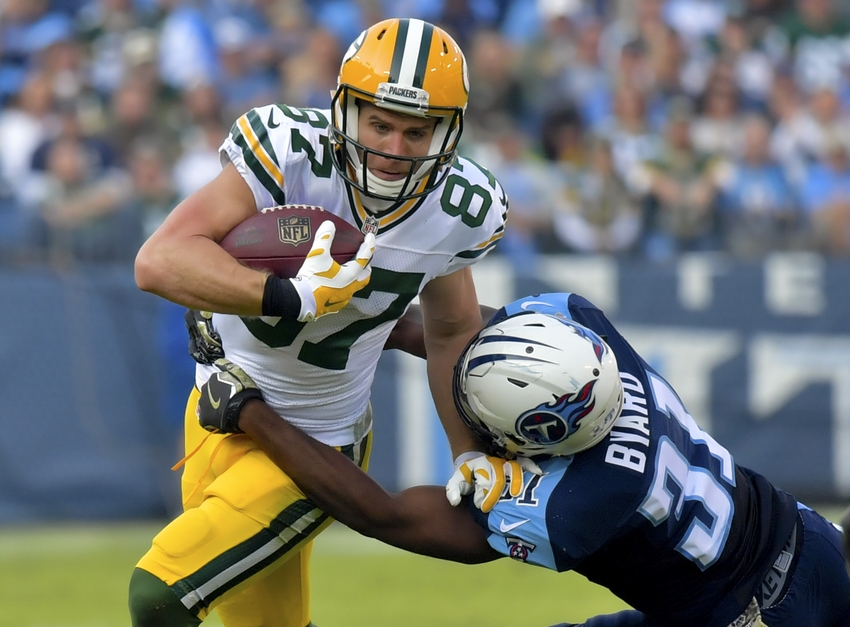 Week 10 brought us perhaps the most disappointing performance by the Green Bay Packers in a season full of sub-mediocrity by this formerly-great team.
While fans are justified at feeling upset by what is happening on the field, it is hard to find much to be excited about regarding this flailing outfit.
For fantasy players though, there at least has been some small glimmer of happiness to be gained from all of this, as we have seen some decent performances in terms of the raw statistical totals for most players — including a few this week.
How will they perform for your teams in this upcoming primetime matchup against Washington?
Here are my thoughts.
Disclaimer: For any fantasy scoring numbers, I will be using those generated by Yahoo! fantasy football. It is the system on which I've played a majority of my fantasy football over the years – and currently play. Other setups are fine – I've worked with ESPN and NFL fantasy football teams in the past – but seeing as I have the most experience using this scoring system, I'll stick with using their methods of scoring.
Week 10 Statistics: 
31/51, 371 passing yards, 2 passing TDs, 2 INTs, 27 rushing yards, 1 rushing TD; 29.54 fantasy points
With Green Bay struggling, we have a ton of areas that can be pointed to for blame. Rodgers is undoubtedly one of them.
Still, as the narrative is wont to do, too much of the finger-pointing from the outside is piling onto just a single guy, and the problems go much deeper than the person throwing the ball.
Rodgers didn't have his best game against the Titans (something I've said far too often this season), but look at the other factors surrounding him and you could see it really should not be placed upon his shoulders.
Look at the way his defense performed, letting Tennessee score touchdowns on each of their first four drives, putting Green Bay down 28-10 well before the half. Also look at the special teams, which fumbled the ball right back to Tennessee after the defense's first stop of the game, giving the Titans yet another quick and early score; make that 35-10 before half.
Granted, the Packers did have their shot to start out strong (great field position after a failed surprise onside kick from the Titans to open the game), but even had they scored there, the defense and special teams still gifted Tennessee 35 points in their first 6 drives with little resistance; had a game-opening TD occurred, that deficit would still likely have been 35-17.
With how bad his other units were playing, Rodgers legitimately would have needed to lead TD scores on every single early drive just to have a chance at a tie going into the half. That's an asinine expectation even for the best-functioning offenses, much less the discombobulated group the Packers have trotted out in 2016. Even at their pre-2015 highs, this wasn't something happening every week despite their usual dominance of the opposition.
Look at those different early drives as well. On the second drive for Green Bay, T.J. Lang got injured early; this brought the infamously awful Don Barclay into action (he received 74 snaps on the afternoon). Then, both David Bakhtiari and Lane Taylor committed penalties (though Taylor's was declined) to help set the team back.
Rodgers got sacked on third down from there to force the Packers into a punt. The third drive ended on a sack-punt combo as well. On the fourth, Green Bay was inside Tennessee's 10 yard line when Taylor was called for another penalty; that drive went from an expected TD to petering out into a mere FG despite being down 28-7 at that point already. He didn't even get the ball following the muffed punt on special teams; the offense faced a 35-10 deficit from there.
Rodgers did throw two INTs in the comeback effort, but you must again look beyond the box score to get an accurate picture. His first was on a Hail Mary before the half; the only option was tossing it up and hoping for a fortuitous outcome in a low-percentage play, and the opposition came down with it in a crowded mess of bodies. The second was a throw where he ended up with two receivers who somehow ran to the same spot 10+ yards short of his targeted area; obviously, one of them was supposed to go deeper and did not, gifting the Titans with a practice-level INT chance.
Rodgers surely has areas in need of improvement — he's missed on multiple routine passes (likely due to mechanical issues) all season — but he should not be who receives the vitriol for what happened on Sunday. If this team needs him to be at his MVP form just to have a chance to be competitive (much less win or win big), that should tell you something about the players around him and the coaches "leading" them.
Regardless of who the blame should be levelled on however, this game is a turning point contest, and the Packers will need their quarterback to play well to win. Washington has a middle-of-the-road pass defense (#14 in Pass Defense DVOA) and multiple beatable players in the Washington secondary, so there are places where Rodgers should be able to attack.
His time to find his receivers may be somewhat hampered (due to the infamous Don Barclay playing in place of the injured T.J. Lang), and another big deficit is possible (due to Green Bay's defense falling off the metaphorical cliff the past few weeks), but his numbers should come out looking pretty decent regardless of if it is enough for a Packers' victory.
Week 11 Prediction:  
300 passing yards, 3 passing TDs, 35 rush yards, 1 fumble lost; 25.50 fantasy points
Verdict: Strong Performance
RB – James Starks, Ty Montgomery, Christine Michael

Week 10 Statistics:
Starks– 7 carries, 33 rushing yards, 3 catches (4 targets), 11 yards, 1 TD; 10.40 fantasy points
Montgomery – 3 carries, 9 rushing yards, 2 catches (2 targets), 11 yards; 2.00 fantasy points
Michael – 5 carries, 22 rushing yards, 1 catch (1 target), 4 yards; 2.60 fantasy points [w/ SEA]
For most of this season, the running game for the Packers has been abysmal.
On the year, they are in the bottom section of the league for rushing yards (922 total; #21 in NFL), are middling in terms of advanced statistics (#17 in Rush Offense DVOA), have just one game with a 100+ yard rusher (Eddie Lacy: 103 yards, Week 3), seen only three rushing TDs (all by Aaron Rodgers), and given rushing chances to eight different players (Lacy, Rodgers, Starks, Montgomery, Randall Cobb, Aaron Ripkowski, Don Jackson, and Knile Davis). The past couple weeks have done no favors to them either, as Green Bay has fallen into huge holes which prevented them from even trying to run.
In theory at least, this week seems to be a chance to do better in that regard.
Starks is in his second game back from a meniscus injury, and he should see the majority of rushing opportunities here. He isn't particularly good — Pro Football Focus has him as their #51-graded running back so far this year — but Washington has a defense which should have some holes to attack. They rank #30 in Run Defense DVOA, so the holes should be there even with Barclay being a major weak spot on the offensive line. As with the past couple weeks, this could be another high-scoring affair, so the rushing chances may yet again be lower than hoped if Washington racks up an early lead (quite possible).
With Starks set to get most of the action, we unfortunately aren't likely to see much of Montgomery anymore. Between Starks having the rushing load and with the Jordy Nelson/Cobb/Davante Adams trio snapping up most of the wide receiver snaps, there doesn't appear to be many opportunities for him to get on the field now. That is a major mistake by Green Bay in my mind — Montgomery offers a much better presence for the offense from the backfield than Starks — but last week showed us that even in his first game back from a knee injury it is Starks is who the Packers would prefer to go with.
Michael is an interesting pickup we should keep an eye on. He fell out of favor in Seattle despite being their leading rusher to this past week, having 4 games with at least 60+ rushing yards and 7 total TDs despite playing behind an atrocity of an offensive line; if he's given chances in Green Bay, he might provide the Packers with a modicum of success on the ground behind a massively better blocking group ahead of him. I'm hesitant to expect the Packers to go right to him though, so I'd say watch him for a couple weeks before making a move on him.
Week 11 Prediction:
Starks – 60 rushing yards, 1 catch, 15 yards, 1 TD; 13.50 fantasy points
Montgomery – 15 rushing yards, 2 catches, 15 yards; 3.00 fantasy points
Michael – 0 rushing yards, 0 catches, 0 yards; 0.00 fantasy points
Verdicts: Low-End Option (Starks); Backup Duty (Montgomery); Check Back In Two Week (Michael)
Week 10 Statistics:
Nelson – 12 catches (18 targets), 126 receiving yards, 1 TD; 18.60 fantasy points
Cobb – 4 catches (8 targets), 31 receiving yards; 3.10 fantasy points
Adams – 6 catches (9 targets), 156 receiving yards; 15.60 fantasy points
While the offense and defense have not played nearly well enough on the field to win games much lately, the fantasy production for the mainstays in the passing game has tended to end up favorable for fantasy players.
Jordy may not be all the way back from his ACL tear prior to 2015 (he isn't), but he's still the top option for Rodgers, and he receives bundles of chances to make something happen. He probably won't see 18 targets this week, but even with Josh Norman likely to be the one lined up against him he should find a way to make some plays and possibly grab a touchdown.
Cobb had a bad showing in Tennessee, and it is becoming a decent question as to whether his contract extension before last year was a mistake. He can still do decently well at times, but he has shown more and more over the past two seasons that he is nowhere near as good of a player as many inside Packerland may believe.
He is one of the guys who routinely has gotten eaten up by the opposing coverages, and has struggled to gain separation with any sort of consistency. I think he can still make an impact against the suspect secondary of Washington, but it will likely rely moreso on busted coverages and short-yardage pickups than his actual ability to find space himself.
Adams is the guy I'm really watching here. He has put up some huge showings in the past month (last four games: 47 targets, 35 catches, 403 yards, 3 TDs), and dropped a 9 catch, 156 yard showing against Tennessee which included multiple big plays to keep Green Bay at least in the conversation for a comeback attempt.
With Norman likely lined up on Nelson, Adams will probably see Bashaud Breeland (PFF's #111-graded cornerback) often, and that is a beatable matchup. Green Bay is in dire need of somebody to be a consistent option for Rodgers to look to for production, and out of anyone on the perimeter Adams has given us the most signs of being able to do that. Combine it with his favorable matchup, and a huge game is not only possible but necessary if Green Bay wants to get back into the winner's circle for a week.
Week 11 Predictions:
Nelson – 6 catches, 75 receiving yards, 1 TD; 13.50 fantasy points
Cobb – 5 catches, 35 receiving yards, 1 TD; 9.50 fantasy points
Adams – 9 catches, 115 receiving yards, 1 TD; 17.50 fantasy points
Verdicts: Positive Output (Nelson); TD Dependent (Cobb); Top-Quality Option (Adams)
Week 10 Statistics:
Rodgers – 4 catches (7 targets), 27 receiving yards; 2.70 fantasy points
Cook – N/A (injured)
It still doesn't make sense to me why the Packers continue to use this man in their plans.
The issues with breaking free in coverage for the entire team are perfectly encapsulated by the other Rodgers succinctly, and my weekly reminder of his lacking ability to break tackles shows that even if he does manage to catch the passes tossed his way he isn't going to do much with them.
I wouldn't expect that performance a couple weeks ago to be repeated, so his fantasy value relies almost completely on catching touchdowns — something he's done just once all season.
The somewhat good news is that Jared Cook might be able to return soon — even in this game possibly. He's not been impressive either, but he adds elements which Rodgers cannot ever hope to reach. His ability to attack defenses with his explosiveness over the middle of the field and up the seam is sorely needed for an offense constantly ground down into ineffective looks with players who can't ever seem to beat their man with consistency.
For now, I'm still leery of Cook showing up on the field however, so it's yet again up to Rodgers to make something happen. He should see a handful of targets, but he likely does little with the ones he actually catches.
Week 11 Predictions:
Rodgers – 4 catches, 30 receiving yards; 3.00 fantasy points
Cook – 0 catches, 0 receiving yards; 0.00 fantasy points
Verdict: Doesn't Merit Consideration (Rodgers); Wait For Now (Cook)
Week 10 Statistics: 1/2 PATs, 2/2 FGs (Made: 29, 38); 7.00 fantasy points
This past month hasn't been good to the Packers as a whole, and even the oft-reliable Crosby hasn't avoided the malaise.
He's missed two field goals and two extra points in the past four games; that followed only 4 misses of any kind from the start of 2015 — including zero missed extra points in that time.
I mentioned in my most recent special teams recap that this may be the time to start being concerned about Crosby's misses, but I think Green Bay will do a better job on offense this week, giving him mostly extra point chances and closer-range field goal tries; that should make it easier for him to bang through all his opportunities.
If you find another kicker who isn't fighting through a relative slump, I might suggest going with them. If not, there is enough reason to hope that Crosby can put a few unfortunate kicks behind him quickly to get back to his multiple years of consistent attempts that came before them.
Week 11 Prediction: 2 FGs (2 30-39), 4/4 XPs; 10.00 fantasy points
Verdict: Decent Showing
Green Bay Defense

Week 10 Statistics: 47 Points Allowed, 2 Sacks; -2.00 fantasy points
This defense has become god-awful.
Part of that undoubtedly is due to injuries (no Sam Shields or Damarious Randall for awhile now, plus an injured Micah Hyde playing in the secondary; no Clay Matthews to rush from the edge for multiple weeks), but the terrible showing this past week was due to far more than that.
It started early with Demarco Murray's 70 yard TD run; at least three guys were caught biting hard on a misdirection. Nobody was prepared for the TD throw by Murray to Delanie Walker either, letting him behind everyone for the score. Tons of different instances where players for Tennessee were open behind the coverage for major gains. Oh and about half of the team's penalties were foolish emotional reactions, most done by veteran stalwarts of the group (Letroy Guion, Mike Daniels, Ha Ha Clinton-Dix were among them).
This week could end up about as bad.
The Titans supposedly didn't have a great receiving corps and still garnered over 300 yards in the air between them; Washington boasts a much more notable unit, and could see similar success. If DeSean Jackson plays (he's questionable), he could tear up the maligned secondary of the Packers for some deep catches. Jordan Reed and Vernon Davis provide Washington with a lethal 2-TE combination and could put in work against the coverage-deficient middle of Green Bay's defense (which is also going to be missing Jake Ryan at ILB).
Jamison Crowder continues to show himself to be a good third option and should win in the slot often. Pierre Garcon (always overlooked) could show up pretty well here too. Even the formerly dead-on-arrival rushing attack for Washington has come to life despite not having names casual fans would know about lining up back there (#9 in Rush Offense DVOA).
To succeed, the defense will have to start by taking away the rushing threat (which I think they can do) and then hoping that forcing Washington into being one-dimensional will give them some chances to force mistakes. I don't expect they can do that second part regardless of how they fare against the first part however, so this score could get out of hand yet again on the Packers.
Whether the Packers win or lose here, I don't see the Green Bay defense doing much to help their cause.
Week 11 Prediction:
38 Points Against, 2 Sacks, 1 INT; 0.00 fantasy points
Verdict: Go Elsewhere
This article originally appeared on