Green Bay Packers: Fantasy football profile Week 10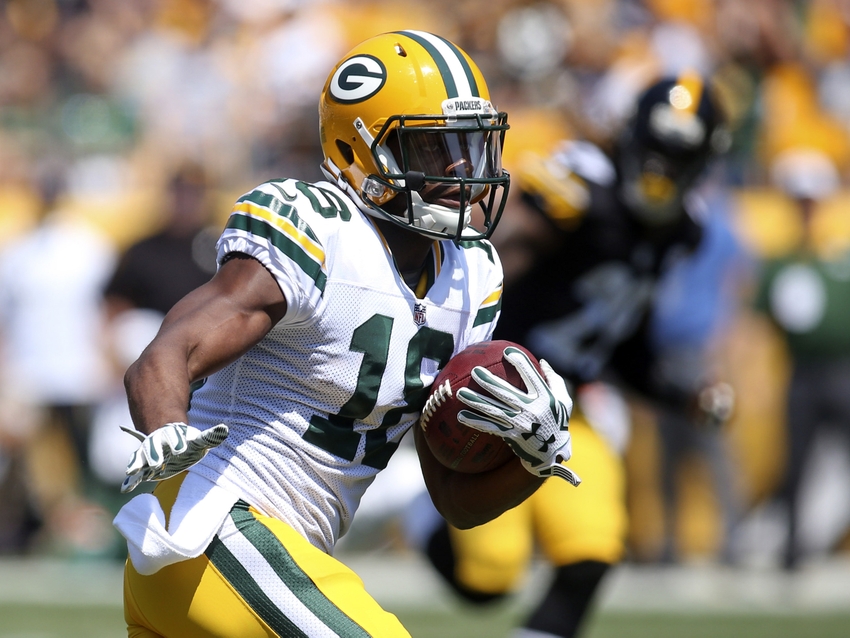 The Green Bay Packers put up a clunker of an effort against the Indianapolis Colts. A late comeback attempt made things close and nearly let them steal a victory they never should have been near, but from the jump the team was behind and couldn't get out of their own way in falling behind 31-13 beforehand.
Fantasy-wise however, that comeback gave plenty of players a pretty decent showing — and those who have Green Bay players on their fantasy teams should see another one here.
Green Bay has a tough matchup to begin a three-game road trip, facing the Tennessee Titans. the Titans are not a great team, but they do well in certain areas and will make things tough on their opposition.
Let's see how some of Green Bay's key players might end up doing against them.
Disclaimer: For any fantasy scoring numbers, I will be using those generated by Yahoo! fantasy football. It is the system on which I've played a majority of my fantasy football over the years – and currently play. Other setups are fine – I've worked with ESPN and NFL fantasy football teams in the past – but seeing as I have the most experience using this scoring system, I'll stick with using their methods of scoring.
Week 9 Statistics: 
26/43, 297 passing yards, 3 passing TDs, 1 INT, 43 rushing yards; 27.18 fantasy points
Rodgers and his offense, despite their 26 points, did not have a great day.
Despite a terrible defense across from them (per Football Outsiders, Indianapolis ranks #30 in Weighted Defensive DVOA) and a ton of positive opportunities, Green Bay found little consistency until they were down 31-13.
At that point, Rodgers had gone just 16/31 for 178 yards, 1 TD and 1 INT. The next two Packers drives saw him lead the offense through the air for 119 yards on 10/12 passing and the two TDs (as well as 21 of his rushing yards) to salvage his fantasy performance and give the team at least one last chance to win if they could get the ball back.
Of course they never did, but the offense showed the kind of urgency and playmaking which proves it is there for them somewhere; the team just must actually find a way to harness it more effectively without putting themselves in such drastically bad circumstances first.
Part of the problem could be alleviated if they get themselves to the red zone more frequently. Per Football Outsiders' drive stats (updated through 8 weeks, so the Colts game is not included), Green Bay has the 20th-best average starting field position in the league. Constant long drives can make it difficult on an offense to get themselves in scoring position, and elevates the odds of having ones which fall short. The issues striking the Green Bay running game also don't help those matters; passes may accumulate more yardage than runs, but when a team cannot trust in their ability to hand off the ball for gains on occasion it hampers their ability to move up the field with consistency.
Once in the red zone, the offense rates average as a whole (per Football Outsiders, they rank #17 in points per red zone drive and #14 in TDs per red zone drive), but they have multiple individual players who have proven to be strong performers in that area — of course led by Rodgers. Though his accuracy has been somewhat subpar so far (57.89% completion percentage) he has a 17-0 TD-INT ratio there. He also has multiple capable receiving targets in that area; per Pro Football Reference, Jordy Nelson (6 TDs), Davante Adams (4 TDs), and Randall Cobb (3 TDs) each are among the 25 top-rated red zone receivers through 9 weeks.
Against Tennessee, it may be difficult to get in that area again however. Per Football Outsiders' drive stats, the Titans have had the 5th-best average defensive starting field position in the league while having the 11th-best defensive drive success (meaning: drives that result in a first down or TD); suffice to say, they pin the opposition back with regularity and force them into failed drives.
Fortunately, their pass defense is exploitable (#27 in Pass Defense DVOA), so Rodgers should be able to find his litany of targets on the afternoon. Drives may not always reach the end zone, but a good number of them should provide points to the Packers — and add up to a strong fantasy outing for fantasy players.
Week 10 Prediction:  
300 passing yards, 2 passing TDs, 35 rush yards; 23.50 fantasy points
Verdict: Strong Showing
RB – Ty Montgomery

Week 9 Statistics:
Montgomery – 7 carries, 53 rushing yards, 3 catches (3 targets), 38 yards; 9.10 fantasy points
Yahoo finally jumped in on the wagon and added Montgomery to the running back pool for this week. That bodes well for any of you out there looking for some RB help as the fantasy season gets closer towards the playoffs.
Montgomery didn't do much running in his return to the field against the Colts — but when he did, he was effective. Honestly, the Packers should have turned to him more in the early going before the score climbed to the point where running wasn't viable; still, when combined with his usage in the passing game he had an alright performance.
Montgomery isn't exactly a high-quality running option in fantasy on his running skills alone, but the receiving yardage he picks up on routes out of the backfield makes him a decent option to turn to if you (like many out there) have found your runner options to be lacking as the season has progressed.
Tennessee probably isn't a great matchup from the running aspect (#12 in Run Defense DVOA), but as long as he is given a decent amount of carries he should pile up enough yardage between his rushes and catches (Tennessee is #30 in DVOA against running backs in pass coverage) to give a boost in his first Yahoo week of running back availability to warrant some thought.
It would be nice to see him add in more scoring potential, but the combined rushing and receiving yardage he tends to get alone make him at worst a low bar option to run with.
Week 10 Prediction:
Montgomery – 70 rushing yards, 8 catches, 60 yards; 13.00 fantasy points
Verdicts: Long shot injury replacement (Montgomery)
Week 9 Statistics:
Nelson – 7 catches (13 targets), 94 receiving yards, 1 TD; 15.40 fantasy points
Cobb – 2 catches (2 targets), 14 receiving yards, 1 rush, 0 yards, 1 TD; 7.40 fantasy points
Adams – 4 catches (8 targets), 41 receiving yards, 1 TD; 10.10 fantasy points
Janis – 1 catch (2 targets), 25 receiving yards; 2.50 fantasy points
With health returning to Cobb, this group has officially returned to being pretty much just a three-man attack.
Nelson continues to have a good season. A glut of TDs has made up most of his fantasy value so far to make up for the inconsistencies he's experienced during his first season back from a torn ACL, but as the weeks go by he should continue to do better in that regard. Here, he faces a subpar Tennessee pass defense that likely lines up Jason McCourty against him; he's been pretty good after an awful 2015, but Nelson should be able to find enough room for a few intermediate gains against him.
Cobb didn't see much time on the field last week as the Packers decided to try holding off on using him if possible (he missed the previous game due to a hamstring injury).
When he did play the results were mixed; he fumbled on a rush attempt and caught only two passes, but a late TD catch was one of them to salvage his fantasy output. This week should see him come back even better, and his expected matchup (Brice McCain) is a below-average slot corner; that could spell a big day.
For now, I'm thinking he'll end up as a moderately-utilized short-field option, picking up small chunks underneath while the coverage focuses on preventing big plays.
Adams has mostly cooled down after a couple high-usage weeks, but even with a lessened workload he saw close to double-digit targets. He also was the recipient of a 40 yard toss by Rodgers, as well as a TD in the Packers' late comeback attempt. He should keep up his modest usage with the guys around him healthier, and fight his way to another decent showing — hopefully putting his strong red-zone work on display again.
With the team attempting to try doing well without Cobb, Janis was the main beneficiary. While his counterparts Geronimo Allison and Trevor Davis saw few snaps in the stead of Cobb, Janis saw his fourth straight game with at least 32 offensive plays.
He was close to rewarding Green Bay with a huge day too, but he failed to haul in a deep pass from Rodgers; had he caught it, he likely has a TD on that play and that game could have been a whole lot different. Even with Cobb returning, Janis should still see a decent amount of snaps; he's just going to have to prove to us that he's able to capitalize and make the sort of plays he has gotten tantalizingly close to bringing to fruition.
Week 10 Predictions:
Nelson – 6 catches, 70 receiving yards; 7.00 fantasy points
Cobb – 7 catches, 50 receiving yards, 10 rushing yards, 1 TD; 12.00 fantasy points
Adams – 7 catches, 75 receiving yards, 1 TD; 13.50 fantasy points
Janis – 1 catch, 15 receiving yards; 1.50 fantasy points
Verdicts: Decent Afternoon (Nelson); Back To Usual Workload (Cobb); Top Showing Of The Group (Adams); Speed Threat (Janis)
Week 9 Statistics:
Rodgers – 6 catches (10 targets), 64 receiving yards; 6.40 fantasy points
Most weeks, this is my chance to vent out my frustrations and lay into a guy who provides a sizable chunk of the ones which are in regards to this team. This week, I actually have good things to say, and I'm thrilled.
I'll first begin by saying I was incorrect about something: Rodgers has broken a tackle before! Those who follow this weekly article know I always bring up the fact that I've never seen him do so, and with no evidence to prove otherwise (despite more time than I'd like to admit searching for it) I genuinely believed it.
It felt too ridiculous to be true though, so I asked around to those who may be privy to that sort of thing. Well, last week one of the guys at Pro Football Focus graciously took the time to look it up for me. According to their data and observations, he hasn't broken any this year, but he had two as a rookie and a whopping seven in 2015. Color me flabbergasted, and congrats to him for that.
Now back to the game action.
Though it has rarely been the case this season, Rodgers put up a decent performance for fantasy players in last week's contest. He saw double-digit targets and caught over half of them, providing his quarterback the sort of reliable outlet the team has hoped he could be. For at least one week, he put on the docket a solid reason as to why Green Bay has continued to line him up out there.
Based on the way most of this year has gone however, this feels more like a blip than a trend. Green Bay has proven they will keep giving him chances out there, but unless those chances come with a TD he is a bottom of the barrel option for fantasy teams. He just doesn't offer the dynamism to bust open a play (hence the "never broken a tackle" narrative) and needs a handful of completed catches to even be a low-end fantasy producer. With healthy options all around him, that isn't likely to happen often.
Week 10 Predictions:
Rodgers – 3 catches, 20 receiving yards; 2.00 fantasy points

Verdict: Back To The Norm
Week 9 Statistics: 2/2 PATs, 2/3 FGs (Made: 34, 27; Miss: 48); 8.00 fantasy points
Last week was a rough go for a lot of different areas on this team, and it even hit Green Bay's ever-reliable kicker.
His first kickoff was badly placed and helped cause the game-opening TD by the Colts, but it didn't stop there.
In terms of what relates to his fantasy value, we saw Crosby miss his second field goal of the season, a 48 yard off-target shot which turned an early INT into no points.
Despite his mistakes, Crosby still had a relatively okay fantasy showing — and this week should be about the same.
I mentioned the drive stats earlier; if those hold up for the Titans, Crosby should have a decent showing. Based on the fact that he hasn't missed often in the past four years means we should see all those chances go through, likely boosting his fantasy scoring into the double digits.
Week 10 Prediction: 3 FGs (2 30-39, 1 40-49 yards), 2/2 XPs; 12.00 fantasy points
Verdict: Strong Performance
Green Bay Defense

Week 9 Statistics: 31 Points Allowed, 2 Sacks, 2 INTs; 5.00 fantasy points
Green Bay's defense seemed to have a good matchup: a one-trick pony of an offense (albeit one led by a stellar QB) that cannot run the ball and had only one wide receiver of notability.
I definitely underrated their abilities, and apparently so did the Packers.
Luck had some mistakes early, but he led his group to 31 points while standing up through tackle attempts and hitting guys beyond his usual T.Y. Hilton-centric approach (namely Jack Doyle and Donte Moncrief). Frank Gore even had a strong day on the ground behind his two TD runs.
The matchup this week is a vastly different sort.
Marcus Mariota is nowhere near as consistently great as Luck as a passer, but he does bring more of a running threat to the equation. Their offense runs what their coach called "exotic smashmouth", led by a resurgent Demarco Murray and 2nd round pick Derrick Henry. Behind these areas, Tennessee ranks as the #8 offense by DVOA, #8 by Weighted DVOA, #7 by rushing DVOA, and #7 by passing DVOA.
Green Bay could be without Clay Matthews yet again — damaging their ability to rush the passer — so the pass defense (still missing multiple key players at cornerback too) could have problems even though there isn't any individual player who should particularly scare them.
If their run defense (#6 in rush defense DVOA) is able to stand up to another strong rushing opponent (mixed results against top running teams; Atlanta was slowed in that facet, but the Cowboys blew them out of the water), they could force Mariota into having to come from behind — where he may make some mistakes.
A close contest probably doesn't bode well — strong running games hold control over time of possession, meaning less drives and opportunities for the opposing offense — so the defense's production might be tied to whether or not the Packers' offense can get off to a hot start.
As evidenced earlier, I think they'll have an okay showing on offense, but not the kind which keeps the running game from being a factor. I expect the Green Bay defense to show us an effort kind of like the one managed against the Colts: make it difficult most of the way, but give up a couple big plays in the red-zone. That will keep Tennesse close on the scoreboard, but a couple mistakes could still be forced on Mariota that upend their chances.
Those potential turnovers will be key, not only for the Packers' chances at winning but also how well the defense producing in fantasy football. With them, this unit is a low-end play; without, stay far away.
Week 10 Prediction:
20 Points Against, 1 Sack, 1 INT, 1 Fumble Recovery; 6.00 fantasy points
Verdict: Turnover-Dependent Play
This article originally appeared on