Green Bay Packers: Falcons scouting report ahead of NFC Championship Game
Freddie Boston/FanSided via Lombardi Ave

Fansided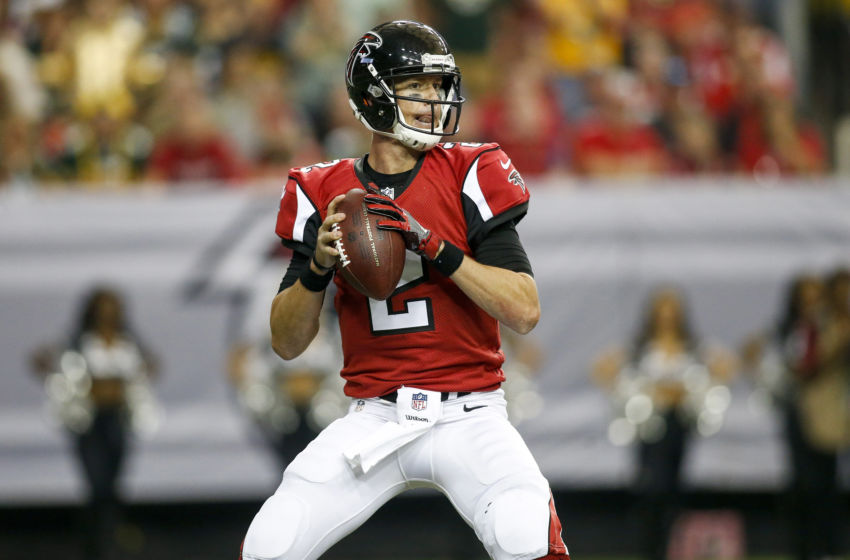 What can the Green Bay Packers expect from the Atlanta Falcons in the NFC Championship Game?
Now more than ever, the Packers need their red-hot quarterback to carry them to the Super Bowl. Stopping Atlanta's high-powered offense will be every bit as difficult as it was in Week 8, when the Falcons scored late to beat the Packers, 33-32.
ANALYSIS: Can Aaron Rodgers be stopped?
Dan Quinn's young guns dominate weekly highlight reels with their dazzling offense and dominant second-year pass rusher. Beating the Falcons is no longer as simple as containing Julio Jones. They can now with both through the air and on the ground.
To better understand the Packers' title game opponents, it's important to sneak a look behind the curtain. What ingredients have turned an 8-8 team that collapsed in the midst of a playoff push into an NFC force with Super Bowl ambitions?
Twelve long weeks have passed since these two met inside the Georgia Dome. Green Bay's loss that afternoon began a four-game skid, but the Pack caught fire shortly after and return to Atlanta as the hottest team in football.
Let's take a closer look at the Atlanta Falcons.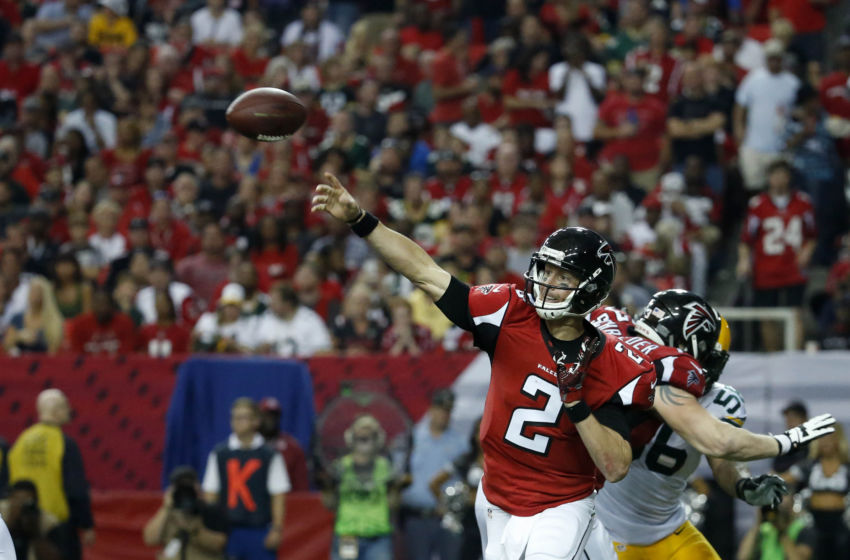 Matt Ryan's name isn't typically associated with the league MVP award, but it's entirely justified this year. Ryan's transformation in Kyle Shanahan's offense has helped the Falcons go from a frustrating, inconsistent football team to a Super Bowl contender.
Watching Ryan last year, it was clear something wasn't right. His game became plagued with mental errors. A new, complicated system appeared to take its toll as a red-hot start slipped into mediocrity. Shanahan's offense lacked an outside threat not named Julio Jones, and the unit became predictable as Ryan threw Jones' way no matter the coverage.
Change began in the offseason. Falcons general manager Thomas Dimitroff spent big to land wide receiver Mohamed Sanu and Pro Bowl center Alex Mack. He wasn't done, though, turning to tight end Austin Hooper in the draft.
Ryan's focus in the offseason was to ensure his entire offense was up to speed. He hosted and paid for a three-day passing camp with his teammates in South Florida last winter to get a head start on the offseason program, commitment that has paid off on the field. Ryan was intent on cleaning up his mistakes and ironing out the kinks in Shanahan's playbook.
He wasn't done there. Ryan's deep ball was never his biggest strength, so he turned to ex-pitchers Tom House and Adam Dedeaux at the 3DQB training facility to improve this area of his game. He worked with them for six weeks, as ESPN's Vaughn McClure detailed in an excellent report last August.
Enter 2016 Matt Ryan, no longer a quarterback stuck in the mud and making critical errors. He's now thriving in Atlanta's creative offense. Gone are the days of peppering Jones with targets no matter the situation. Ryan can win without his superstar receiver, making the Falcons' high-scoring unit as dangerous as any.
Ryan's ability to execute Shanahan's scheme, take care of the football and throw with pin-point accuracy makes him the X-Factor in the NFC Championship Game. If Ryan picks out his receivers with the ease he did versus Green Bay in Week 8, there may be no stopping this explosive offense.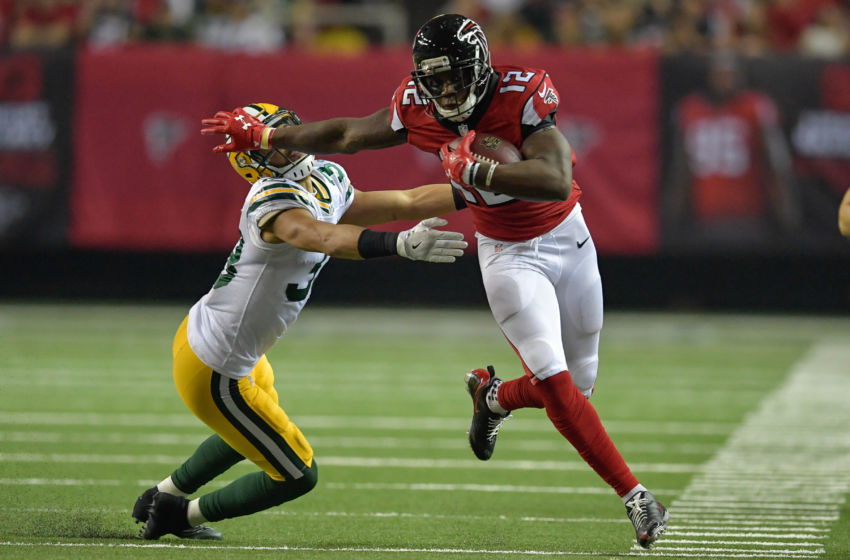 Falcons offense
First in points per game, second in total yards per game, second in passing touchdowns and third in rushing touchdowns, Atlanta's offense was head and shoulders above the rest of the league throughout the regular season.
Key to the Falcons' success is the number of ways they can beat you. No longer relying on the production of Julio Jones to succeed, Kyle Shanahan's unit has emerged as arguably the NFL's best. According to TeamRankings.com, Atlanta only calls passing plays 57.71 percent of the time, No. 22 in the NFL, making them one of the most balanced offenses in the league.
And unlike many of the other more "balanced" teams, such as Houston and San Francisco, it isn't due to poor production through the air. Atlanta can throw the football just as well as it runs it. Matt Ryan orchestrates the league's most explosive offense, and he has no shortage of weapons surrounding him.
He's also protected by a premier offensive line. Center Alex Mack might prove to be the league's best free agent acquisition of the season. The play of tackles Jake Matthews and Ryan Schraeder ensures Ryan has time in the pocket to dissect his opponents.
It would be easy to assume Julio Jones is the player to watch. If Jones breaks out a big day, it may end Green Bay's Super Bowl dreams. But as we saw in 2014, the Packers can beat Atlanta even when Ryan's top target is on fire.
Jones lit up the Pack's secondary on a frozen Lambeau evening two years ago to the tune of 259 yards and a touchdown. Green Bay still won, 43-37.
The biggest threat is Devonta Freeman. If Atlanta tries to slow the pace of the game and keep Aaron Rodgers off the field, its power run game can help them do it. Beware the speed and big-play ability of Tevin Coleman, but it's Freeman's wide skill set that should truly panic Dom Capers.
Freeman explodes through his running lanes, fights between the tackles and is deadly in open space. Few backs are as talented catching the football as the third-year man.
If the Falcons try to pound the rock, Freeman must be stopped.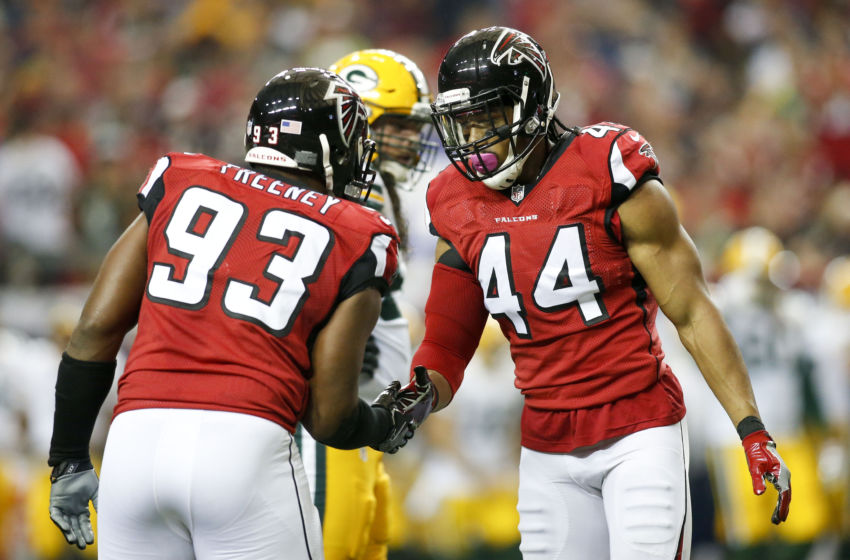 Falcons defense
If there's a weakness to the NFC's second seed, it lies on defense. For all of the dazzling offense we've seen from Atlanta this year, it's young defensive unit can be exploited.
Dan Quinn has overseen a number of improvements since taking the reigns in 2015. He inherited the league's worst passing defense from 2014, a unit that posted just 22 sacks, third-fewest in the NFL. Surrendering yardage through the air remains an issue, although it's worth noting many opponents have been playing catchup. Quinn's pass rush is no longer among the league's worst, the NFL's sack champion now residing in Atlanta.
Vic Beasley accounted for 15.5 of Atlanta's 34 regular season sacks. They did lose Adrian Clayborn—second on the team with 4.5 sacks—for the remainder of the postseason during last week's win over Seattle. The Falcons are also without Pro Bowl cornerback Desmond Trufant, lost in midseason with a shoulder injury.
Aaron Rodgers has shredded tougher defenses, and the Packers' only route to the Super Bowl is if Rodgers can dominate through the air as he did against the same opponent in October.
Quinn's buzzword when he arrived in Atlanta was to bring with him a "fast and physical" style. And there might not be a faster defense than this one. Beasley wins with his elite speed, as does rookie linebacker Deion Jones, the Falcons' second-round pick last spring an immediate hit in Quinn's defense. Although on the small side at 6-foot-1, 222 pounds, Jones makes up for it with his elite speed and athleticism.
He has a nose for the football, registering four interceptions, 12 defended passes, a forced fumble and two touchdowns on the year (including playoffs).
You want physicality? Say hello to Keanu Neal. Blogging Dirty's Eric Robinson once described Neal as a "heat-seeking missile". One hit from the rookie safety is one too many. Neal has adopted a Kam Chancellor-esque role in Atlanta's defense, ideal in Quinn's scheme, the former defensive coordinator in Seattle. Neal is a force against the run and creates turnovers, his five forced fumbles good for second in the NFL, but the rookie can be exposed in coverage.
The Falcons secondary remains a talented group even without star corner Trufant, but it's not one to fear. Robert Alford is talented, and second-year corner Jalen Collins has elevated his game in the absence of Trufant, but Rodgers should still have no issue fizzing the ball around the field.
With no Trufant to worry about, Green Bay can have its way with Atlanta's secondary. A key will be preventing Vic Beasley taking over the game. Beasley's elite speed makes him a dangerous rusher on the Georgia Dome's fast track.
Tackles David Bakhtiari and Bryan Bulaga will have their hands full. The Packers need both fully healthy to keep Rodgers upright. If Beasley is kept quiet, Clayborn's injury may prove to be more damaging than it may first appear.
If Atlanta's rush is held in check, it's advantage Green Bay.
This article originally appeared on