Green Bay Packers draft radar: Four college players to watch Week 3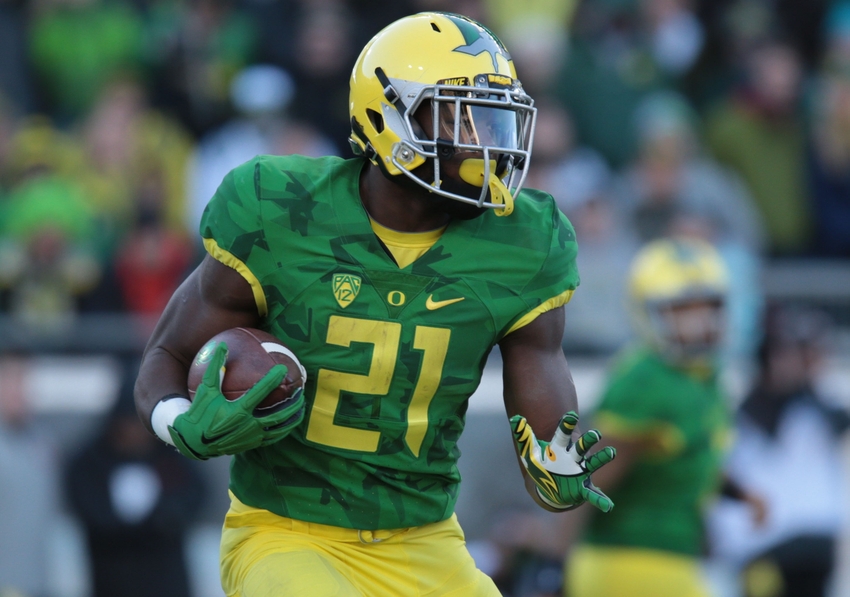 In this weekly series, we highlight four college football players to watch over the weekend that could be on the Green Bay Packers radar for the 2017 NFL Draft.
After two weeks of exciting college football, week three promises some notable matchups between several college football heavyweights.
Alabama will travel down to Oxford, Mississippi to take on SEC rival Ole Miss, while ACC juggernauts Florida State and Louisville will square off in what should be an exciting offensive showdown.
Texas A&M vs Auburn and Mississippi State vs LSU are two more SEC games riddled with potential NFL talent, and Ohio State-Oklahoma and USC-Stanford cap off a Saturday rich in prospect evaluation.
However, it's tough to watch all of the games, and its nearly impossible to pay attention to every NFL prospect at the collegiate level on any given weekend.
So, here are four players I believe as Packers fans we should take note of this Saturday. They are players that could meet potential needs on Green Bay's roster and should be highly valued come draft day.
Let's begin with an edge rusher. Next year's class already looks full of talented pass rushers who should warrant early-round grades.
While players like Myles Garrett or Carl Lawson will most likely be out of the Packers range, look out for players like Fields who could go anywhere from the end of the first round to late on day two.
Fields is an edge player in every sense of the word and his scheme versatility could be valuable for a team like Green Bay. In Louisville's defense, Fields will line up at either defensive end spot or stand up and play outside linebacker. He's even rushed from inside linebacker or as an interior defensive lineman.
This Saturday watch how creatively the Cardinals use him on defense against the Seminoles. Measuring in at 6-foot-4 and 245 pounds, Fields has the wingspan to win on the edge with length and athleticism.
He has a quick burst off the line, but he's also an excellent run defender. Last year, he recorded 64 tackles, 22.5 tackles for loss, 11 sacks, and 12 quarterback hits. He came on strong late in the season, recording 9.5 of his sacks in the last four games, showing he can be a true impact player on the field.
Fields is already off to a strong start this year (8 tackles, 1 sack, 2 PBUs) and will get one of his best tests squaring off against the Florida State offensive line. When he's lined up on the right side of the defense, take note on how well he fairs against FSU left tackle Roderick Johnson, who many consider to be an early-round talent in next year's draft.
When to Watch: Florida State vs Louisville this Saturday on ABC 11 am central
Last year, I heard rumblings from many draft analysts and scouts that there was a linebacker on Alabama's defense that was better than Reggie Ragland. This was hard to believe until I watched the tape of Reuben Foster.
Foster's performance against Clemson in the National Championship game is still one of the most impressive pieces of film to watch on a linebacker prospect.  It was the perfect finish for the junior linebacker on a year where he recorded 73 tackles, eight for a loss, and nine pass breakups.
Like Ragland, Foster is a physical force against the run. He lays down the hammer and plays violent between the tackles. He also possesses the speed and athleticism to chase down ball carriers on the perimeter.
However, one area Foster has an edge over Ragland is in pass coverage. He can trail tight ends over the middle of the field or sit in a mid-zone and close in on the ball to make the open field stop or breakup the pass.
Foster will face a good test this week, however. Ole Miss is the SEC's third-ranked scoring offense (36 ppg), and the talented Alabama linebacker will be tasked with covering athletic tight end Evan Engram. Engram leads the Rebels in receiving with 11 receptions for 164 yards, and he's a highly touted pro prospect in his own right.
It will be a good challenge for Foster and the Crimson Tide defense.
When to Watch: Alabama vs Ole Miss this Saturday on CBS 2:30 pm central
Running back may not be a major need on the Packers roster next offseason, depending on what happens with Eddie Lacy this year. Green Bay could still offer him a contract extension if he's productive this season.
However, James Starks will turn 31 this spring and will only have one year left on his contract. Green Bay could use another young dynamic back on offense.
Freeman is certainly an explosive runner. He's been a big-time playmaker in Oregon's offense for sometime now, and his experience in the no-huddle offense could be enticing for a team like the Packers.
Already in the 2016 season, Freeman leads the PAC-12 in rushing with 294 yards. What's even more impressive though is he's had this production on 32 carries, giving him an impressive 9.19 yards per carry average. He's also scored four touchdowns on the ground in the first two weeks.
Freeman is already coming off a season where he ran for 1836 yards and scored 19 touchdowns, while maintaining a 6.5 rushing average throughout the season.
He's a great blend of power, agility, and straight-line speed. He's also a tremendous receiver out of the backfield and should make an immediate impact on an NFL roster as a rookie.
Not many people talk about Freeman when it comes to the 2017 draft class because players like Leonard Fournette, Christian McCaffrey, and Nick Chubb headline the position, but don't sleep on the 5-foot-11, 230-pound back from Oregon. He's making a strong case for himself to be considered one of the top backs in the 2017 draft.
Freeman will get a good test this week against Nebraska. The Corn Huskers rank second in the Big Ten in run defense, only allowing 81 yards per game on the ground. If Freeman shows good production on Saturday, he should garner more national recognition.
When to Watch: Oregon vs Nebraska this Saturday on ABC 2:30 pm central
With LSU's defense full of next-level talent, it's easy to overlook a guy like Godchaux. However, the Tigers defensive end continues to be one of their most solid players each and every week.
Against Wisconsin's high-powered ground game, Godchaux was active at the line of scrimmage, recording a team-leading nine stops. Not bad for a 3-4 end whose primary responsibility is to take on double teams so his linebackers can make plays.
Godchaux may only be listed at 6-foot-3 and 299 pounds, but he plays like one of the biggest players on the field. He can play either end or nose in a 3-4 front and shows the proper technique and leverage to hold the point of attack and consistently win at the line of scrimmage.
This week Godchaux will face Mississippi State, who currently stand as the SEC's second-ranked rushing offense. It will be a good test for the junior defensive lineman and the Tigers defense.
The Packers could use more depth on the defensive line, so players who excel in the 3-4 front in college could hold some extra value to a team like Green Bay come draft season.
When to Watch: Mississippi State vs LSU this Saturday on ABC 6 pm central
This article originally appeared on