Green Bay Packers draft radar: Four college players to watch Week 2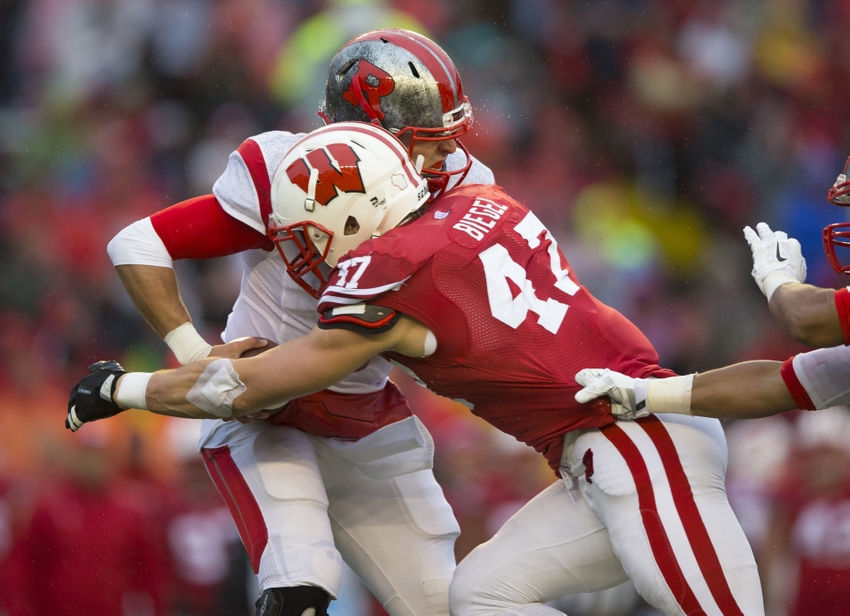 Green Bay Packers fans know it's a new NFL season that's about to begin this Sunday. We'll get our first true look at the 2016 Green Bay Packers. It's always an exciting time of the year.
However, September also signifies the start of the college football season. And while it's way too early to think about the NFL Draft or the Packers' roster needs beyond this year, I do want to take a moment each week to highlight a few collegiate players we should pay attention to as Packers fans.
Now, we don't know exactly know what the Packers' needs will be next spring. A lot over the course of this season could determine that, so the type of players I highlight each week will most likely change and evolve as the football season progresses.
However, it's never too early to start scouting players and take note of the next generation of NFL talent.
With a lot of college football action this weekend, here are four players to whom we should pay particularly close attention. They could very well be guys the Packers target next spring.
Davis is easily one of the top linebackers in college football. Expect him to get early-round considerations in next year's draft. Last week in the season opener against UMass, Davis was all over the field making plays. He recorded nine stops, one sack, and one pass breakup.
Davis is an athletic 6-1, 238-pound linebacker with good sideline-to-sideline speed who plays with tremendous instincts. He always seems to be in the right place on the field.
He also makes plenty of plays behind the line of scrimmage (11 TFL and 3.5 sacks last year) and shows a tenacity that any defense could use in their front seven.
On the brink of the 2016 season, Blake Martinez seems like a solid player at inside linebacker for Green Bay and could end up being a major steal in the fourth round. However, despite the promising rookie, the Packers inside linebacker position remains very thin on the roster.
Green Bay could target another linebacker in the first few rounds next year to accompany Martinez and second-year man Jake Ryan. Davis's ability to be a true three-down player would go a long way in bringing depth to the position.
When to Watch: Kentucky vs Florida this Saturday on CBS at 2:30 pm central
If you haven't had a chance to watch Biegel yet, I highly recommend you tune into a Wisconsin game and take note of No. 47 on the field. The Badgers edge rusher possesses all of the next-level traits teams look for in a 3-4 outside linebacker.
Biegel was an active run defender on the edge against LSU's powerhouse ground game last week in Wisconsin's stunning 16-14 victory over the Tigers. The kid from Wisconsin Rapids also wreaked havoc in the pocket and even recorded a sack at a crucial point in the game.
The 6-foot-4, 245-pound linebacker has the frame and explosive ability to excel on the edge as a 3-4 defender in the NFL. He's a natural fit for a team like the Packers, who may be in need next year for outside linebacker help. Julius Peppers, Datone Jones, and Nick Perry are all in the last year of their contracts.
While it's unlikely all three will depart after this season, the fact the Packers may lose any of the three could put them in the running for a gifted edge rusher in the first few rounds of the draft.
When to Watch: Wisconsin vs Akron this Saturday on Big Ten Network at 2:30 pm central
It's no secret the Packers are thin on the defensive line, and while they have youth in their favor at the position, they still need more big bodies to clog running lanes and take on double teams. Defensive line will definitely be a primary position I'll scout throughout the college season.
One early standout already is Michigan's Chris Wormley. The 6-foot-5, 300-pound defensive end caught my attention last season, where he registered 43 tackles, 14.5 tackles for loss, and 6.5 sacks. He's a tremendous run defender and appears to be an ideal fit as a five-technique defensive end in the NFL.
However, Wormley offers a balanced game. He can take on double teams, two-gap on the edge, and he can rush the passer as an interior defensive lineman in nickel looks. His combination of size, length, and athleticism are rare in college defensive linemen.
He'll get overlooked a lot because of the incredible talent the Wolverines have on both sides of the ball, but Wormley could very well be the top player to come out of the program this spring.
When to Watch: UCF vs Michigan this Saturday on ABC at 11 am central
Ford gained national recognition last year with a solid sophomore campaign. He led the Hokies in receiving with 75 receptions for 1,164 yards and 11 touchdowns. One game into the 2016 season, and Ford seems to have picked up right where he left off.
In a 36-13 victory over Liberty last week, Ford hauled in 11 receptions for 117 yards and a touchdown. He'll be tested more this week squaring off against one of the top cornerbacks in the FBS in Tennessee's Cam Sutton–who many believe is an early-round prospect in his own right.
It will certainly be a matchup to pay attention to this weekend. Ford could make a case as a top-five wide receiver prospect in the 2017 draft class.
If the Packers still struggle to find young ascending talent at the wide receiver position beyond Jordy Nelson and Randall Cobb during the 2016 season then adding another talented wide receiver in the early rounds could be a real possibility for Green Bay in the draft.
Ford would fit well in their offense as a boundary receiver. He has size (6-2, 195), a long wingspan, and good top-end speed (4.45). He makes plenty of plays downfield and would be an effective deep-threat receiver to line up opposite Nelson on the boundary.
When to Watch: Tennessee vs Virginia Tech this Saturday on ABC at 7 pm central
This article originally appeared on