Green Bay Packers draft radar: Four college players to watch in Week 11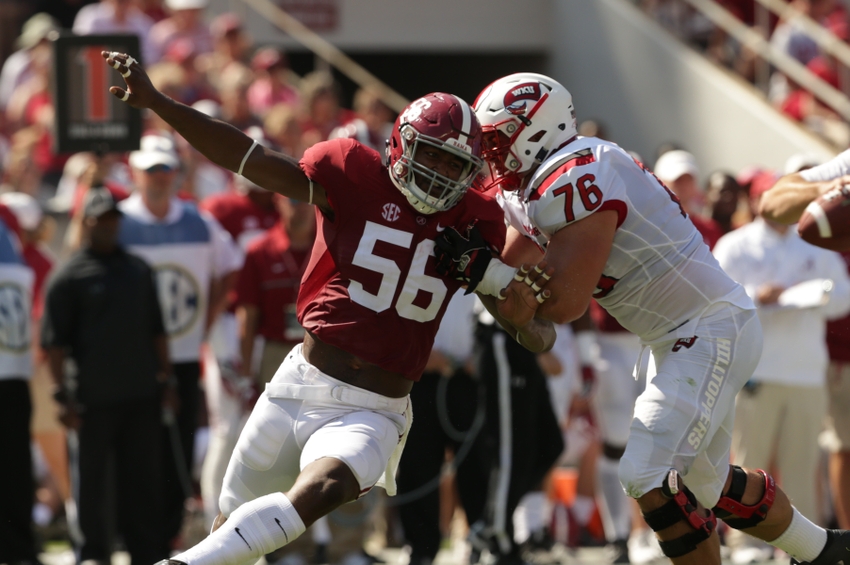 In this weekly series, we highlight four college football players to watch over the weekend that could be on the Green Bay Packers radar for the 2017 NFL Draft.
The Packers currently sit at 4-4 and the rest of their season could really go in any direction. It's apparent at this point Green Bay has plenty of holes on their roster that will need to be addressed in the offseason.
The Packers' position needs could also change depending on what happens with the handful of players set to hit the free agent market in March.
Based on how their roster projects next offseason, here are four college players playing this Saturday that could help shore up issues with their depth chart in the future.
The Packers may be in short supply of good pass rushers next season, and Williams would give them a player built for the 3-4 outside linebacker position.
Without a doubt, Williams is one of the most gifted athletes in the upcoming draft. However, his game is not complete at this point. He has yet to prove he's a true three-down player, and while he's an excellent pass rusher, Williams only plays a handful of snaps on early downs against the run.
This could hurt Williams' draft stock come April. He has all of the rare athletic traits to warrant a top-20 selection, but he could fall down some draft boards because some teams may question his ability to defend the run. This may make available for a team like Green Bay that could use a pass rushing specialists on third downs.
As an edge rusher, Williams creates constant havoc for opposing quarterbacks. He has already recorded seven sacks and eight hurries this season. This is coming off a year where he notched 10.5 sacks and four hurries in a part-time role as a junior.
At 6-foot-4 and 252 pounds–approximately 20 pounds heavier than last season–Williams has the size, length, and explosive athleticism to develop into  true difference maker on the edge.
He'd work well in Green Bay's rotation of Clay Matthews, Nick Perry, and Kyler Fackrell.
When to Watch: Mississippi State vs Alabama this Saturday on ESPN at 11 am central
Freeman is a big bruising back (6-1, 249) with good straight-line speed. He can lower his shoulders and flatten defenders, and he's tough to bring down when he gets a good head of steam.
The Packers tend to prefer bigger halfbacks in their offense, and Freeman is just that. However, he also displays nifty feet and can make quick cuts to change direction and expose openings in a front seven.
Freeman is a compact 249 pounds, and he's very explosive for his size. He's already rushed for 1446 yards this season and 13 touchdowns. He's averaged a whopping 7.02 yards per carry and is the heart of the Longhorns offense. Not bad for a guy who had to split carries last year.
If the Packers decided not to re-sign Eddie Lacy or if they cut ties with James Starks after this season, Freeman could be a prospect they target this spring.
When to Watch: West Virginia vs Texas this Saturday on FS1 at 11 am central
One thing that has been missing on defense this year for the Packers is the ability to force turnovers.
Eight games into the season and Green Bay's defensive backfield has only come up with four picks, two of the four coming last week by Ha Ha Clinton-Dix.
It was not that long ago that the Packers defense built their identity around pressuring the quarterback and forcing turnovers. The latter part has gone by the wayside over the past year.
The Packers simply need more playmakers on defense, especially in their secondary. King could be a player that would fit nicely into Dom Capers' system.
While he doesn't have the size (5-11, 200) or top-end speed (4.53) many teams desire in a cornerback prospect, he does show tremendous instincts and awareness on the field. He makes a ton of plays both against the run and in coverage.
He's a sure tackler out in space and has a knack for making plays on the ball. In the past three seasons as a starter in the Hawkeyes defense, King has notched 12 interceptions and 24 pass breakups.
He can play over the slot or on the boundary. I like him a lot as a nickel cornerback in Capers scheme, where he can offer run support or make plays on the ball over the middle of the field.
When to Watch: Michigan vs Iowa this Saturday on ABC at 7 pm central
The Packers should target more skill position players in the draft next spring. While they have plenty of intriguing young receiver prospects on their roster, they still need to continue adding to the position until reliable playmakers emerge on offense.
Stringfellow may get overlooked because he's featured in an Ole Miss offense that is led by the erratic quarterback play of Chad Kelly. However, when Stringfellow is given the opportunities, he makes plenty of plays.
At 6-foot-2, 219-pounds the junior wideout offers a big target across the middle of the field. String fellow uses his size well to box out defenders and make contested catches. However, he also has pretty good straight-line speed to be a downfield threat, and he separates well off the line of scrimmage. He's averaging 15.56 yards per catch in 2016.
Stringfellow will face a stiff test against the Aggies defensive backs this week. It should be a good barometer of how well he stacks up against the other top prospects in the 2017 draft class.
When to Watch: Ole Miss vs Texas A&M this Saturday on SEC Network at 6:30 pm central
This article originally appeared on