Green Bay Packers-Dallas Cowboys: Three things to watch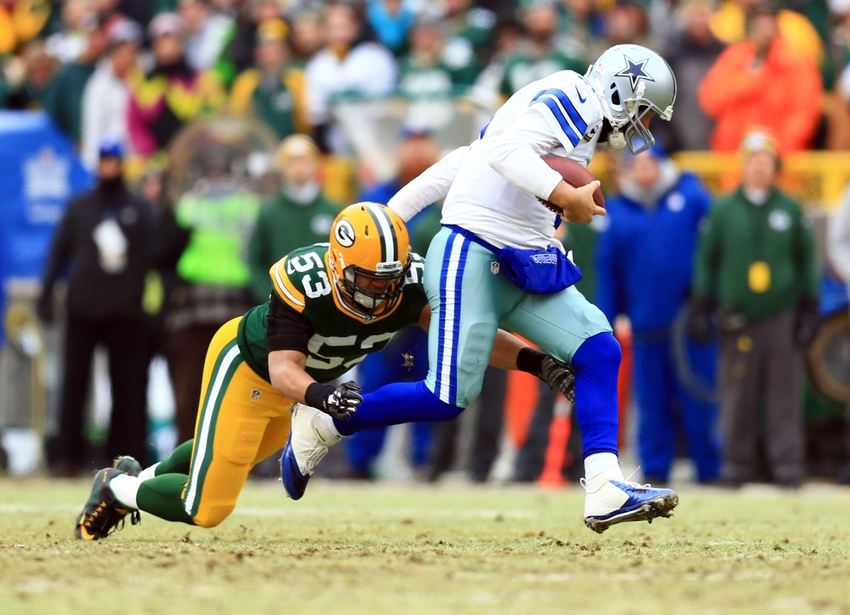 Today, the 3-1 Green Bay Packers welcome the 4-1 Dallas Cowboys to a 3:25 p.m. CT matchup at Lambeau Field.
It's a battle between two of the top contenders for 2016 playoff spots and potential first round byes in the NFC.
The history between these two franchises also goes back decades leading up to this point – the championship battles of the mid- to late-1960s, the Ice Bowl, included; the matchups in the 1990s when the Packers just could seem to win or get a shot at playing the Cowboys at home; right up until the Dez Bryan "was it a catch?" episode in the playoffs of 2014.
But today we focus on what's in front of us and the matchup at Lambeau Field.
Turn the pages for three things that will determine the outcome of the game.
Battle of Rushing Attacks
The biggest storyline this week has been the Cowboys' #1 rushing offense taking on the Packers' #1 rushing defense.
Dallas boasts one of the best offensive lines in the league with three first round picks and another first round talent in left guard La'el Collins, who slipped in the draft due to off-field issues.
Ezekiel Elliott is the electrifying 2016 addition to the Dallas backfield.
The #4 overall pick is an explosive running back with great vision and power and no real weaknesses in his game.
He leads the NFL with 546 rushing yards so far on the season.
The Packers, meanwhile, have fielded a shockingly effective run defense.
They're allowing just 42.8 rushing yards per game behind the exceptional play of veterans Mike Daniels and Letroy Guion, as well as significant contributions from youngsters such as Kenny Clark and Jake Ryan.
This is a clear battle of strength against strength.
The Cowboys are going to try to run the ball (they have a run rate of 51.5 percent), and the Packers will need to continue their strong, disciplined play to stop them.
Much of Dak Prescott's success has come as a result of being in favorable down and distance scenarios. If Green Bay can stifle Elliott, the game becomes that much easier for their injured secondary.
The less glamorous battle will take place when Green Bay attempts to run the ball.
Both Eddie Lacy and James Starks are battling injuries. Lacy seems more likely to play today and Starks is out.
The Packers struggling offense has worked best when Lacy receives a steady amount of carries. It won't be a cakewalk against the Cowboys' #11 run defense, but there should be some room to run.
Because Starks can't play, though, Lacy will be the Packers' only healthy halfback.
They'll either need to count on Ty Montgomery and Randall Cobb to spell him or elevate Don Jackson from the practice squad.
Perry vs. Free
I mentioned earlier that the Cowboys have four first-round talents on their offensive line. Their fifth starter is Doug Free, a veteran right tackle who is the weakest link of their offensive line.
Free will face off against Nick Perry, who is having a breakout year with 4.5 sacks already.
That's bad news for Free, who gave up a sack last week to Carlos Dunlap and has an ugly Pro Football Focus pass blocking grade of 46.6.
This is a matchup that Perry should dominate.
If he can set a strong edge on the right side of the line and force Elliott inside, that will due wonders for the rush defense.
Expect Perry to be a menace on Sunday against both the run and the pass, harassing the rookies Prescott and Elliott into a tougher day than usual.
Can Jordy Bounce Back?
Jordy Nelson had one of the worst games of his career last Sunday, catching only 4 of 13 targets against the Giants and dropping three wide open passes.
He's shown flashes of greatness, but Nelson has yet to reach the same level of production that he had before he tore his ACL.
None of the Packers' beloved shot plays to Nelson have been effective.
Nelson doesn't need to score a long touchdown to fix the Packers' passing game, though that would certainly put many green and gold hearts at ease.
He needs to be on the same page as Rodgers and be a reliable target on intermediate routes, both over the middle of the field and along the sidelines where he has made his living.
Randall Cobb and Davante Adams each stepped up last Sunday to compensate for Nelson's struggles.
This week, however, Nelson has to be better.
It will be a challenge against Dallas' talented #1 corner Morris Claiborne, who is having a good year in coverage.
Prediction
Packers 27, Cowboys 24
Outside of Minnesota, the Cowboys are the best team the Packers have played this year.
Dak Prescott and Ezekiel Elliott have been exceptional, and I think they'll have better luck than the New York Giants at putting points on the board in Lambeau Field.
In addition, the injuries to Starks and Lacy leave the Packers shorthanded on the ground.
But the Packers passing offense has shown signs of life recently, and I think Aaron Rodgers will have a good, if not great, outing on Sunday.
The run defense should be able to keep Elliott under 100 yards rushing, which will put Prescott in uncomfortable down and distance situations.
Mike McCarthy has made reestablishing home field advantage a point of emphasis this season. Green Bay will hold onto this Lambeau Field contest to further entrench themselves as an NFC force.
This article originally appeared on