Green Bay Packers: 5 reasons Aaron Rodgers will Bounce Back in 2016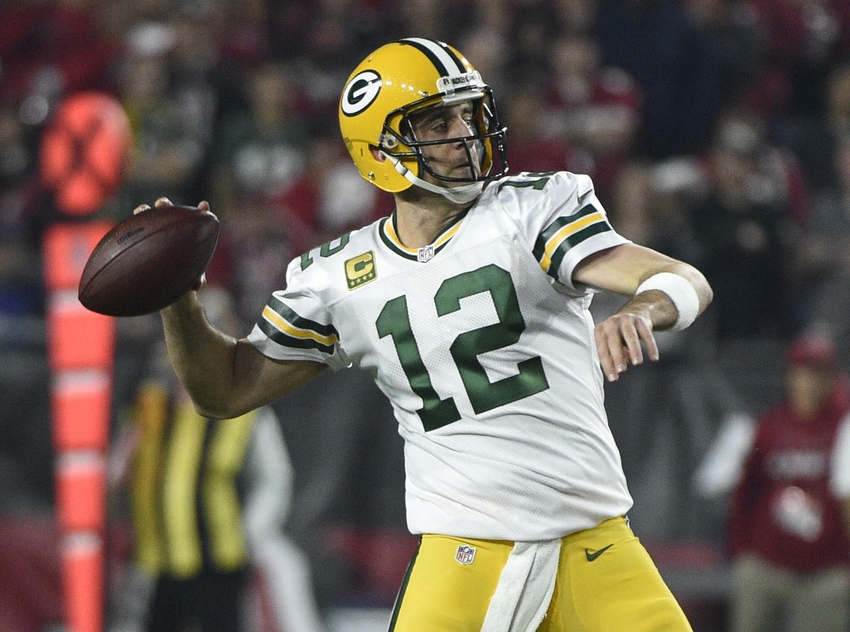 Aaron Rodgers is set to rebound back to MVP form in 2016 for the Packers. Here are five reasons why that's so
32-year old Aaron Rodgers is one of the best quarterbacks in the NFL. He's a five-time Pro Bowler with two NFL MVPs to his credit. He also has a Super Bowl victory in which he was named MVP, as well. If that wasn't enough, Rodgers also broke the NFL record for passer rating in a season in 2011 with 122.5.
He's an outstandingly hard worker. At the close of 2015's heartbreaking playoff loss to the Arizona Cardinals, Rodgers immediately set to work to prepare for 2016. Unlike other NFL players, Rodgers set diligently back to work rather than taking a break from the rigorous exercise and dieting that go hand-in-hand during the season. He changed his diet, which meant cutting out dairy and packing in (pun intended) the fruits and vegetables (sorry Wisconsin cheese fans).
In 2015, Rodgers' numbers were mediocre at best (for him). Although many teams long for a quarterback of Rodgers' caliber, 2015 fell short for the signal-caller. In November 2015, Rodgers admitted that injuries were partly to blame for his less-than-stellar game. After struggling with an undocumented leg injury and a shoulder injury as well, Rodgers admitted (via ESPN's Jason Wilde) he didn't seek treatment sooner because he wanted to be out there on the field with his team.
"My thing is no more important than anybody else's injury. If I feel like I give us the best chance to win by being out there and dealing with whatever I'm dealing with throughout my career, I'm going to be out there."
Now, 2016 has arrived, and the Packers will play their first game on September 11 against the Jacksonville Jaguars on the road. There are six elements in place that will lead Rodgers back to greatness this season. Without further ado, here are the five reasons Aaron Rodgers will bounce back in 2016.
5. Mike McCarthy has Returned to Play Calling
Offensive coordinator Tom Clements has been overseeing the play-calling since the 2015 offseason, and it's no longer working. Heading into his 11th season as head coach, Mike McCarthy has decided to take back the reigns by returning to what worked in the past and working closer with Rodgers. In the past, McCarthy would call the plays for Rodgers, attend quarterback meetings and communicate closely with him. But in recent years, McCarthy has been spread thin with other components of the team.
This move will lead to more balance for the Packers, and specifically, Rodgers. McCarthy stated to USA Today Sports (via Tom Pelissero) :
"We went back and went through the changes that we made going into last year. Why did we change them? They didn't work out the way we wanted to, whether it was a play concept or procedure of who was up in the box, who was down. You've got to look at all of it. It'll be a little different this year than it's been."
McCarthy has spent the majority of his tenure as head coach as the play-caller, which led to the Packers leading several offensive categories for many years. With his return, Rodgers is on the path to display the greatness he's known for.
4. Eddie Lacy's Weight Loss
Eddie Lacy ended his college career in 2013 with his weight in the high 220s. The Packers drafted him in the second round of the 2013 draft. Almost immediately his weight started to rapidly go up, gaining 20 lbs in just six months. Lacy won Offensive Rookie of the Year, but just two seasons later his weight began seriously holding him back.
During his first two seasons with the Packers, Lacy posted up over 1,000 yards with ease. His powerful running style mowed over defenses like toy soldiers. Not so in 2015. He posted only 758 yards, averaging just 4.1 yards a carry and only scoring three touchdowns. Lacy weighed as much as upwards of 260 pounds in 2015.
Lacy has made huge strides in the offseason. His weight is 20 pounds lighter than last season due to his hard work over the past six months. With Lacy back to prior form, his strength and power will give Rodgers a sorely needed offensive weapon that will take the pressure off of him to pass on every down.
3. Acquisition of Veteran Tight End Jared Cook
In March, the Packers picked up NFL veteran Jared Cook, giving him a $2.75 million, one-year deal. Cook has been in the NFL for seven seasons, setting the single-game franchise records for the most receiving yards by a tight end for both the then St. Louis Rams (141 vs. Arizona, Sept. 8, 2013) and the Tennessee Titans (169 vs. Jacksonville, Dec. 24, 2011).
During the preseason, Rodgers looked to Cook as a first and second option receiving threat. Not only will Cook's addition to the roster allow Rodgers a solution when the pocket collapses, it will also allow him to target freed up wide-receivers, Jordy Nelson and Randal Cobb. Take note fantasy fans, Cook admittedly signed with the Packers because of the possibly Super Bowl implications and Rodgers's incredible skill set. These two have already displayed incredible chemistry together that will propel Rodgers numbers back through the roof.
2. A Comeback for Davante Adams
Davante Adams is entering his third season with the Packers. During his rookie season, Adams set a postseason record for catches and receiving yards by a rookie against Dallas in the 2014 playoffs. Unfortunately, a Week 2 injury last season limited his production and time on the field. Then during the playoff matchup with the Redskins, Adams was injured once again—this time with a knee injury that sidelined him for the remainder of the year.
Adams has had to focus on his upper body strength while he worked on rehabbing his knee this offseason. He continued to build up his strength in the weight room, seeking to improve his conditioning in hopes that he would increase his overall strength without losing his ability to burst or his speed and quickness.
But Adams remains undeterred in his efforts. When asked about how his self-confidence has fared during his recovery process, Adams said to Packers.com (via Wes Hodkiewicz):
"My whole life, man. I wasn't a five-star recruit. I didn't go to 'Bama. I went to Fresno State and had to shine to get where I'm at today. Obviously coming off the season I had last year, I wasn't proud of it. I have to do what I have to do to move forward."
Adding Adams to Rodgers's arsenal of receiving threats will make the Packers receiving corps more difficult to cover. Expect Adams' return to mean a career year for the young receiver, which will help Rodgers talents shine through even more brightly.
1. Jordy Nelson is Back
It's undeniable to point out that having Aaron Rodgers' favorite receiving target back at full strength will improve his numbers. After Nelson's impressive 2014 season in which he completed 98 receptions for 1,519 yards, NFL experts were predicting great things for Nelson in 2015. Unfortunately, due to a torn ACL in his right knee suffered in the preseason, Nelson was left on the bench.
Nelson's presence as a leader in the receiving corps trickles down to the rest of the Packers receivers. He's nearly irreplaceable to the Packers and provides the spark that ignites Rodgers's offensive weaponry. His return should quell the many schematic issues the Packers faced last season.
He has dealt with a minor injury in his other knee during preseason, but it hasn't slowed him down. He's looked great at practice, and Rodgers will regularly look for Nelson down the field from the first play of the regular season on Sept. 11 against Jacksonville.
This article originally appeared on